Toan retains WBA Asia belt against Amparo in Bangkok
Le Huu Toan successfully defended his World Boxing Association (WBA) Asia minimum-weight (48kg) belt during The Challenger event on November 30 in Bangkok, Thailand.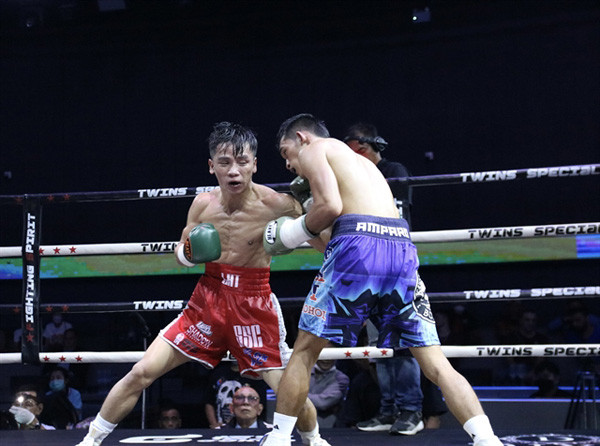 Toan beat the higher-ranked Jake Amparo of the Philippines via a split decision. After 12 rounds, the judges' scorecards were 113-111, 117-111, and 112-116.
"I am really happy after defending my belt. Winning the belt is difficult; defending it is much harder," Toan told Việt Nam News.
"Feeling of victory was extremely special as it always is. I have prepared well in both technique and mentality, but you know, everything is possible in sport. Then when the referee announced me as the winner, I was blown away.
"It is a tough match for me as my rival is a World Boxing Federation Asia champion and ranked 21st on the BoxRec. He has good skills, is younger and more internationally experienced than me.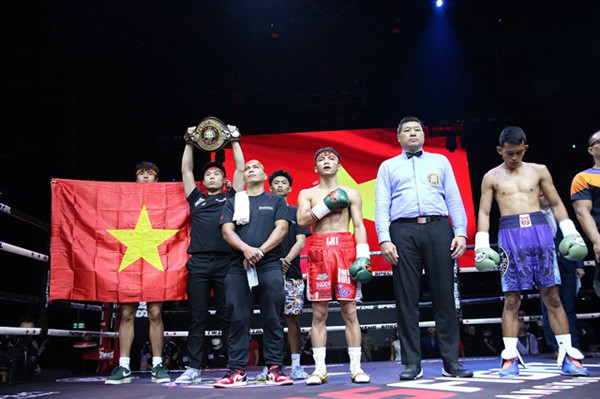 "He is the most difficult rival that I have met in my career," he said. "Beating such a tough rival makes me happier than ever, even if it was on points."
Toan, world No 39, was on the front foot from the opening bell. Being shorter with less reach, he used his right hook effectively to close the distance, working the body when he could.
It wasn't all plain sailing, though. Amparo won five on the bounce ahead of the Bangkok bout. He moved fast, defended well and fought back fiercely, landing shots on Toan's head.
The went was tit-for-tat until the eighth round when the Filipino was stunned by a strong hook from Toan. The Vietnamese boxer tried to capitalise but Amparo weathered the storm.
However, Toan definitely earned Amparo's respect. He applauded Toan while they were waiting for the final decision.
"Jake is a champion. I really, really appreciated him. Prior to the match, my coaching board and I researched him carefully, and we mapped out different plans and picked the most suitable one against him," said Toan, a fighter of Shadow Entertainment.
"We agreed that I had to get close to him as much and as fast as possible. The close range will help me bring into play my strong points. But, Jake is a bit different from whom I searched. I thought he would keep a distance between us to use his reach, but he chose to pressure me instead. That made our match more competitive and aggressive. I hope that supporters found it a really eye-catching fight."
When asked if he expected another knockout win, given his track record, Toan said it was not in his plan "because he was evaluated stronger than me".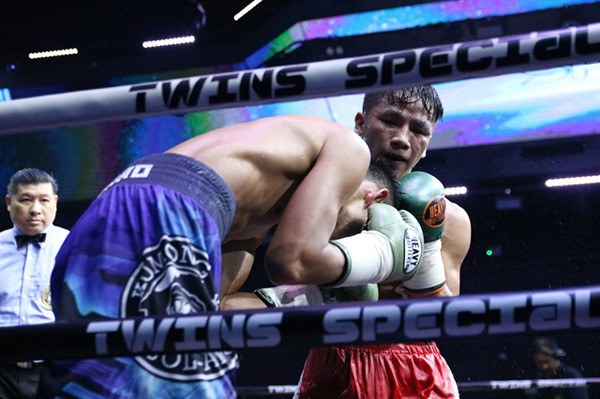 "I just try to do my best. My left-hand uppercuts worked really well this match, while my right-hand were also good too. However, I was still troubled by Jake, whose right-hand uppercuts were heavy. I was stunned several times."
Toan said the key point of his win was that he strictly followed tactics. His strong fitness also helped him move around the ring through 12 rounds, although he suffered some cuts on his face.
With the result, his sixth professional win, Toan is undefeated in the professional game with three knockouts.
"I am happy that I have proved my ability, made my name more well-known and contributed to highlighting Vietnamese boxing worldwide," he said.
The Central Highlands Dak Lak Province-born athlete returned to Vietnam yesterday but has little time to rest.
He has confirmed with Việt Nam News that he will compete in the on-going National Sports Games (NSG) in Bac Ninh Province.
Toan, the three-time national champion, will participate in the quadrennial NSG for the first time, and his target is a title.
"It is my first NSG. Despite being the national champion, I will still be new in this competition. I will have to keep training hard to prepare for that. I will try my best to take a title home," he said.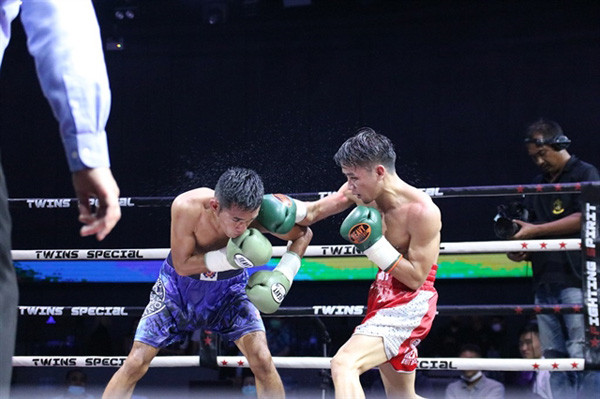 In other matches of The Challenger on November 30, Vietnamese Vo Hong Dat beat Vahcayan Khamon of Thailand with a decision in an eight-round match of the men's super-lightweight (63.5kg) category.
Nick Frese of Thailand knocked out Ahmad Samir Darwani of Afghanistan in the sixth round of the men's welterweight (67kg).
Meanwhile, AJ Paciones floored Vichit Oat of Cambodia in the third round of the men's light flyweight (49kg) category.
Dat, Frese and Paciones are all boxers of HCM City-based Shadow Entertainment.
Source: Vietnam News