VietNamNet Bridge – Medicinal wine has long been regarded by Vietnamese as an elixir that can treat a variety of common diseases, and even enhance vitality. However, the market is teeming with faked and low-quality medicinal wine, which is dangerous to human health.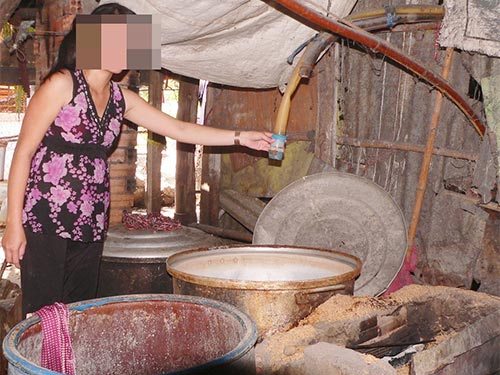 A household-sized alcohol processing facility in Tinh Bien District, An Giang Province.

Recently, drinkers in the Southwest region have begun to change their tastes, switching from rice wine to medicinal wine of unknown origin.
Visiting restaurants in the Mekong Delta, one can see dozens of so-called "medicinal" and "tonic" wines, such as wine with snakes, bindweeds, scorpions, termite queens and herbs. These kinds of "tonic wine" are sold at very affordable prices.
To be sure, not all medicinal wines are accessible to the common man. One can also find jars of wine with five species of cobra, offered for sale at several hundreds of US dollar. However, ordinary drinkers can also taste what is marketed as "snake wine" at the dirt cheap price of VND20,000 ($0.9) per liter.
Mr. Tinh, a drinker in Tan Hong District, Dong Thap Province, says that, because of this area's proximity to Cambodia, it is very easy to buy snakes for the production of "tonic wine". He says that drinkers are well aware that it is not real snake wine, but they still drink it because it is cheap.
In An Giang Province, Ms. Tam Kiem proudly claims she has produced wine with pip banana for over 10 years, without any complaints about quality. The native of Quoc Thai Commune says that she now supplies her tonic wine to all common restaurants in An Phu District and Chau Doc City.
Kiem describes the way she makes her wine: "I press ripe pip bananas and dry them under the sun for 2-3 days, then I bake them until they are fragrant. I soak each 2kg of dried pip bananas in 30 liters of rice wine. The wine is ready for us in about 10 days. To satisfy the taste of drinkers, I mix 0.5l of honey into each 30 liters of wine".
However, she worries about what happens to her product once it is out of her hands. She knows that many restaurants water down her wine or, worse yet, spike it with industrial alcohol. Her conclusion is supported by the fact that many restaurants sell her pip banana wine for only VND20,000 ($0.90) per liter, less than the VND26,000 ($1.2) that she wholesales it for.
The Tinh Bien border gate market in An Giang has long been known as the insect market. It sells all kinds of "medical wine" processed from chameleon, snakes, termite queens, scorpions, and other creatures.
There are many "brands" of tonic wine, with different prices. Mr. Sau, a wine seller there, says that tourists like wine with baucals and honey. It takes him six months to make a batch of that wine so he sells one bottle for VND350,000-VND450,000. Some others sell this kind of wine for only VND200,000 ($10) so the quality is dubious, Sau says.
The scary poisoning cases
In the past few years, alcohol poisonings have occurred often in the Mekong Delta. In particular, An Giang and Dong Thap provinces take the lead for the numbers of cases and of fatalities.
In October 2011, nearly 60 people attending a wedding party in An Giang Province were hospitalized for alcohol poisoning. Two died. The authorities took samples of the wine to test and found that the alcohol concentration was more than 60 times the permitted level.
One month later, a similar mass alcohol poisoning took place in the An Phu Commune of Phu Tan District. Luckily, everyone survived.
NLD