Too many traceability apps confuse farm-produce buyers
The farm produce traceability system in Vietnam still doesn't match GS1 standards (the most widely used system of standards in the world), and, as such, the existing traceability apps are just for internal use.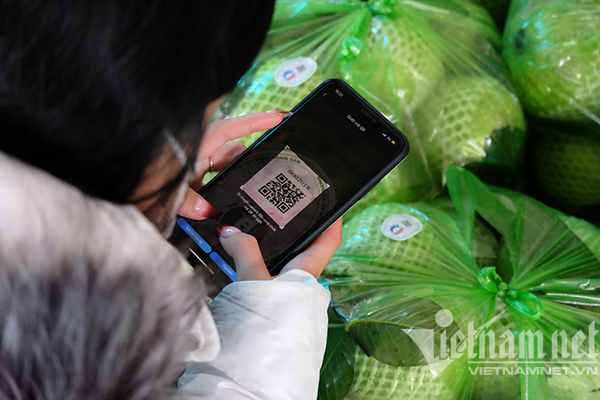 Produce traceability allows users to retrieve and learn information about products, including origin, cultivation process, harvesting and distribution.
Traceability has been used in other countries for a long time as a must for goods to be circulated in the market. In Vietnam, this was only applied in recent years, especially after the Government issued a policy on stamping farm products for traceability.
Experts point out that in order to increase the value of Vietnam's farm produce, farmers have no other choice than to digitize and apply traceability.
However, the farm produce traceability system in Vietnam doesn't match GS1 standards of the global barcode organization. The country mostly uses GLNs (global location number), automatically structured for traceability and management, which is only valid for internal use.
The problem makes it difficult to manage and trace farm produce origin. A code duplication among different traceability systems may also occur. This causes problematic interactions and information exchange among systems when tracing products in supply chains.
Nguyen Van Doan from the National Barcode Center said there are over 60,000 businesses in Vietnam which are members of GS1 with more than 600,000 products using barcodes. About 7,000 businesses register new barcodes each year.
Doan said there are many traceability solutions in the market available, but they are used without any uniform regulation.
When scanning stamps for traceability, many tools just return general information under the electronic form of product labels instead of the history of the products.
When scanning different farm produce with traceability stamps, one can see that they all have the same information about the default number of pesticide isolation days (10 days) and number of fertilizer isolation days (7 days). This indicates it could be inaccurate information.
Another problem is the lack of information, and incomplete data elements of traceability solutions.
What should be done?
Nguyen Thi Thanh Thuc from Vietnam Digital Agriculture Associagtion (VDA) said digital transformation will facilitate the traceability and make information transparent for consumers.
Thuc said the biggest benefit of information transparency is protecting brands and preventing origin counterfeiting. Therefore, farmers should take the initiative in making information transparent.
The biggest difficulty for digital transformation and farm produce traceability is the lack of sanctions on violations, despite existing regulations. This is unfair to farmers who have transparent information. Vendors can still sell farm produce with no information about origin.
Meanwhile, officers from management agencies have limited understanding about the issue and farmers don't know how to protect their products and brands.
According to VDA, the traceability app market is chaotic with too many apps that don't follow common standards. The criteria for traceability in Vietnam have become out of date in comparison with the world. This leaves farmers and businesses unable to respond to technical barriers installed by importing countries.
The association said agencies must apply strict management measures and be ready to amend unreasonable regulations.
The association has noticed that, in many cases, farmers take notes and record the cultivation process only as a formality. In other cases, they forge documents, certificates and information about growing area codes.
As a result, consumers lose confidence in farm produce management, supervision and distribution, which harms the market and causes damage to both producers and consumers.
Making information transparent is a must for farmers to improve the fame and value of Vietnam's farm produce. And heightening farmers' awareness about the application of technology to farm produce traceability needs to be done immediately. 
Trong Dat

A national portal on tracing the origin of products and goods is expected to be put into operation in the fourth quarter of this year, according to the Directorate for Standards, Metrology and Quality (DSMQ).

Experts have said that traceability is a challenge for Vietnam to boost export handicraft products to the EU in the future.