VietNamNet Bridge - Cuc Phuong, Tam Dao, Pu Luong and Ba Be are among the most famous national parks in Vietnam, which attract a lot of tourists.
Cuc Phuong National Park
Located 120 kilometers south of Hanoi, Cuc Phuong national park was established in 1962 and is the oldest national park in Vietnam.
Consisting of more than 200 square kilometers of tropical forest and many grottoes, the reserve is rich in wildlife and natural beauty and also possesses historical significance, as prehistoric tools and ancient tombs have been discovered in some of the caves.
As well as the natural environment, Cuc Phuong is home to the Endangered Primate Rescue Centre. This houses around 150 primates from endangered species in large enclosures. The aim of the centre is to release the animals back into the wild, but it is often difficult to rehabilitate them and they have only released a small number since the centre opened in 1995.
Over the road from the Endangered Primate Rescue Centre is the Turtle Conservation Centre, a rescue facility for turtles confiscated from the wildlife trade. The entry hall has some well presented displays detailing the problem and up to 19 species can be seen inside.
April and May are ideal months for a visit as the park is alive with butterflies and the weather is likely to be hot but dry. Other than that, any time is good as long as you are prepared for the weather: remember it gets chilly December through February.
Tam Dao national park
Located 250 km away from Hanoi, Ba Be National Park belongs to Ba Be district in Bac Kan province.
Designated as Vietnam's eighth national park in 1992 and covering an area of about one hundred square kilometers, Ba Be is a region of astounding beauty, from the lush vegetation mirrored in the lake's still waters to towering limestone pinnacles that reach over 1500m.
The main attractions for visitors are boat trips to visit caves, waterfalls and minority villages, with the added bonus of seeing at least a few of the 220 animal, 417 plant and 49 fish species recorded here.
Bears, tigers and one of Vietnam's rarest and most endangered primates, the Tonkin snub-nosed langur (Rhinopithecus avunculus), live in a few isolated communities on the fringes of the park, but nearer the lake there's a good chance of spotting the more common macaque monkeys, herons and garrulous, colourful flocks of parrots.
Vietnam's largest natural lake, Ho Ba Be forms the core of the delightful Ba Be National Park, a feast of limestone and tropical forest. Enclosed by steep, densely wooded slopes breaking out here and there into white limestone cliffs, the lake is 7km long, up to 30m deep and a kilometer wide in parts. A few islands decorate the surface.
Pu Luong nature reserve
Bordered by Quan Hoa and Ba Thuoc districts of Thanh Hoa Province, Pu Luong is endowed with an amazing diversity, which is closely associated with the Cuc Phuong National Park.
Pu Luong Nature Reserve was established in 1999 is roughly 170km from Hanoi. Being a nature reserve with a total area of 17,662 ha, 3/4 of the nature reserve is primary tropical forest. This is also living place of ethnic Muong and Thai people. Pu Luong means the highest peak of the village, in Thai language.
Scenery is beautiful with two ranges of mountains on both sides creating a lush green valley in the middle dotted with traditional villages.
The locals here are among the most friendly people in Vietnam. You can always be invited to their homes for a cup of tea on your way.
The local culture is rich and authentic. Villagers are living in small villages nested in the valleys, in their traditional house on stilts. Joining on a dance after dinner is always an unforgettable experience.
The best time to visit Pu Luong is during rice harvest season, from September to November or February until May. This time, the plantation is lush and weather is pleasant.
Cat Ba national park
60km to the east of Hai Phong city, Cat Ba stretches over territories of six communes including Gia Luan, Phu Long, Hien Hao, Xuan Dam, Tran Chau, Viet Hai and Cat Ba town.

Cat Ba National Park was established in 1986, with a total area of 15,200ha, including 9,800ha of land and forest, 5,400ha of marine sea.

With a complex of islands and limestone mountains with 366 small and large islands of 100-150m average height over sea level, the highest point is Cao Vong peak of 322m, the lowest ones is Trung Trang valley of 9m.
In 2004, Cat Ba Archipelago was declared a UNESCO Man and Biosphere Reserve Area in order to protect the multiple terrestrial and aquatic ecosystems as well the diverse plant and animal life that is found on the Island. The UNESCO designation divides the archipelago into three distinct areas, each with certain functions and restrictions that regulates development and conservation measures on the Island.
Ba Be national park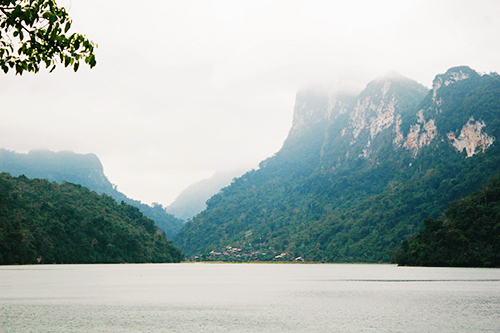 Ba Be National Park having major area of Ba Be lake with unique natural beauty has become the 1938th Ramsar site (significant wetland of international level) of the world and is the 3rd one in Vietnam just behind Xuan Thuy and Bau Sau

Located in Bac Kan province, about 300km from Hanoi, Ba Be Lake is the highlight of the Northwestern mountain of Vietnam.

Ba Be Lake is connected with Nang River which is now in danger of being divided for construction of hydro-power dam. Ba Be Lake acts as a natural reservoir supplying water to Nang River system while Dau Dang Fall acts as a dam for this system.

Ba Be Lake has is an extremely diverse ecosystem, which is the habitat for many plant and animal species. One survey reveals that this unique ecosystem consists of over 1288 kinds of vascular plants (higher plant). Particularly, here offers a development environment for some rare plant species of the world such as Nghien (scientific name: Burretiodendron hsienmu) which used to grow only in some areas in Vietnam and China.

Ba Be Lake is really a great destination for those who love adventure and want to explore the beauty of nature.

Bach Ma national park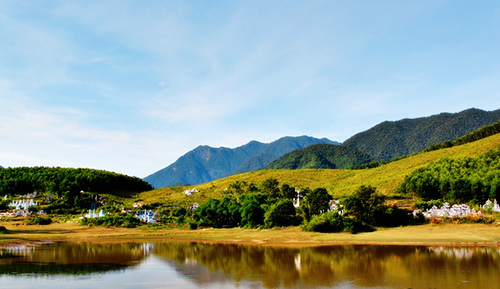 Bach Ma National Park covering 220 kilometers square is a protected area in Thua Thien – Hue Province, and a tourist attraction for wildlife discovery in Hue.

Situated on the Annamite Mountains (also called Truong Son Mountains), Bach Ma is one of the wettest lands in Vietnam. The park is composed of mainly granite mountains and evergreen and montane forests.

Bach Ma is also known for its rich of biodiversity with a variety of habitats, ranging from the coast, forests to high mountains.

Phong Nha national park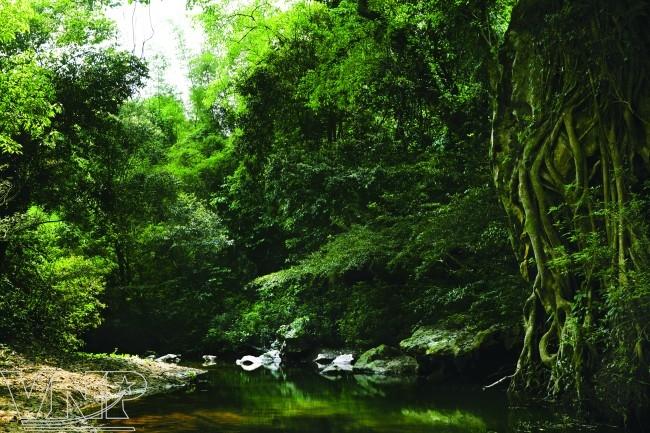 Covering an area of more than 343,000 hectares, Phong Nha – Ke Bang National Park is situated in Quang Ninh, Bo Trach and Minh Hoa districts of the central province of Quang Binh.
Designated a UNESCO World Heritage site in 2003, the Phong Nha-Ke Bang National Park contains the oldest karst mountains in Asia, formed approximately 400 million years ago.
Riddled with hundreds of cave systems – many of extraordinary scale and length – and spectacular underground rivers, Phong Nha is a speleologist's heaven on earth.
Serious exploration only began in the 1990s, led by the British Cave Research Association and Hanoi University. Cavers first penetrated deep into Phong Nha Cave, one of the world's longest systems.
In 2005 Paradise Cave was discovered, and in 2009 a team found the world's largest caveSon Doong. In 2015 public access to two more cave systems was approved.
Above the ground, most of the mountainous 885 sq km of Phong Nha-Ke Bang National Park is near-pristine tropical evergreen jungle, more than 90% of which is primary forest.
It borders the biodiverse Hin Namno reserve in Laos to form an impressive, continuous slab of protected habitat. More than 100 types of mammals (including 10 species of primate, tigers, elephants, and the saola, a rare Asian antelope), 81 types of reptiles and amphibians, and more than 300 varieties of bird have been logged in Phong Nha.
Yok Don national park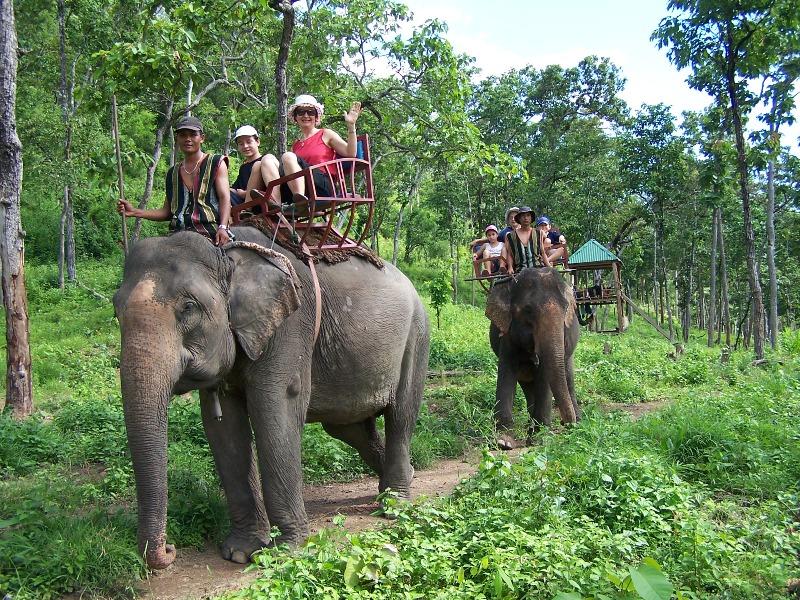 Yok Don National Park, the largest of Vietnam's nature reserves, encompasses 115,000 hectares of mainly dry deciduous forest. The park runs all the way up to the border with Cambodia, with the beautiful Serepok River flowing through it.
Yok Don is home to 89 mammal species including wild elephants, tigers, leopards and rare red wolves. However, these exotica are very rare (and virtually never encountered by visitors). More common wildlife includes muntjac deer, monkeys and snakes. Numerous bird species live in the park, including storks and two types of hornbills.
Within the park's boundaries are four minority villages, predominantly M'nong but also with Ede and Lao people. Three villages are accessible (one by boat from the park office) while the fourth is deep inside the park and out of bounds.
The delicate balance between ecological conservation and the preservation of local cultures is a challenge, considering the poverty of the region's people and their traditional means of survival, such as hunting.
Buon Don district in Dak Lak province is famous as a centre for elephant riding which is considered as a long tradition of several ethnic groups in the Central Highlands. Elephant riding is now growing in popularity as a tourist attraction, bringing increasing numbers of visitors and revenue to the area. Visiting to Yok Don, you will be able to take elephant rides into the national park.
Phu Quoc national park
Phu Quoc National Park is located in the northeast of Phu Quoc Island. It belongs to the territory of the communes: Bai Thom, Cua Duong and Ham Ninh of Phu Quoc island district, Kien Giang province.
Phu Quoc National Park covers of 31,422 ha, accounting for 70% area of Phu Quoc Island, which is regarded as a precious thanks to the prosperity of natural beauty.
Covering more than 27,000 ha of forest, included 6,000 ha of buffer land and 20,000 ha of surrounding ocean area, Phu Quoc National Park has a rich ecosystem due to the co-existence of the Malaysian, Burmese and Himalayan species.
In term of the flora, Phu Quoc National Park is the idea environment for more than 470 species of plants and several types of coral reefs offshore.
Phu Quoc Island is lowland evergreen forest and the national park supports 12,794 ha of forest, equivalent to 86% of the total area. To date, 929 plant species have been recorded on Phu Quoc Island.
At lower elevations in some areas, the national park supports distinctive formations of Melaleuca - one kind of trees that the leaves are evergreen, alternately arranged, dark green and grey-green in color.
As regards to the fauna, a list of 43 mammal species belonging to 18 families and 6 orders was compiled in here.
Among these recorded species, 6 species are listed in the Red Data Book of Vietnam (2000), 6 species in the 2005 IUCN Red list and 11 species in the Governmental Decree 32/2006/ND-CP.
Silvered langur, slow loris, pygmy loris, crab-eating macaque, stump-tailed macaque, small-clawed otter and fruit bats are species of the most conservation concern.
Besides, due to the extremely plentiful coral reefs in the south of the island, there are 125 species of fish, 132 species of mollusc and 62 species of sea weed.
Interestingly enough, Phu Quoc is also one of the two places in Vietnam where the Dugong, a marine species on the brink of extinction can be found.
Visiting Phu Quoc, travellers can have chance for sightseeing of historical sites; admiring with veneration beauty spots of streams, forests, caves and grottoes, beaches, coral reefs and mountains, etc. as well as visiting the villages famous for making sauces and know about a special species of Phu Quoc dog.
Phu Quoc National Park is a good destination for tourists as it offers a wide range of activities such as camping and trekking. It's also ideal for those who want to study the tropical forest. As Phu Quoc develops into Vietnam's ecotourism capital, the jewel in its crown, the park will become ever more attractive to visitors from around the world.
Can Gio Biosphere Reserve
Can Gio Biosphere Reserve is located in Can Gio district (previously Duyen Hai district), in the coastal zone of Ho Chi Minh City. The area is situated in a recently formed estuary complex of tidal flats, where the Vam Co, Saigon and Dong Nai rivers discharge into the sea. The topography of Can Gio is low-lying and dynamic. The site is divided by a network of canals and rivers.

The major habitat types found at Can Gio are plantation mangrove, of which there is about 20,000 ha, and naturally regenerating mangrove, of which there is about 7,000 ha. The principal mangrove species used for replantation has been Rhizophora apiculata, although R. mucronata has also been used in smaller amounts. In addition to the mangroves, the site also supports seagrass beds dominated by Halophyla sp., Halodule sp. and Thalassia sp.

A total of 18 mollusc, 27 crustacean, 45 fish and three amphibian species have been recorded at the site. There are anecdotal reports of local farmers shooting an Estuarine Crocodile Crocodylus porosus at the site in around 1990, although there have been no records since then. Also, Dugong has been reported to occur seasonally in seagrass beds at the site, although these reports have not been confirmed.

The intertidal mudflats and sandbanks at the biosphere reserve are an important habitat for migratory shorebirds.

The mangrove forest at Can Gio performs many valuable ecological functions, including coastal stabilisation, and protection against coastal erosion, oil spills and storm surges. The mangrove forest is a source of fuelwood and construction materials.

Being close to HCM City, Can Gio Biosphere Reserve has great potential as a site for tourism, public education, scientific research and training.
Compiled by Pha Le