VietNamNet Bridge - With four goals scored against Dong Tam FC, Cong Vinh has overcome Antonio Carlos to become the striker with the highest number of goals in the history of V-League, with 97 goals.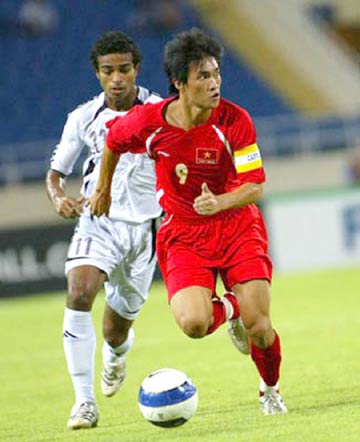 Cong Vinh has scored 97 goals.

Before this football season, Cong Vinh scored 85 goals in nine V-League seasons. In his 10th season, Cong Vinh played better than usual. He consecutively took the lead among the top scorers in the first rounds. Cong Vinh's number of goals only stopped after he caught intestinal infection and had to relax for two rounds.
There was a time when the gap between Cong Vinh and Antonio Carlos was extended up to five goals in the 9th round when Antonio scored his eighth goal this season, raising his total number of goals to 95.
However, the race between the two scorers suddenly reversed when Antonio Carlos could not score a single goal in five consecutive rounds.
At the same time, Cong Vinh had seven goals. With four more goals in the latest game against Dong Tam this weekend, Cong Vinh has had 12 goals after 14 rounds. This is the best performance that Cong Vinh achieved in his 10 seasons in the V-League.
Cong Vinh still has eight more rounds to raise his number of goals to break the record.
Top ten scorers in V-League history:
1. Le Cong Vinh: 97 goals
2. Antonio Carlos: 95
3. Gaston Merlo: 80
4. Huynh Kesley Alves: 77
5. Jose Almeida: 68
6. Samson Kayode: 65
6. Evaldo Goncalves: 65
8. Timothy Anjembe: 61
9. Philani Kubheka: 60
9. Elenildo de Jesus: 60
Nam Nguyen