Total assets of Vietnam's banking industry reached VND12,070 trillion (US$518.18 billion) as of November 30, 2019 up 9.12% compared to the beginning of the year, according to the latest data of the State Bank of Vietnam (SBV).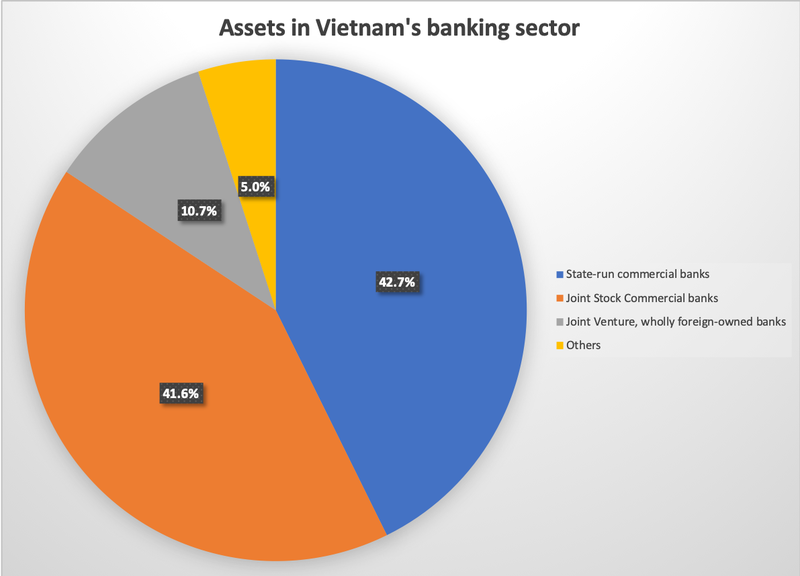 Data: SBV. Chart: Ngoc Thuy. 
Total assets of seven state-controlled commercial banks, including three major lenders namely Bank for Investment and Development of Vietnam (BIDV), Vietnam Joint Stock Commercial Bank for Industry and Trade (VietinBank), and Joint Stock Commercial Bank for Foreign Trade of Vietnam (Vietcombank), were reported at VND5,161 trillion (US$222.7 billion), an increase of 6.13% over the beginning of 2019 and accounting for 42.7% of total assets in the banking sector. 

Meanwhile, total assets of joint stock commercial banks were VND5,035 trillion (US$217.52 billion), increasing 10.56% compared to the beginning of the year and making up 41.6% of the total assets. 

They were followed by joint venture banks and wholly foreign-owned banks with total assets of VND1,305 trillion (US$56.30 billion), up 14.89%; financial and leasing companies with VND194.68 trillion (US$8.4 billion), up 16%; co-operative banks with VND36.05 trillion (US$1.55 billion), up 11.18%; people's credit funds with VND125.67 trillion (US$5.42 billion), up 11.05%; and Vietnam Bank for Social Policies with VND213.16 trillion (US$9.19 billion), up 8.83%.

As of November 30, 2019, total owner's equity of the banking system reached VND913.27 trillion (US$39.41 billion), up 13.29% against the beginning of the year.
In terms of owner's equity, state-owned commercial banks are behind joint stock commercial banks-VND324.44 trillion (US$14 billion) against VND365.47 trillion (US$15.77 billion), posting growth rates of 20.79% and 8.07% compared to end-2018, respectively, in which the former's high growth rate was due to BIDV selling 15% stake to South Korea's KEB Hana Bank for US$875 million, a record deal in Vietnam's banking industry.
Such high growth in owner's equity of state-owned commercial banks helped the capital adequacy ratio (CAR) jumped from 0.52% in the beginning of the year to 10.55% as of November 2019, catching up with the CAR of joint stock commercial banks at 10.63%.
Following Circular No.22 of the SBV, banks are required to keep the rate of short-term capital for mid- and long-term lending to below 30% by 2022.
As of November 30, 2019, state-owned commercial banks have brought the rate to under 30%, while joint stock banks reduced the rate to 30.99%. Hanoitimes
Ngoc Thuy