Traces of Hung Kings' culture in Thang Long-Hanoi

The first Hung King ruled Vietnam in 2879 BC. Cultural traces of the Hung King era, which ended in 258 BC, are still being discovered in the ruins of Vietnam's former imperial citadel in Hanoi.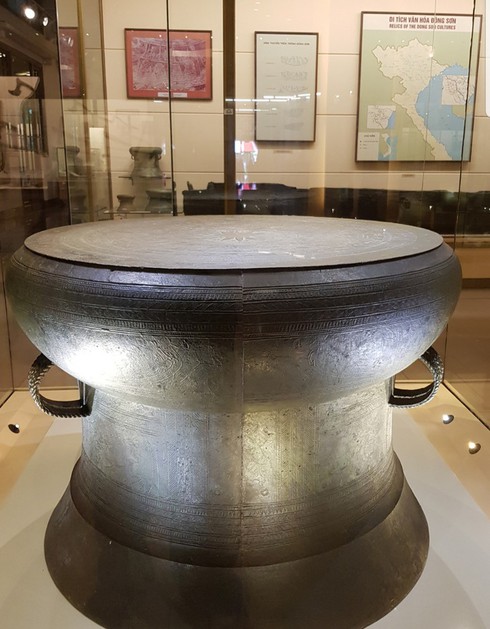 A Dong Son bronze drum kept at the Imperial Citadel of Thang Long-Hanoi. 
The Hung King period, which spanned 18 dynasties, thrived along with the wet rice cultivation in the Red River Delta throughout most of the Bronze Age.
Major General Pham Van Dan, Director of the Hung King culture research and development center, said "Hanoi has more than 500 relics of the Hung Kings, the largest collection in Vietnam. This is a treasury of materials for research on the Hung King era. UNESCO has acknowledged Hung King worship and Xoan singing as two intangible cultural heritages of humanity. Very few nations other than Vietnam have a Commemoration Day for their ancestors."
During the Hung King era, Dong Son culture was the most developed culture in South East Asia. Its traces can be found all over Hanoi, according to Associate Professor Tong Trung Tin, President of the Vietnam Association of Archaeologists.
"There are 24 relic sites of Dong Son culture in Hanoi, most of them in Dong Anh district. Co Loa citadel, one of the largest cultural relics in South East Asia, was built during the era of King An Duong Vuong in the 3rd century BC. Signs of early iron working have been found in Dong Anh district, proving that iron existed in ancient Vietnam. Clues to Hanoi's early development can be found in products like Co Loa's bronze drums, bronze ploughs, bronze arrow heads," said Mr. Tin.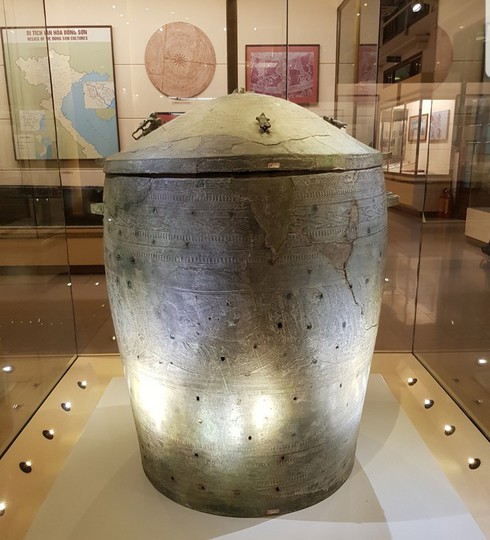 A Dong Son bronze drum kept at the Imperial Citadel of Thang Long-Hanoi. 
Many villages and communities in Hanoi still worship Hung King era historical figures.
Thang Long-Hanoi is not only the economic and political center of Vietnam but also the spiritual capital of ancient Vietnam. Two of its most famous traditions are the Giong Festival of Phu Dong (Gia Lam-Soc Son) and the Saint Tan Vien Festival (Ba Vi-Son Tay).
"The temple of Saint Tan Vien-one of the four immortals of Vietnamese mythology-is located on Ba Vi mountain, opposite Bach Hac peak in Viet Tri city.
The Giong Festival is a special festival of the Red River delta, based on the legend of Saint Giong who is said to have been born in Gia Lam, Hanoi and then ascend to heaven from Hanoi's Soc Son district after defeating foreign invaders," said Associate Professor Nguyen Duc Nhue, Deputy Director of the Vietnam Institute of History.
The cultural values of the Hung King era are deeply engrained in every Vietnamese, strengthening the country's traditions of gratitude, patriotism, and national solidarity. VOV5