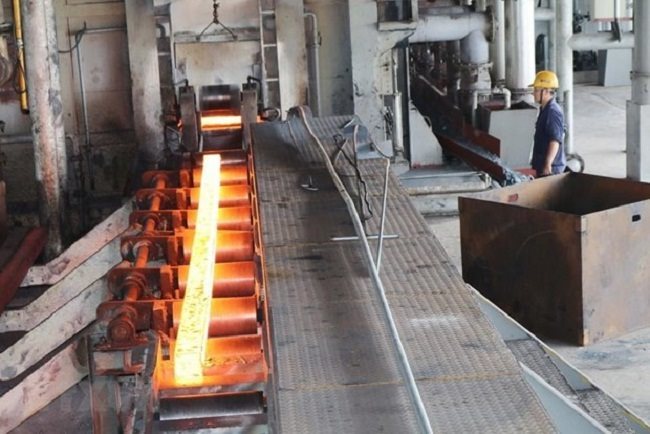 An employee works at a steel mill in Vietnam. The United States has imposed duties of up to 456% on certain types of steel produced in South Korea or Taiwan, which are then shipped to Vietnam for minor processing and finally exported to the United States
In a statement on Tuesday, the U.S. Department of Commerce (DOC) announced three preliminary affirmative circumvention rulings involving exports of steel products from Vietnam.
The circumvention rulings cover certain steel products that are first produced in South Korea and Taiwan and then shipped to Vietnam for minor processing, before being exported to the United States as corrosion-resistant steel products (CORE) and cold-rolled steel (CRS).
The U.S. Customs and Border Protection has been instructed to collect cash deposits on imports of CORE and CRS produced in Vietnam using Korean- or Taiwanese-origin substrates.
These duties will be imposed on future imports and on any unliquidated entries since August 2, 2018, the date on which the DOC initiated the circumvention inquiries.
The applicable cash deposit rates will be as high as 456.23%, depending on the origin of the substrate and the type of steel product exported to the United States.
Shipments of CORE from Vietnam to the United States increased from US$220 million - as recorded in the 40-month period from September 2013 until preliminary duties were imposed on South Korean and Taiwanese products in December 2015 - to US$950 million as recorded in the 40-month period from the imposition of preliminary duties in December 2015 until April 2019. This represents an increase of 331.9%.
Similarly, shipments of CRS from Vietnam to the United States rose from US$49 million in February 2016 to US$498 million in April 2019, surging 916.4%.
CRS and CORE made from materials originating in Vietnam or other countries and territories will not be subject to these duties, according to the Trade Remedies Authority of Vietnam.
During the investigation, the Ministry of Industry and Trade coordinated closely with the Vietnam Steel Association and the concerned businesses to provide sufficient information, as requested by U.S. authorities, on the manufacturing process in Vietnam and the products' added value, among other things.
The ministry has also urged local steelmakers to devise alternative business strategies and switch to local materials or foreign materials that do not come from South Korea and Taiwan.
The ministry will continue working with the relevant parties for the rest of the investigation to safeguard the legitimate rights and interests of local companies, ensure adherence to regulations and the World Trade Organization's agreements and crack down on circumventions and origin fraud.
The DOC is expected to announce the final rulings in September this year. SGT
Thanh Thom