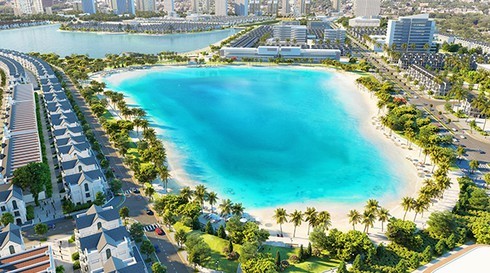 Township developments in Vietnam are forecast to attract a lot of foreigners.

The Vietnamese real estate market has seen a sharp increase in the number of transactions involving foreign investors in the wake of the year-long US-China trade war.
According to Nguyen Hoai An, director of real estate services provider CBRE Vietnam's Hanoi branch, during the trade war, more foreign firms have been eyeing Vietnam as a destination. Therefore, the number of transactions that CBRE did over the past year has increased significantly, by 25-30% compared to previous years.
 Currently, Vietnamese industrial real estate has numerous advantages attracting overseas investors, with many economic and industrial zones, international and regional integration, rapid economic growth and abundant low-cost labor force.
 A forecast stated that the growing trend can be maintained for the next several years, adding that industrial real estate in the country's northern provinces has been benefited by the US-China trade war because of its proximity to China, especially in industrial zones in Bac Ninh, Hai Phong, Quang Ninh, Hung Yen, Hai Duong, and some other southern industrial zones.
 Explaining the trend, An from CBRE said that foreign firms usually apply the 'China+1' model. It means that they build a facility in China and then look for a new destination to become an intermediary location or to serve as a target for expansion and relocation in the future.
 Housing segment gets a boost
 Thanks to this trend, the northern real estate market has heated up. The development of industrial zones has sent ripples through the housing and other markets, especially in the west of Hanoi and areas surrounding West Lake.
 The number of newly-launched condominiums is increasing, especially in the west of Hanoi. According to CBRE, 26,800 units were newly launched during the first nine months of 2019, up by 37% on-year. Launched projects in this quarter are also mostly located in the city's west, accounting for 77% of the total newly launched units.
 In the last quarter of 2019, the market will continue to observe upbeat trends with new projects to be introduced in the midtown and the west of Hanoi. Noticeably, market performance is expected to continue its growing trend since new projects have achieved certain pre-commitment rates, with one of the new projects recording up to 70% pre-commitment rate.
 It is expected that some 7,000 units will be launched in the last quarter of this year, bringing the total in 2019 to around 33,000 units, up 9% on-year. New supply will mostly come from township developments such as Vinhomes Ocean Park, Vinhomes Smart City, or Park City, which are expected to attract a lot of foreigners, especially from Japan, South Korea, Hong Kong, and Taiwan.
 Currently, the west of the city is popular among the South Korean community, and most projects there reached the ceiling for foreign owners very swiftly.
 KB Securities also reported that more than half of the people answering its survey wanted to buy a house in Vietnam. This trend has been going over the last five years, especially in the two big cities of Hanoi and Ho Chi Minh.
 Besides, CBRE also sees avid attention from investors from Taiwan, Hong Kong, and Singapore in Vietnam.
 According to An, this destination has great potential for growth in the future, while the price of a house here is much lower than in their hometowns. A unit in the next-to-premium segment is sold at US$2,000 per square meter, while the same unit in the Republic of Korea would cost US$15-20,000, so they expect an increase in prices in the future. Hanoitimes
Hai Yen

Foreign investment pledged to Vietnam in the January-September period this year through capital contributions and stake acquisitions rocketed by 82.3% year-on-year, raising concerns over an economic crisis ten years ago making a comeback.

European and American investors were concerned by the lack of rigid policies on corporate transparency and intellectual protection.

The Vietnamese government is trying to lure investors to the country's infrastructure development projects amid limited public funding and experts believe the investors will come if the government can create a sound legal and regulatory environment.