Trade war likely to dampen VN markets this week

Rising fears about the US-China trade war are forecast to continue to drag down market sentiment and dampen investor confidence.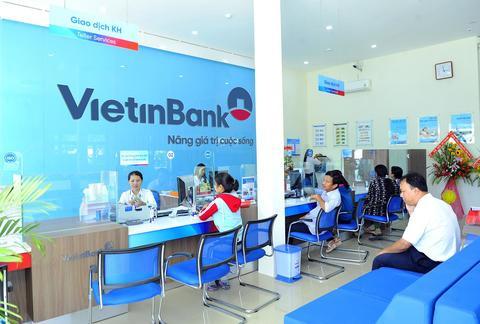 Customers conduct transactions at Vietinbank in Ha Noi. Last week, large-caps such as Military Bank (MBB), Vietinbank (CTG) and Bank for Investment and Development (BID) all fell more than 2 per cent.
On the Ho Chi Minh Stock Exchange, the VN-Index lost 0.98 per cent on Friday to close the week at 959.88 points.
The index failed to maintain its rally and was hit strongly after falling below the 970-point level. Market sentiment remained cautious and pessimistic.
The index lost a total of 1.05 per cent last week.
The HNX-Index on the Ha Noi Stock Exchange decreased 0.92 per cent on Friday to 104.35 points.
Weak purchasing power was cited as the reason for lower trading liquidity, as an average of 171 million shares were traded in each session last week.
Trade tensions escalated last month after US President Donald Trump's administration accused China of having broken previous promises of structural changes.
The US then imposed additional tariffs of up to 25 per cent on US$200 billion of Chinese goods, which triggered worries among investors that Beijing would retaliate.
Former head of IVS Securities Co's analysis department Nguyen Huu Binh told tinnhanhchungkhoan.vn that the world stock market was was showing negative movement and this was affecting the Vietnamese markets.
"The market will continue to suffer as investor confidence will easily be shaken when witnessing strong selling pressure again in early June," Binh said.
According to market expert Ngo Quoc Hung at MB Securities Joint Stock Company (MBS), the decline of the market in May was dominated by escalating US-China trade tension.
Last month, The S&P 500 index on the New York Stock Exchange decreased by 6.6 per cent, the Shanghai Composite Index on the Shanghai Stock Exchange fell 5.84 per cent and the Stoxx600 Index of European stocks lost 5.7 per cent.
The domestic market followed a similar trend by decreasing more than 2 per cent, Hung said, adding that internal factors showed no positive signs and external factors were deteriorating.
Last week, the banking group performed poorly. Except for Vietcombank (VCB) which maintained its upward momentum, other large-caps such as Military Bank (MBB), Vietinbank (CTG) and Bank for Investment and Development (BID) all fell more than 2 per cent.
According to Bao Viet Securities Company (BVSC), oil and gas stocks will face correction pressure in several sessions this week before a possible recovery toward the end of the week, as global oil prices also encounter correction pressure. Banks and several large-cap stocks will maintain their downtrend, the company said.
The deep fall of global oil price has not shown any signs of stopping.
According to Reuters, oil dropped by more than 3 per cent on Friday and marked its biggest monthly decline in six months after President Trump exacerbated global trade tensions by threatening tariffs on Mexico, a key US trade partner and major supplier of crude oil.
Brent crude futures fell $2.38, or 3.6 per cent, to settle at $64.49 a barrel. US West Texas Intermediate (WTI) crude futures fell $3.09 to $53.50 a barrel, a 5.5 per cent loss.
Brent futures posted an 11 per cent slide in May and WTI a 16 per cent drop, their biggest monthly losses since November.
This had put a serious impact on the prices of listed oil stocks in Viet Nam. Blue-chips such as PetroViet Nam Coating JSC (PVB), PetroVietnam Gas JSC (GAS) and PetroVietnam Construction Corporation (PVC) all fell more than 2 per cent last week. PetroVietnam Technical Services Corporation (PVS) and PetroVietnam Drilling and Well Services Corporation (PVD) plunged more than 5 per cent. — VNS