Trading remains quiet amid risk concerns

Brokerage firms and market experts remain pessimistic about market trading this week as investors run out of supportive information while international stocks continue to be weighed down by the novel coronavirus (COVID-19).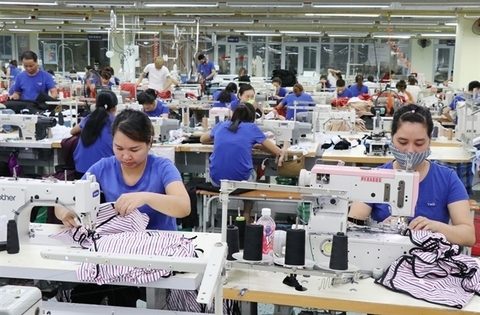 Workers at the TNG Thai Nguyen Investment and Trading JSC produce garments for export. Under the EVFTA, the abolition of more than 99 per cent of tariff lines with a roadmap creates favourable conditions for the export of key goods to the EU market, including textiles, footwear, agriculture, fishery and wood products.
On the Ho Chi Minh Stock Exchange, VN-Index lost 0.08 per cent to end Friday at 937.45 points.
The southern market index decreased a total of 0.35 per cent last week.
Nearly 188.7 million shares were traded during each session on the southern bourse last week, valued at VND3.4 trillion (US$146.2 million).
"The stock market is forecast to continue quiet trading this week or even lose ground due to weak cash flow and a lack of supportive information that could boost investor confidence," Phan Dung Khanh, investment consultancy director of Maybank Kim Eng Securities, told tinnhanhchungkhoan.vn.
The fears of COVID-19 have clouded prospects for the global economy.
"The COVID-19 virus will cause many economic and human losses. Credit institutions and credit rating agencies have lowered their prospects for economic growth in Asia, China and Viet Nam," said Le Duc Khanh, director of the market strategy department at PetroVietnam Securities (PSI).
"Viet Nam's Q1 GDP growth in 2020 is likely to decrease by 0.5 - 0.7 per cent. Stimulation programmes and interest rates cuts are necessary but the cash flow pouring in the market will certainly be affected."
After net buying VND1.7 trillion in January, foreign investors net sold about VND1 trillion in February.
"The stock market will continue to face difficulties in the first half of 2020 and is forecast to move sideways mainly in the area of ​​940 - 980 points. Opportunities will only come from well-performing individual stocks," Khanh said.
According to SSI Securities Corporation's research unit, without the appearance of COVID-19, the global stock market would have prospered thanks to the US-China agreement on a Phase 1 trade deal and foreign capital flows.
"Until mid-January this year, fund managers around the world still remained optimistic with the proportion of stock investment in portfolios reaching 17-month highs. Capital flows into emerging markets continued to increase and so did the net buying momentum of foreign investors in the Vietnamese stock market," said SSI Research.
"However, global capital streams began to reverse in late January. Worries over COVID-19 virus drastically reduced the growth forecast for East Asian countries, forcing fund managers to change their investment strategies," the unit said.
Emerging markets in Asia have seen a drop in the money pouring in due to the high level of production and consumption connectivity with China. The value of capital withdrawals from equity funds in these markets, including Viet Nam, in the first week of February rose to a 19-week high.
If the disease was successfully contained in February, along with the less affected demand and production chain, the market could recover, SSI Research said.
"In previous years, the beginning of the year was always a favourable period for the Vietnamese stock market, creating a push for the following months. In 2020, since there is none of this motivation, the stock market will need more time to accumulate. With a lower economic outlook forecast and inadequately-counted damage caused by COVID-19, the quietness in the first quarter may run into the second quarter or even the second half of the year if there are no developments that help change the status quo," SSI Research said.
In positive news, the European Parliament (EP) officially ratified the EU-Viet Nam Free Trade Agreement (EVFTA) last week. The agreement needs to be approved by Viet Nam's National Assembly in May to come into force.
According to the Ministry of Planning and Investment, the EVFTA and EVIPA agreements are expected to raise Viet Nam's GDP by 4.6 per cent and raise exports to the EU by 42.7 per cent by 2025. The European Commission estimates that EU's GDP will grow by $29.5 billion and exports to Viet Nam will increase by 29 per cent by 2035.
According to Bao Viet Securities Co, the effective EVFTA Agreement will be a push for economic growth in the medium and long term. The abolition of more than 99 per cent of tariff lines with a roadmap creates favourable conditions for the exports of key goods to the EU market, including textiles, footwear, agriculture, fishery and wood products.
In addition, by joining the EVFTA, Viet Nam can become an attractive investment destination for foreign investors. A large amount of capital from EU businesses could be invested in Viet Nam, helping to improve competitiveness and boost the domestic market, BVSC said. — VNS

Rong Viet Securities (VDSC) and Mirae Asset believe that MSCI may upgrade Vietnam's stock market to an emerging market in 2022-2023, while BSC thinks the upgrade would be prior to 2025 at the earliest.

Despite its young age, the Vietnamese stock market has made great contributions to economic development in the last 20 years.