VietNamNet Bridge – During the Nha Trang Sea Festival held last June in coastal Khanh Hoa Province, bai choi games attracted crowds of both Vietnamese and foreigners.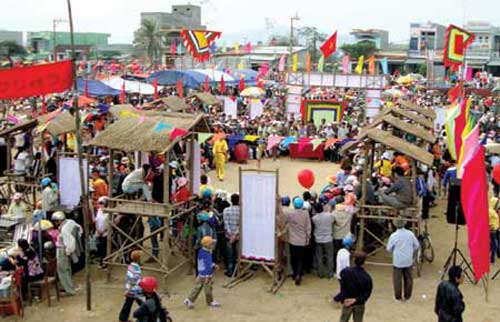 Colourful spectacle: A bai choi event draws crowds of onlookers. — File photo
"It was amazing. I would not have imagined bai choi could attract so many locals as well as foreign visitors," said Dao Minh Tam, director of Binh Dinh Province's Cultural Centre, which manages the province's biggest bai choi club.
Every day, from early morning to late evening, hundreds of people registered to play the games. According to Tam, many were so crazy about the entertainment that they spent hours playing continuously.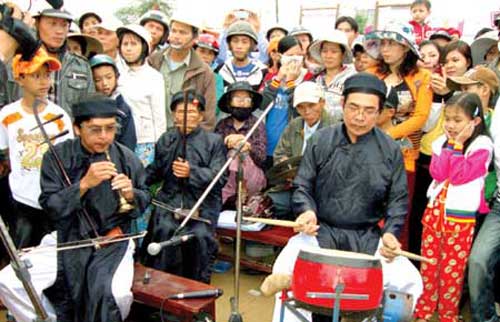 Background sound: Musicians providing the soundtrack for a bai choi game. — File photo
Bai choi originated almost 400 years ago, when Dao Duy Tu, an outstanding mandarin under the reign of the Nguyen Lords (1558-1777) who later formed the Nguyen dynasty (1802-1945), found unique beauty in the stilt bamboo huts peasants erected to watch their fields. He created a community game called bai choi, which spread throughout the southern Central region.
At the time, the region was wild and had many fierce animals, so people sat in the huts and used metal and wooden tools to scare the animals away and inform others of potential dangers. To kill time, which dragged on when they were in the huts, people began singing folk songs to entertain themselves. The mandarin, whose father was a cheo (popular musical theatre) artist, thought up a game that would incorporate both the huts – which look like tall bamboo chairs with roofs – and folk songs.
For the game, nine stilt bamboo huts were erected near the village communal house, with two rows each made up of four huts. One bigger hut and a wooden stand for the elderly and village officials were set at the ends of the two rows to make everything a rectangle shape. One or three players shared one hut while audiences surrounded the rectangular playing plot. The game controller stayed in the bigger hut while other people were available for communication between the controller and players. At the beginning of each game, a master card that included three minor cards was sold to each hut. The controller, addressed as anh hieu, sang a folk song that included the name of 27 minor cards in each sentence to inform players and warm up the atmosphere. He then picked a single card and sang a couple sentences as clues for the players to guess the name of the card. The winner is the first hut to have three minor cards that coincide with the names given by anh hieu.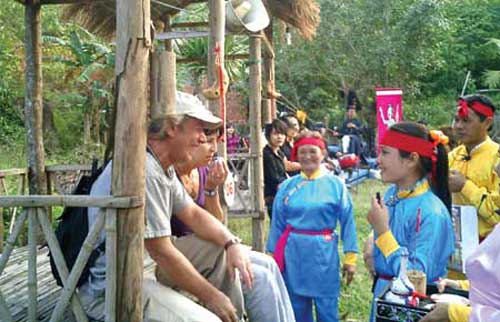 Crossing cultures: Foreigners take part in the game.
The winner receives a flag, a cup of wine and some money. "It's just a small sum, but it has significance to the winner, unlike a lucky draw," says Nguyen An Pha, chairman of the Binh Dinh Union of Culture and Art Associations and a bai choi researcher.
"Winning means a lucky start for the year because in Vietnamese culture, Tet [Lunar New Year festival] is an occasion for wishes of luck, health and property." Sometimes, Pha adds, the anh hieu sings a song for Tet accompanied by drums, flutes, monochords and wooden clappers while presenting the awards.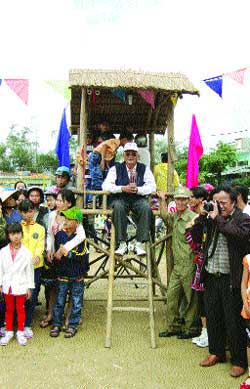 Musical chairs: Participants sit in huts to listen to tunes. — File photo
The game has many features reflective of Vietnamese culture. The formation of a rectangular playing plot with wooden stands represents the tradition of respect to the elderly, while village officials are available to judge the fairness of the games. "It's not only a game; it's a significant part of the Tet festivities," says Nguyen Minh Ngoc, an official of Binh Dinh's Department of Culture, Tourism and Sports.
"The game reflects the spirit of human solidarity. All the villagers, both audience members and players, are drawn into the joyful atmosphere after a year of hard rural work, increasing their happiness and solidarity."
According to Ngoc, many bai choi veteran players use old cards and tools, which are no longer produced. Drawings on each card show the region's landscapes and farming activities as well as people from the ethnic Cham and Ba Na people.
The most unique feature of the game is singing. "Only bai choi includes games and singing in one, making it an art rather than a mere game," says Pha.
"Folk songs that are sung for the game are one of the country's most valuable art forms."
Bai choi songs are based on various Vietnamese traditional tunes, including xang xe, co ban, ho Quang, and xuan nu. Each song has its own story based on classical references.
According to culture expert Nguyen Thi My Liem, bai choi singing includes the traditional values and tunes of many kinds of Vietnamese music, but is a truly unique art form.
"Bai choi could potentially earn UNESCO recognition as intangible cultural heritage, but we have a lot of work to do for that, as the game has been considered a folklore art form, so no scientific records have been made," said Hoang Chuong, general director of the National Centre for Research, Conservation and Promotion of Vietnamese Cultures, at a seminar in Binh Dinh last September.
The game was once popular in Quang Nam, Binh Dinh, Phu Yen and Khanh Hoa.
Artisans from Binh Dinh trained performers in Khanh Hoa to revive the game, relying on funding from the Ministry of Culture, Tourism and Sports. The successful pilot programme in Binh Dinh is encouraging neighbouring provinces to keep the game alive.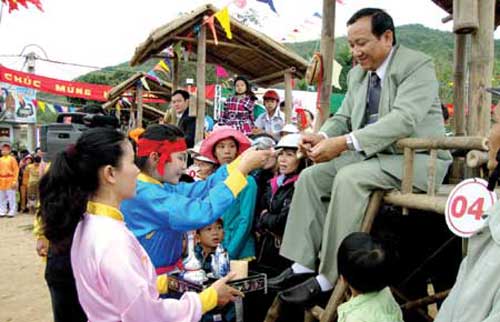 Victory trophies: A winner receives his prizes. — File photo
Since Reunification Day in 1975, many localities in provinces from Thua Thien Hue to Ninh Thuan have held the games during Tet, but they gradually lost popularity and were even forgotten in many areas. Thanks to the ministry's attempts to revive the game, local authorities tried their best to bring back the dying art. In Binh Dinh, seven bai choi clubs were formed, three in Quy Nhon Town and four in Phu My, Tuy Phuoc, An Nhon and Hoai Nhon districts. Last September, Quang Ngai set up a centre for bai choi conservation.
The ministry is also working with the Binh Dinh Union of Culture and Art Associations to revive bai choi in Ninh Thuan. Last October, a bai choi singing competition was held in Phu Yen for artisans in the locality as well as neighbouring Binh Dinh and Quang Ngai.
The National Centre for Research, Conservation and Promotion of Vietnamese Cultures held a seminar in September to gather researchers and related agencies for discussions on the game's origin, values and conservation methodology. The seminar made the study of bai choi more recognised, offering hope for its revival and recognition as an intangible cultural heritage item by UNESCO.
However, experts hope that foreigners will get to know bai choi and its value before a complete profile of the art is sent to UNESCO. "The potential is really big, but we need to help the art form regain its glory in the region first," said Pha.
Source: VNS