Traffic projects in HCM City need more investment to kick off
The government is promoting disbursement of public investment, considering it one of the driving forces to boost the pandemic-hit economy.
VietNamNet introduces an article related to the development of transport infrastructure in Ho Chi Minh City, where demand for development is great after the pandemic.
The traffic system is underdeveloped, and traffic congestion occurs every day: these are bottlenecks hindering HCM City from developing its smart city model.
At present, the proportion of land used for transportation is only around 8%, compared to the demand of 24-26%. The total length of roads and bridges in this mega city is about 2km/km2 while the standard is 10-13km/km2.
Of the total length of 4,044 km of roads, only about 1,800 km have a road bed of 7m wide. This shows that the level of investment in land and funding for transportation is still lacking, and not commensurate with a big city like Ho Chi Minh City.
For many years, the local government has made efforts to implement traffic projects to increase the road surface area, but the ability to meet urban traffic standards is still distant.
Great development needs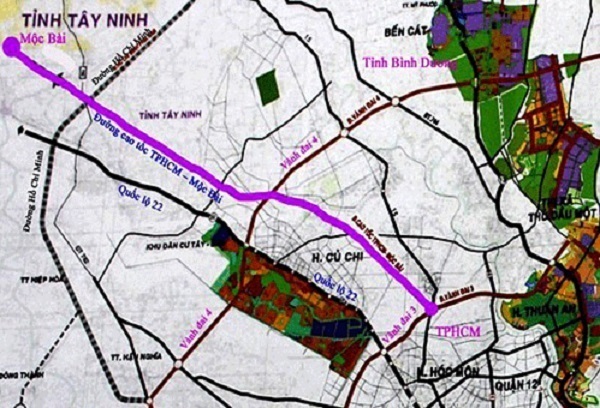 Ho Chi Minh City - Moc Bai Expressway. 
In HCM City, there are many important large-scale traffic projects with huge investment capital that need to be completed as soon as possible to contribute to the construction of a smart city such as the expansion of national highways 1, 13, 50, 22, HCM City - Moc Bai expressway, the urban railway system, 5 elevated roads and ring roads 2, 3, 4.
The city has 11 projects on the list of national projects calling for foreign investment, but only one project - the international university urban area – is invested in by a foreign investor, Berjaya Leisure.
The remaining 10 projects have not yet attracted the attention of investors, such as the project to build a bus station in Cho Lon; three projects to build elevated roads No. 1, 2, 3; the 2 monorail lines No. 2 and No. 3; the ground tram line No. 1; and the urban railway No. 6.
The relevant agencies have proposed adding many other transport projects to the national list to call for investment in the 2021-2025 period, including the urban railway lines No. 2 (phase 2), No. 3a, No. 4, No. 5 (phase 1).
Besides these projects, according to the plan for the next five years, the city will complete many other projects such as An Phu intersection, expansion of Tran Quoc Hoan street, building of four main roads in the new urban area of Thu Thiem, Thu Thiem 2 bridge, metro No. 1, metro No. 2, Ho Chi Minh City - Chon Thanh highway, and Nguyen Khoai bridge.
The city will have to seek capital to invest in the Thu Thiem 4 bridge, Can Gio bridge, and bridges connecting Thanh Da peninsula.
Transport plays a leading role, not only serving the travel needs of people but also promoting economic development, attracting investment, and increasing social labor productivity.
The longer transport projects are delayed, the more losses will incur.
According to a study made about three years ago, Ho Chi Minh City annually lost about 1.2 million man-hours and 1.3 billion USD due to traffic jams and 2.3 billion USD due to environmental pollution caused by emissions from motor vehicles. These numbers may have been much higher, which means more damage.
The delay of transport projects has caused big losses for the city. For example, the total investment for the Ho Chi Minh City - Moc Bai expressway project has been adjusted to the of 15,900 billion VND, an increase of 2,286 billion compared to the previous estimated capital of 13,614 billion VND and nearly 5,200 billion compared to the initially announced figure in 2019.
The resolution of the Party Congress of Ho Chi Minh City for the 2020-2025 term set the goal to increase the ratio of traffic land to urban construction land to 15% as well as increase the average density of roads on land area to 2.5km/km2.
The municipal People's Council has approved a scheme to increase public passenger transport in combination with control of the use of private vehicles.
Traffic infrastructure has been planned, in addition to budget capital, and there are 210 projects with total estimated capital of 923,630 billion VND (nearly 42 billion USD) that are calling for investment in the form of public-private partnerships (PPP).
Tran Van Tuong

HCM City needs VND970.654 trillion worth of capital in 2021-2030 to develop key transport infrastructure projects.