Transport Ministry proposes allowing private firms to invest in airport projects
The Ministry of Transport has proposed mobilizing private resources under the public-private partnership model for new airport projects, such as Quang Tri, Sa Pa and Cao Bang.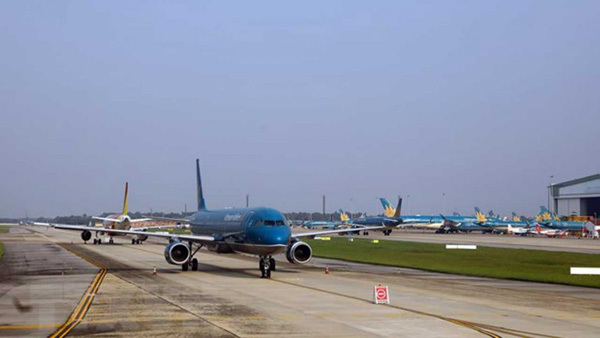 A view of the Noi Bai International Airport in Hanoi. - Photo: VNA
A ministry representative on January 10 said the ministry had submitted a plan to the Government on the mobilization of private capital for aviation infrastructure development, the local media reported.
Accordingly, the Airports Corporation of Vietnam (ACV) will continue playing the leading role in airport investment, while private investors will also be called upon.
Specifically, 28 airports planned by 2030 will be divided into five groups.
The first group will include Noi Bai, Danang, Cam Ranh, Long Thanh and Tan Son Nhat, which are important airports connecting domestic and international flight networks.
In this group, private capital will be mobilized for aviation services.
The second group will consist of the Tho Xuan, Chu Lai, Phu Cat and Tuy Hoa airports, whose assets and land are managed by the Ministry of National Defense. The Ministry of Transport proposed mobilizing private resources for airport projects, especially the Chu Lai airport, if the Ministry of National Defense hands over the flight region to the Ministry of Transport or localities.
The third group will include the Dien Bien, Na San, Dong Hoi, Pleiku, Buon Ma Thuot, Rach Gia, Ca Mau, Phu Quoc and Con Dao airports, which are in remote, mountainous and island areas and have an annual capacity of fewer than five million passengers each by 2030.
In the next group, Cat Bi, Vinh, Phu Bai, Lien Khuong and Can Tho airports, which will serve more than five million passengers per year by 2030, hold high potential for development and investor attraction and serve no regular military activities.
For these two groups, the Ministry of Transport will transfer runways and taxiways to localities, while ACV will hand over aircraft parking areas, passenger terminals and technical infrastructure facilities to localities so that they can call for investment.
The last group will have new airports, such as Sa Pa, Quang Tri and Lai Chau, and potential airports, such as Cao Bang, Haiphong and the second airport in the capital area.
The Ministry of Transport suggested developing facilities at these airports under the public-private partnership model.
At the 21 existing airports operated by ACV, facilities will be divided into four groups for easier management, operation and investment–essential flight operating items; runways and taxiways; aircraft parking areas, passenger terminals and technical infrastructure facilities; and aviation service items, such as cargo terminals.
Many private enterprises have proposed investing in airport projects. For example, Vietjet has sought to invest in the Chu Lai, Cat Bi, Tuy Hoa and Dien Bien airports; Imex Pan Pacific Group wanted to invest in the Phu Quoc and Tuy Hoa airports; and Vingroup suggested developing the Chu Lai airport.
By 2030, airport projects nationwide need a total investment of some VND403.1 trillion.
Source: SGT

The Prime Minister has approved a project to build an air terminal in the central province of Quang Tri in the public–private partnership (PPP) form with a total investment of VND5,822.9 billion.

Vietnam's emerging and dynamic private sector proved its resilience during the Covid-19 pandemic as it helped the country become one of the few countries to obtain positive growth in 2020.