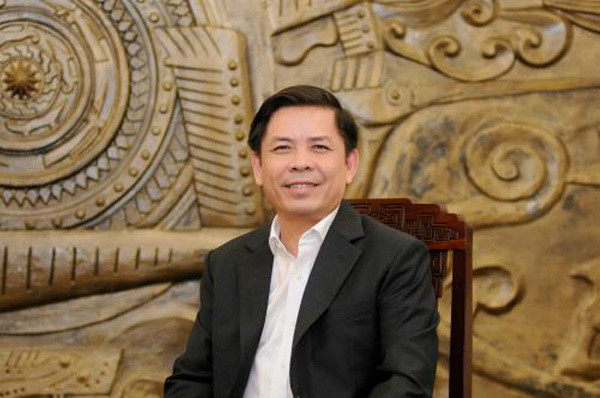 Transport Minister Nguyen Van The. 
Vietnam will assume the ASEAN Chairmanship in 2020 with important meetings and activities scheduled to take place. How has the Ministry of Transport prepared for these activities?
At the end of 2019, the Ministry of Transport successfully organised the ASEAN Transport Ministerial Meeting with Japan, South Korea and China. This was good preparation for Vietnam ahead of its assumption of the role of ASEAN Chair 2020.
In 2020, the Ministry of Transport, together with other units and countries in the region, will organise seminars on transportation to enhance connectivity among countries in the region and other partners.
We look forward to signing an agreement with the European Union (EU) on commercial activities to enhance air transport between ASEAN and the EU.
This agreement will open the regional aviation market to expand to other parts of the world. This will provide an opportunity that will enable investors and tourists to visit Vietnam faster and more conveniently.
In the context of limited budget resources, does the Ministry of Transport have any solutions to attract capital to the transport sector?
The Ministry of Transport, together with the Ministry of Planning and Investment and other sectors, is asking the Government to finalise amendments to the Law on Investment in the form of public-private partnerships (PPP Law). This law is expected to create breakthroughs for many fields, including transportation.
When there is a legal basis for public-private partnerships, policies will be made public and transparent to attract more resources for infrastructure development.
We hope the provisions of the PPP Law will mobilise more resources.
We are focusing on the national highway system, including the expressway system. Although we have 25,000km of national highways, the appearance of a large number of houses on roadsides has forced us to cut speed limits, making it difficult to ensure traffic safety.
Therefore, investment solutions to build highways are being prioritised. Highways are the only way of connecting economic centres, regions and industrial parks quickly and conveniently, while ensuring traffic safety. The Ministry of Transport expects that when the PPP Law is enacted, it will mobilise resources for highway system development.
Issues have occurred in the past regarding railway and aviation safety. In the future, what will the Ministry of Transport do to fix these problems?
Regarding railways, the Ministry of Transport has submitted to the Government a project to upgrade and improve the infrastructure on Hanoi-HCM City railway route with an estimated cost of VND7 trillion.
There will be upgrades to intersections between roads and railways to reduce collisions. We will also invest more in automated warning devices such as lights and speakers.
The Ministry of Transport will coordinate more closely with localities with railways to restrict new intersections and enhance local responsibility.
Regarding aviation, there have been a number of incidents related to flight safety. With the use of equipment such as flycams, the Government has assigned the Ministry of Defence to study solutions to manage these devices to ensure flight safety.
Regarding a number of technical errors, the Ministry of Transport has directed specialised management units to propose solutions for this problem.
The ministry will also strictly handle violations related to airlines, particularly pilots and the airlines themselves.
The Vietnam Aviation Administration will strengthen inspections to reduce potential risks.
Some new airlines are being launched, which is a positive sign that will increase service quality and lower ticket prices. However, along with that there will be a shortage of aviation human resources, causing pressure on aviation infrastructure.
In response, the Ministry of Transport has instructed each airline to employ qualified pilots and technical staff when new aircraft go into operation, otherwise they will not be licensed. VNS

While awaiting creation of a comprehensive legal framework, build-operate-transfer transport initiatives across the country continue to seek new funding from cautious lenders.  

The bidding for the North-South Expressway will be conducted publicly and transparently in order to select qualified contractors.