Travel agencies seek changes to cope with Covid-19
Travel agencies are attempting to be more creative as more people are choosing backpacking.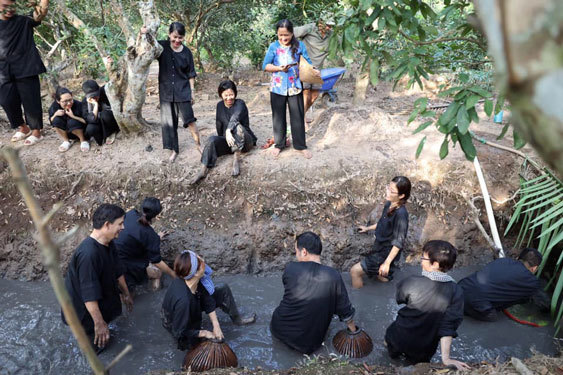 Catching fish during an eco tour in Ben Tre Province


Mai Lan from HCM City and 20 other people are planning a trip to Nha Trang for the Reunification Holiday on April 30. Instead of booking tours like usual, this time Lan wanted to go backpacking for three days. According to Lan, backpacking means they don't have to follow any schedule and move around more freely.
A report about tourism trends in 2021 by Outbox Consulting shows that backpacking and small group travel will be the trend to cope with social distancing regulations.
Dang Manh Phuoc, director of Outbox Consulting, said this trend had forced travel agencies to be more creative in designing tours and choosing destinations including mountain climbing tours. Travel agencies used to organise tours for a large group of strangers. But now most people only want to travel with their friends or family.
"As the pandemic has been on-going for a second year, demands for inbound travel and more personal experiences have increased," he said.
Vietravel said they had been able to meet 75% of the target for the Reunification Holiday. 60% of the customers booked pre-designed tours and 40% chose tailor-made tours. TST Tourists also said the number of customers choosing tailor-made tours had greatly increased.
"Backpacking and tailor-made tours have been more familiar in recent years and become extremely popular amid the pandemic. Young people like backpacking but older customers and those with families want to go to travel firms for safety and good services," said Nguyen Tran Hoang Phuong, director of Golden Smile Travel.
Tran The Dung, director of Fiditour-Vietluxtour, believed that for a group of seven to 10 members and more, booking tours from travel agencies will ensure good services, from choosing rooms at hotels to travelling with a knowledgeable guide.
"More services will bring added value to the trips," he said.
According to tourism firms, there is still room for development but they have to invest to make the packages more attractive and unique.
nld/dtinews

Vietnam's seas and islands will be brought to domestic and foreign visitors with Vietnam National Administration of Tourism posting the "Travel to love - Seas beckon" video on YouTube on April 6 as part of its "Discover Vietnam" programme.