Travel News
Vietnam Tourism Awards 2013 about to launch; Danang visitors get free postcards; Festival of Art benefits Sa Pa artists; Hanoi tourism jumps 14.6% in eight months; Phu Quoc to see waves of int'l arrivals this November
Phu Quoc to see waves of int'l arrivals this November
Phu Quoc Island off Kien Giang Province will likely welcome strong waves of international arrivals starting this November as many international flights to the holiday destination during the peak season have been planned.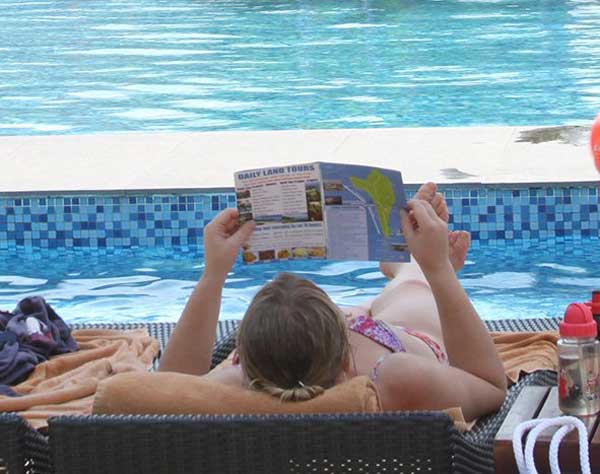 A foreign tourist reads a brochure of daily tours by a pool at a luxury resort on Phu Quoc Island off mainland Kien Giang Province
Vietnam Airlines (VNA) will launch five international weekly flights to Phu Quoc, with two from Singapore using A321 aircraft and three from Cambodia's Siem Reap using ATR72 aircraft, according to Airports Corporation of Vietnam.
Meanwhile, a number of foreign carriers also have plans to scale up their frequencies of chartered flights to Phu Quoc.
Russia's travel firm Pegas Touristik will organize 30 chartered flights a month to the island from November, with 186 flights in total over a period of nearly five months, bringing tourists from Moscow.
South Korea's Hanjin Travel plans to charter aircraft of Asiana Airlines to the island with two to four flights a week.
In terms of domestic services, there are currently three local carriers, namely VNA, VietJetAir and Jetstar Pacific, flying between Phu Quoc and three major cities – HCMC, Can Tho and Hanoi.
Phu Quoc Airport welcomed more than 5,600 flights with as many as 666,000 passengers in the year's first eight months. On the busiest day, the airport handled a total of 40 flights with over 4,600 passengers.
The number of passengers through the airport is estimated to reach one million for all of 2014, a year-on-year jump of 45%.
The fact that many airlines plan to kick off new services and increase flight frequencies to Phu Quoc is attributable to improved infrastructure for tourism and hospitality there.
Vinpearl and Salinda are expected to supply 1,000 luxury hotel rooms on the island by the end of this year. The expansion of local resorts will also add more rooms to help meet the increasing demand of tourists there.
Airports Corporation of Vietnam and local travel agencies are now working together to woo Russian visitors, who are entitled to a visa-free stay of up to 30 days.
Carriers launching international air services to Phu Quoc will enjoy a 50% discount on aircraft ground handling fees over three years from the launch date of their maiden flights to the island.
Phu Quoc Airport was inaugurated and put into service in December, 2012. The airport meets 4E standards of the International Civil Aviation Organization (ICAO).
Vietnam Tourism Awards 2013 about to launch
The Vietnam Tourism Awards 2013 ceremony will be held in the Hanoi Opera House on September 20, the organising board announced at a press conference in Hanoi on September 19.
The awards, now in its 15th year, honour outstanding travel agencies, hotels, carriers, shops and restaurants throughout the country. Categories include the Top 10 domestic tour operators, Top 10 international tour providers, Top 10 five-star hotels, and the Top 4 restaurants.
So far, 110 candidates have submitted nomination papers to the organising board.
In 2013, Vietnam received 7,572,352 international tourists, a 10.6 percent rise over 2012, bringing 200 trillion VND (9.4 billion USD) for the state coffer.
In the first seven months of this year, the country welcomed over 4.85 million foreign tourists, a year-on-year rise of 15.6 percent.
The tourism sector will strive to serve 8 million foreign and 37.5 million domestic tourists this year, grossing 240 billion VND (11.2 million USD) in revenue.
Danang visitors get free postcards
The Culture, Sport and Tourism Department of the central city of Danang will launch the Danang Smiling City project as a part of tourism promotion next month.
Deputy Director of the department Tran Chi Cuong said that during the first stage of the project, free postcards would be given to tourists from 100 stalls at the airport, railway station, hotels, resorts and destinations.
Project manager Tran Dang Khoa said the cards displayed the Rong (Dragon) Bridge spanning the Han River. Khoa said in the second stage, tourists would get free cards offering 10 to 50 percent discounts for goods.
The city has hosted 1.78 million tourists so far this year.
Festival of Art benefits Sa Pa artists
More than 50 artworks depicting the beauty of nature and rich ethnic culture in the picturesque hill town of Sa Pa are on display at the Festival of Art starting on September 21.
The event is an Art for Community initiative to raise funds for local artists and communities.
The display features the artworks of artists and children in Sa Pa , including the paintings by British-born Bridget March, who is living in Sa Pa and working on the Art for Community project.
Her artworks celebrate the Mong and Red Dao people and their culture. Using images of objects, animals, people and landscapes, she has created unique works.
Painters Dang Tin Tuong, Pham Phan Hoang Linh, and Trieu Quang Hung have dedicated a body of work to Sa Pa, its cheerful people and landscapes.
Many artists plan to open their studios to visitors during the festival.
Another main activity of the event is an exhibition titled "Art for Community". It displays prints and postcards created by March and the children of Ma Cha primary school and Ta Phin Village.
The collection features every day subjects familiar to the children, such as rice bowls, temple flags, bamboo cow bells, Dao children's hats and plum blossoms.
Most artists will donate 20 percent of their proceeds to the project.
Hosted by the Lao Cai Tourist Information and Promotion Centre, the event is expected to become an annual event. It will last until October 18.
Hanoi tourism jumps 14.6% in eight months
In the eight months leading up to September the Hanoi Tourism Association successfully organized a record number of visits to Australia, Russia and Western Europe with the aim of promoting both inbound and outbound tourism.
Speaking at a conference on September 18, Vice President of the Hanoi Tourism Association Ta Minh Hung added that despite some ups and downs, overall leisure tourism (both domestic and foreign) attained remarkably good growth during the eight month period.
As a result of the East Sea dispute, foreign arrivals in Vietnam dipped 19.94% on-month in June to 539,776 according to official statistics, Hung said.
However, the market quickly rebounded in July and August, and in the eight month period nationwide tourism jumped up 12.2% on-year to 5.4 million foreign arrivals. Hanoi alone experienced a record 14.6% rise in tourism to 1.6 million foreign arrivals.
Hanoi Tourism Association leaders are continuing to coordinate with the Ministry of Culture, Sports and Tourism and relevant local authorities to develop new tours, especially to the more famous spots and natural heritage sites, he said.
At the event, the Hanoi Tourism Association added four new members: Vinaventure club, AZ Gift, Large House Co. Ltd and New Sake restaurant.
SGT/VNN/VNA/VNS