Airbnb hosts in HCMC earn a higher average revenue for homesharing services than those in Hanoi.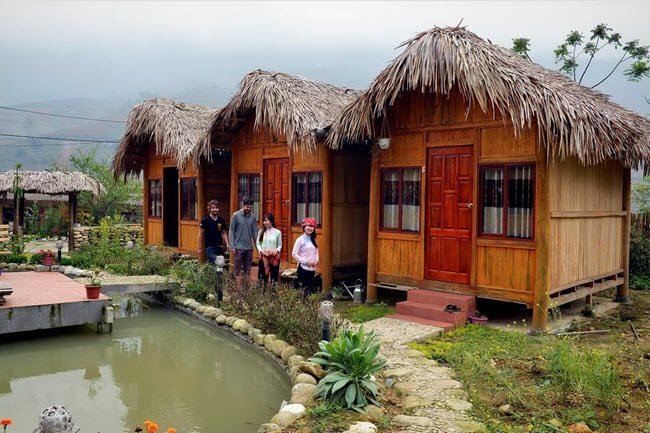 Foreign tourists are seen at a homestay facility in Sapa Town, Lao Cai Province. The number of international tourists accounted for 84% of Airbnb guests in HCMC and Hanoi in 2018
Especially in the winter, each of the HCMC-based homeowners generates VND11.5 million (US$491) per month, while the monthly income of a host in Hanoi is some VND6.7 million.
Also, during the off-peak travel season from May to June last year, each Airbnb host in HCMC earned an average of VND8.3 million monthly, while those in Hanoi earned VND5.2 million per month, according to the Homesharing Vietnam - Insights Report released by Outbox Consulting, a tourism development consulting firm.
The report gave an overview of the homesharing market in Vietnam, pointing out that the number of accommodations available for rent on the Airbnb platform has been sharply rising in the country by 97% annually in HCMC, 112% in Hanoi and 111% in the central city of Danang.
As of last year, more than 40,800 rooms were listed on Airbnb for short-term rent, up from the figure of 1,000 units seen in 2015. The report also revealed that local hosts had offered homesharing services to a total of 400,000 guests two years ago.
Multi-listing hosts made up 69% of the total in the country last year, and the number is on the rise. They rent out multiple rooms and houses to guests, instead of a single property. Among the homesharing units, 47% offer the entire home and nearly 50% offer private rooms.
According to Outbox Consulting firm, the homesharing service has become a type of product generating extremely high profits and is not purely a way to improve incomes for people who have vacant rooms.
Besides this, many people have reportedly purchased apartments in major cities to rent out rooms for short-term stays, which can generate higher monthly incomes than leasing houses under long-term contracts by an average of 20%-50%.
The report also revealed that the number of international tourists accounted for 84% of Airbnb guests in HCMC and Hanoi, while the rest were local people, mainly from the three major cities of HCMC, Hanoi and Danang with an average stay duration of three nights. SGT
Dao Loan