Vietnam's newest carrier Bamboo Airways will delay direct flights between Hanoi and Prague, the Czech Republic, from March 29 to April 26 due to the impact of the COVID-19 outbreak, its representative said on March 11.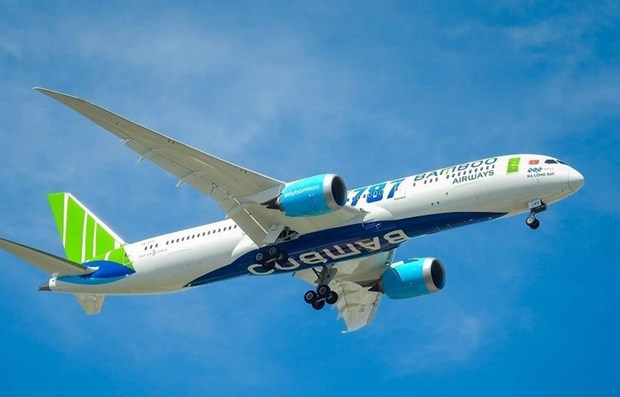 Illustrative image 
To prepare for the launching of the Hanoi-Prague direct service, Bamboo Airways has sold tickets for the route since February 5.
On the same day, national flag carrier Vietnam Airlines announced that it will reduce 14 flights per week between Vietnam and Europe, including between Hanoi/Ho Chi Minh City and London/Paris/Frankfurt, in an attempt to contain the spread of the epidemic.
Vietnam Airlines is now the only Vietnamese carrier to operate flights between Vietnam and Europe.
As Europe is now one of the COVID-19 epicenters with hundreds of infection cases per day, the Vietnamese Government has agreed to suspend unilateral visa exemptions for citizens from Denmark, Norway, Finland, Sweden, the UK, Germany, France and Spain, starting from 0:00 on March 12.
Vientiane-Da Nang air route postponed over COVID-19 fears
Lao Airlines have moved to push back the impending launch of a direct air route between the central city of Da Nang and Vientiane, the capital of Laos, as a result of the increasingly complicated nature of the novel coronavirus (COVID-19).
Originally the direct air route had been scheduled to open on March 29. However, according to Da Nang city's Tourism Promotion Centre, Lao Airlines have made the decision to delay the launch of the route due to a downturn in the travel industry amid fears relating to the COVID-19. The airline plans to publish an updated schedule at a later date.
The flight route is set to begin with three flights per week, departing on Tuesdays, Thursdays, and Sundays.
Lao Airlines will use an ATR-72 aircraft with 70 seats on the new flight route, which will serve to boost tourism, investment, and trade between the two cities.
The Vientiane-Da Nang route will begin from Laos at 11.10am before arriving at Danang International Airport at 12.50pm. Meanwhile, flights are scheduled to leave from Da Nang at 1.30pm, before landing at Vientiane airport at 3.30pm.
The original purpose of introducing the new route is to meet demand, as there are currently no direct flights between Da Nang and Laos, with Laotian passengers forced to transit in Hanoi when travelling to Da Nang and vice versa. VOV/VNA/VNN

The Ministry of Transport (MoT) has proposed the Government allow Bamboo Airways to increase its fleet instead of restricting the firm's aircraft number to 30 like at present.

Bamboo Airways and resort operator Vinpearl on February 27 signed a strategic cooperation agreement in the field of air-tourism service.