From the centre of Ha Giang City towards Thanh Thuy international border gate for about 5km, Tha Village in Phuong Do Commune features a traditional and pristine charm.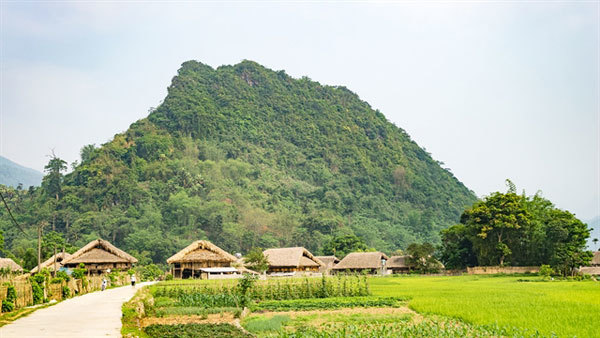 The way to Tha Village. — Photo thanhpho.hagiang.gov.vn
The village is set near a forest and is home to the Tay ethnic group. It has a peaceful beauty with rustic stilt houses on rice fields and green palm hills. The charming landscape and rich cultural identity of Tay people inspire all visitors to Tha Village.
Passing through the village's gate, we were immersed in the space with bamboo lines whispering in the wind and green rice fields.
The village was completely quiet, only the clattering sound of the rice mortar could be heard thanks to the water of the small stream.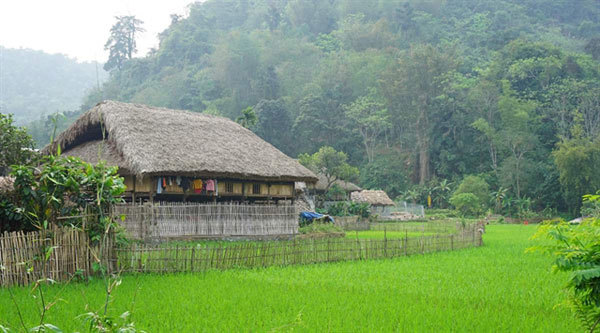 Tha Village has a peaceful beauty with rustic stilt-houses on rice fields and green palm hills. — Photo phuotvivu.com
Only a few kilometres from the city centre, coming here is like being lost in a fairyland, without noise, cars or tall buildings. Walking around the village and enjoying the fresh air and the scent of young rice seeds, we could feel the charm of the village.
The village is almost always covered by white mist, along with the scenery of clouds and the vast green forests. It is a cultural village which maintains the traditional values of the Tay ethnic group.
It has more than 100 homes making up the whole neighbourhood and traditional stilt houses made from wood and bamboo and with palm-thatched roofs. 
In addition to the features of rustic stilt houses, the people here still use traditional brocade weaving and make bags, towels for clothes. In Tha Village, we often saw women sitting by the loom, weaving extremely delicate patterns on the dark green indigo brocade.
According to the elders in the village, embroidery and sewing skills are often how Tay girls are judged. Therefore, from a young age, girls follow their mothers to the fields to grow cotton. When the girls grow up, they will be meticulously taught how to weave and embroider patterns.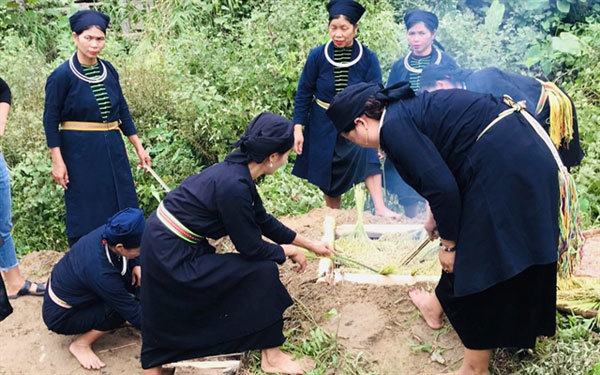 Tay people take part in the new rice festival, Lẩu Then Cốm in September lunar calendar every year.— Photo hovi.vn
In addition, the village still preserves traditional festivals such as Lồng Tồng festival (a ceremony to pray for good weather and bumper crops), Lẩu Then Bjóoc Mạ festival (asking the God to have a peaceful year, good weather and luck) and the new rice festival, Lẩu Then Cốm.
In 2007, Tha Village was chosen to develop community tourism and residents were taught environmental hygiene skills like building toilets and keeping cattle pens away from houses. They were also taught about marketing, communication and how to deal with tourists.
"In order to preserve and promote the value of the national cultural identity associated with the development of community tourism, the commune focuses on investing in infrastructure; propaganda and advocacy of planting landscape trees; upgrading of housing campuses; co-ordinating with the municipal Department of Culture, Sports and Tourism to organise training courses to develop homestays in the village," said Nguyen Van Quan, vice chairman of Phuong Do Commune People's Committee.
According to Quan, people's lives have improved, especially those directly involved in homestay services.
The local cuisine is another part of the cultural beauty of Tha Village.
Our group of four stayed in the same house and our highland meal was simple but strangely attractive.
We enjoyed special dishes such as pork smoked in kitchens, fish cooked with sour bamboo shoots, shredded mountain chicken mixed with salad, cơm lam (lam rice) and xôi ngũ sắc (five-coloured sticky rice).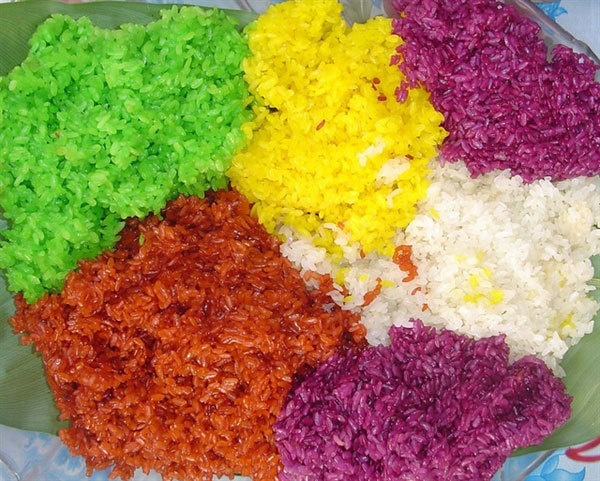 Xoi ngu sac (five coloured sticky rice) is a popular dish of Tay people in Tha Village. — Photo dammenaunuong.com
The taste of hot dishes emanating from spices such as mắc khén (the Thai ethnic group's wild pepper), thảo quả (a plant used in traditional medicine and as a spice) and cinnamon mixed with the glaze of a spicy cup of wine next to the cosy fire was unforgettable.
When night fell, we were immersed in the songs and lyrics of the Tay people with Then song, songs for crops, songs for love and lively dancing.
The peaceful beauty of Tha Village, the friendliness, hospitality and unique cultural features of the Tay community here were imprinted in our hearts. 
VNS

At the foot of Lung Cu National Flag Tower, the country's north pole in Lung Cu commune, Dong Van district, there is a miraculous village, which is often depicted in legends. Its name is Lo Lo Chai.

Ha Giang Province is a wild and charming land, and much of the northern mountainous province is incredibly beautiful, including Xa Phin Village, Phuong Tien Commune, Vi Xuyen District.