No one knows how long nem (Vietnamese fermented pork roll) has existed, but during French colonialism, famous poet Tan Da became addicted to nem Thủ Đức, named after the Sai Gon District, on his first trip to the city now known as HCM City.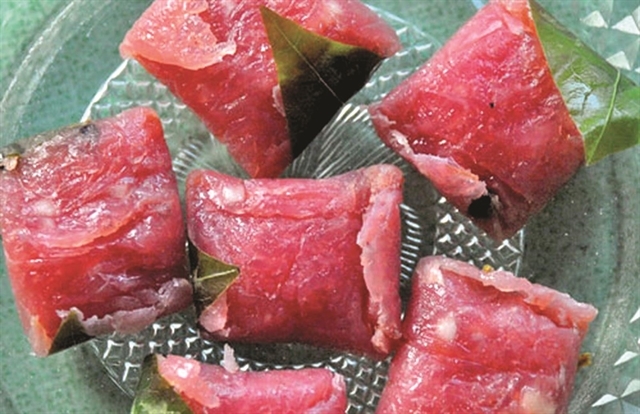 Kicker: Thu Duc nem (sour fermented grinded pork meat is so tasty and delicious that no one could refuse to enjoy it. — Photo cgvdt.vn

He was very interested in trying the nem, known as nem chua in the north, with a cup of wine at Thien Loi Thanh Restaurant.
The dish has long been popular in not only HCM City but also in its surrounding provinces, said 92-year-old Thu Duc District resident Huynh Van Loi.
He related a story that in early 20th century, near the Thu Duc railway station, there was a makeshift shop owned by a widow named Nguyen Thi Ky, who was the fourth child in her family and had curly hair so locals called her Tu Quan, which literally translates as 'fourth curly'.
Most of her regular customers were railway workers. One day a worker came to her shop intending to ask her for a plate of food. At the time Tu Quan was holding a piece of pork that she planned to cook for him, but the man was so hungry that he told Tu to cut the meat for him to eat with unripened banana and five star fruits right away.
Tu Quan told the man he couldn't eat uncooked pork meat, but he insisted it would be fine with some garlic, chilli and wine.
Although she was very confused, she told him he should wait for her to grind the meat then mix it with chilli, pepper, and garlic for him.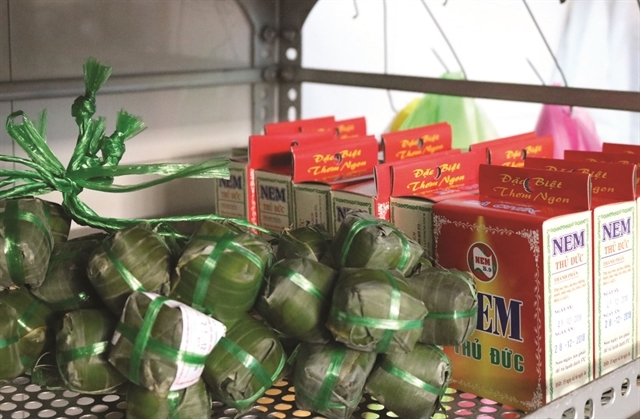 Kicker: The Thu Duc nems, which are being wrapped in banana leaves ordered from the south western provinces such as Ben Tre and Vinh Long, have their own arromatic flavour. — Phot cgvdt.vn

Tu brought out a colourful plate of mixed fresh meat surrounded by fresh herbs to the man, who used the herbs to wrap the meat and dipped it in a small bowl of fish sauce.
"Oh, the dish is so tasty with an aromatic flavour I've never experienced before," he praised the food.
Tu Quan thought the dish would be better if it was mixed with a little salt, a spoonful of fish sauce and more garlic. She also boiled the meat's skin for a while and cut it into threads to mix in and then used fig leaves in her garden to wrap the mix and fermented it in a pot.
Three days later, she the pot smelled incredible. She opened and tried the tasty fermented meat. She then invited her customers to try and they all loved it.
Tu then named her dish nem.
From that time on, Tu Quan's shop was always crowded with eaters who came to enjoy nem. Some of them asked Tu to fry or grill the nem for them.
Thanked to the nem, Tu's business developed. She turned her small shop into a tile-roofed house then a high building. After she died her daughter turned it into a restaurant named Thien Loi Thanh which produced and served the tasty nem.
Loi said witnessing Tu Quan's thriving business, many locals arrived at her house to learn how to make nem. They then also opened their own shops to sell the dish but Tu's items still sold best while the dish became a Sai Gon speciality.
He said he didn't know why and how Tu Quan and her daughter's job had been gone but thank God, the job of making nem had been continued by one of their successors, Nguyen Thi Kim Can, locally known as Ba Chin, more than 40 years ago.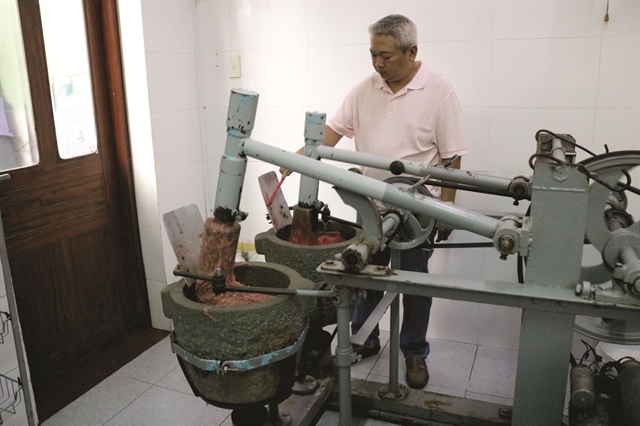 Different from the past when nem makers often ground the pork meat by hands now many nem makers in Thu Duc use a machine to grind the pork. This way is faster than before but quality may be reduced. — Photo cgvdt.vn

"I have to choose the meat very carefully by ordering from only prestigious farms or households. I have to wake up at five in the morning go to their slaughterhouse to get the meat since it is still warm and then cut up it to get only lean meat without any fat to ensure a successful fermenting process," Chin said, adding that with these secrets her dish has also become popular.
"Apart from fig leaves, I use guava leaves to be eaten with my nem, which makes it much more tasty and delicious," she said.
At the age of 80, Chin handed down the job to her oldest son Le Nguyen Hung who said thanks to his mother's quality nem, his family has been popular locally and in other provinces like Binh Duong and Ba Ria Vung Tau.
"To ensure quality nem as my mother did, I have to order white and pure salt from Phan Thiet, refined yellow sugar and honey from Ben Tre and banana leaves from western provinces of Long An and Vinh Long where the leaves have their own fragrance," said Hung.
He said to preserve the traditional job, his family members perform every process of making nem.
"We only hire employees during peak seasons such as Tết. During that time we often sell thousands of pieces of nem a day."
Overseas Vietnamese from Los Angeles Duong Quang Nghị, who has lived in the US for more than 30 years, recently returned for business in HCM City and said he missed Chín's nem so much.
"It was so great when I realised that Hung's nem and its flavour are still the same as the Thu Duc nem that I ate in the past." — VNS
Ha Nguyen & Ho Hoang

Travel website My Late Deals has revealed its Street Food City Index, which features a total of 30 cities where visitors can enjoy the world's most delectable street food, with Ho Chi Minh City being ranked third in the list.  

If you are a noodle lover, HCM City is one of the best places in the country you can try different kinds of noodles with beef offal, wonton or duck meat.