Despites having won nine international awards for his tea, Nguyen Cao Son still wants to work harder to preserve the Vietnamese tea culture and tell the world about the tradition. Bui Quynh Hoa reports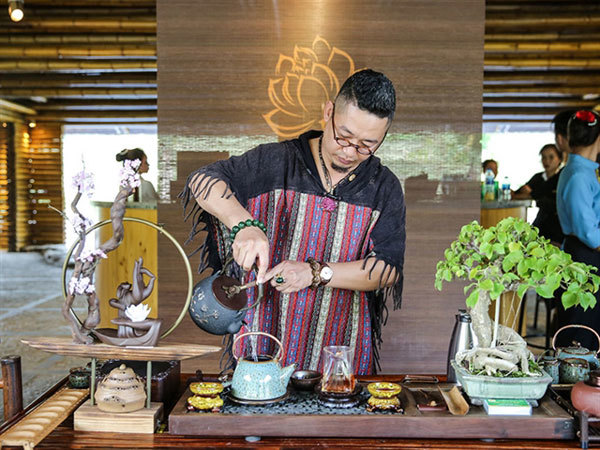 Tea artisan Nguyen Cao Son wants more world tea lovers know about Vietnamese tea and its culture. Photo courtesy of Nguyen Cao Son

Can you tell us about yourself?
I'm Nguyen Cao Son and I'm 30 years old. People call me a "tea artisan" but I'd prefer it if they just called me a tea lover.
I was chosen to promote Vietnamese tea at the Heritage House on 87 Ma May Street in Hanoi in 2014.
The Hanoi Department of Culture and Tourism worked with me to introduce Vietnam's tea culture on Korea Day in 2017.
A year later, I was chosen to represent Vietnamese tea products in Japan and France. The same year, I took part in the AVPA's first international tea contest, titled the Teas of the World in Paris, and I won three medals.
Last year, I was awarded six medals at the event.
The AVPA (Agence pour la Valorisation des Produits Agricoles) contest is quite unique. It is the only one in Europe to offer a sensory assessment of tea, where an excellent taste profile is remarkable rather than consensual.
What brought you to the tea making craft?
I was born in Vi Xuyen, a flower village in the northern province of Nam Dinh. My passion for tea started when I was a little boy in the village where I lived with my paternal grandfather, who was famous nationwide for his planting techniques and his art of making scented green tea. My childhood days were spent playing around him, watching him making tea, and sometimes I would also help him do minor things. He used to make lotus-scented tea in the summer and chrysanthemum tea in the autumn. Time has flied by, but my passion for the tea has become stronger and stronger.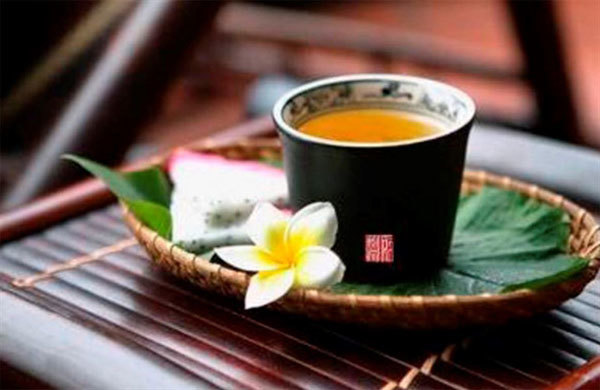 Vietnamese people believe that tea has many philosophical values and is a source of spiritual purity.

Drinking tea is considered a normal yet noble activity. What do you believe about its philosophy and culture?
As early as the 13th century, Vietnamese people believed that tea had many philosophical values, and was a source of spiritual purity. It linked people together and expressed hospitality.
Now you can drink tea everywhere with friends and family, either at small street vendors or a café. It's also trendy for youngsters to hang out and drink street tea.
Tea is also the essential beverage for all types of rituals and celebrations. In a traditional Vietnamese wedding, the bride and groom serve tea to their parents in front of their friends and family. Their parents also take turns to give their blessing and advice about marriage to the couple.
Most Vietnamese people use tea as an offering to worship their ancestors during important ceremonies such as Tet (Lunar New Year), when spring is in the air.
What constitutes good tea? What are your secrets?
I have only two secrets: quality ingredients and the correct tea-making process.
I travelled to many places across Vietnam before I finally choose Shan Tuyet tea in the northern mountainous region, which is home to the oldest tea trees in Việt Nam, and situated at an altitude of nearly 1,400m.
The trees there are over 300 years old. Their trunks and buds are very big, which makes them different from other types of tea. Due to the special climate, local people don't have to use any pesticides because insects can't develop. In the winter, there's little sunlight and fog covers the entire region. The buds are also covered by fog and they're cold to touch.
Shan Tuyet features a rich aroma, strong taste and greenish tinge. It leaves a bittersweet taste on the tongue, and then a persistent sweetness in the throat.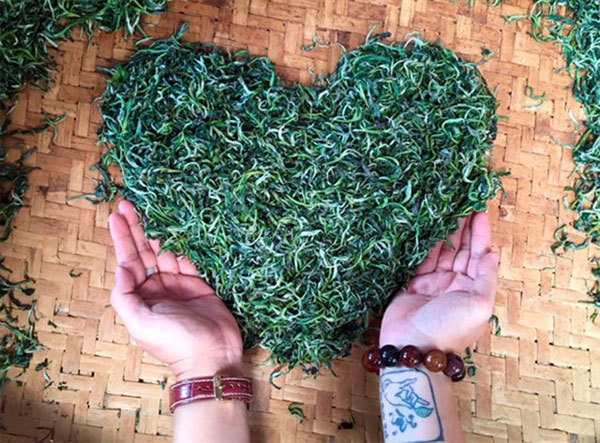 Shan Tuyet tea varieties have all three factors including aroma, strong taste and green water.
 
How about the process to absorb the scent of the lotus? How many kinds of lotus tea do you make?
It's said that the lotus symbolises beauty, purity and elegance. Vietnamese lotus tea is a kind of green tea that is imbued with the scent of the lotus.
I have two kinds of lotus tea, one is instant lotus tea which is put directly inside lotus flowers to absorb the scent, but the other is a more complicated process.
For the first tea, workers have to row out to the lake in the middle of the night to collect nectar of the lotus flowers are at their fullest. Then they carefully open up flower, fill it with green tea, tie the petals together tightly with string, and allow them to rest overnight. In the early morning, the workers row back out into the lakes to retrieve the tea. They also collect dew that forms on the lotus leaves to brew the tea.
The second tea involves a more complicated and meticulous process.
The first step is to select the flowers. Hanoi's West Lake lotus flowers, which have up to 100 petals and rich fragrance, are the best for a pleasant fragrance.
The flowers must be picked early in the morning, between 4am and 5am, when they are still filled with fragrance. Lotus stamen, which are used to scent the tea, must be gathered straight after the flowers are cut.
Gathering lotus stamen is also an art, as they must be handled with extreme care. Dried tea must be rinsed in water to get rid of the dust, then dried again before it is mixed with the stamen.
One kilogram of tea needs 1.4kg of lotus flowers, which means 1,200 lotus flowers are used in the process.
Does Vietnamese tea have potential in international markets?
Along with the strong development of Vietnamese tea, it has also won the hearts of demanding foreign customers in Japan, Canada, France and Germany.
At present, due to the complicated and labour-intensive process, one kilogramme of Vietnamese lotus tea costs about 1,000 euros. It's sold at a high price but the supply doesn't meet the demand.
Have you found a comparison between life and the way you make tea?
Spring is approaching, so let's enjoy a cup of tea, enjoy happiness, and forget about all our sadness and worries.
Let's live our lives the same way we make tea: "boil" your zeal, "evaporate" your worries, "dilute" your sadness, "purify" your mistakes, and "enjoy" your happiness. VNS

In Vietnam, tea is said to appear in almost every social activity: from weddings, birthdays, anniversaries and ritual ceremonies.

Ha Giang Province's signature shan tuyết tea trees have been recognised as part of the Ancient Tree Heritage of Vietnam.

For centuries,Truong Xuan tea house has become one of the most famous tea brands in Hanoi, helping introduce Vietnam's drinking culture to domestic and foreign friends.