Despite of freezing cold weather in the northern part of Vietnam, four types of travels listed below could be ideal choices for short trips at the weekend.
The year 2021 will see the big changes in travel trade, not only in the destination but also in the types of tourism that tourists will choose. There are four types of tourism would become trendy among Vietnamese and expat tourists this winter or even for the entire of 2021, according to the prediction of booking.com.
Having an onsen bath
The type of relaxation that many tourists look for is onsen or hot spring bath. Originating in Japan, taking an onsen bath would bring back a delicate balance, helping to re-energize the body and mind of the travelers after a year full of fluctuations.
Not only being a trend to relax in winter, onsen is also an ideal cure, which could be performed both outdoor or in private. This type of relaxation is great for groups of friends or families,  especially for 71% of Vietnamese tourists on a survey conducted by Booking.com, who see  travel after the COVID-19 pandemic as an opportunity to connect the emotion between loved ones.
Let's go trekking 
Trekking through the jungle or mountain is a great way to stay active and healthy during the cold winter months instead of staying at home watching TV or on the phone. Hiking not only brings great physical benefits such as strength, balance, flexibility and rapid warmth, but spending time  outdoor can also help people to combat "seasonal sadness syndrome" in the gloomy weather in the North.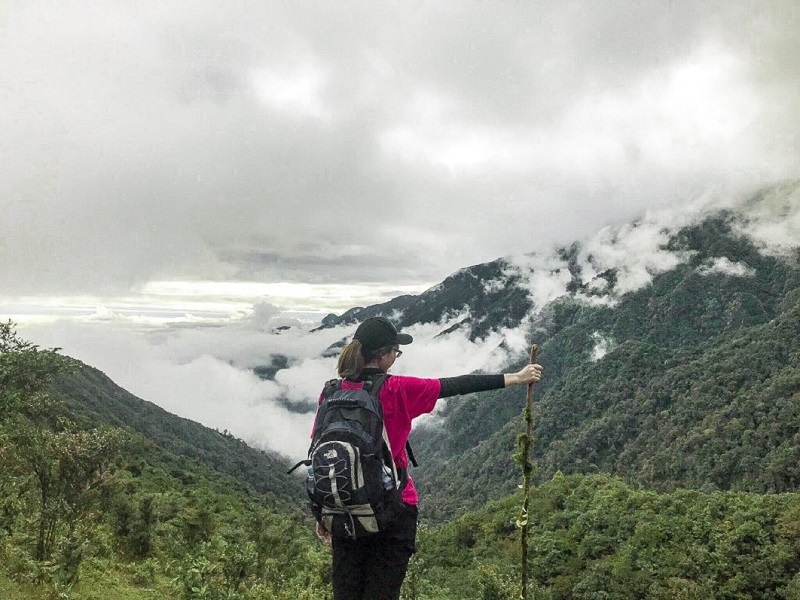 Fansipan moutain trekking. Photo: Viet Trekking 
Moreover, trekking is also a great opportunity to take photos of floating clouds and watch the starry sky shining on the mountain tops. Immersing yourself in the wild nature is an ideal way for spiritual relaxation.
In recent years, Ta Nang-Phan Dung is the most beautiful trekking route in Vietnam. With a length of more than 50 km, Ta Nang - Phan Dung forest road spans through three provinces of Lam Dong, Ninh Thuan and Binh Thuan in the southern part of the nation and said to be always hiding miracles for those who love nature exploring. Beginners can also explore Lang Biang - the highest of the three mountain peaks in Dalat, stretching four kilometers across the pine forest. In the North, trekking tours to explore Bach Moc Luong Tu, Pu Ta Leng or Fansipan moutains are always interesting suggestions.
Taking a trekking tour seems to be suitable for 57% Vietnamese travelers who have pledged to not take luxury travel for granted in the future. There is only 10% are now actually planning a luxury getaway (such as a villa, 5-star hotel), while 43% others plan a normal relaxing trip to get rid of the pandemic concerns, as Booking.com survey conducted.
Getaway at the weekend with a campfire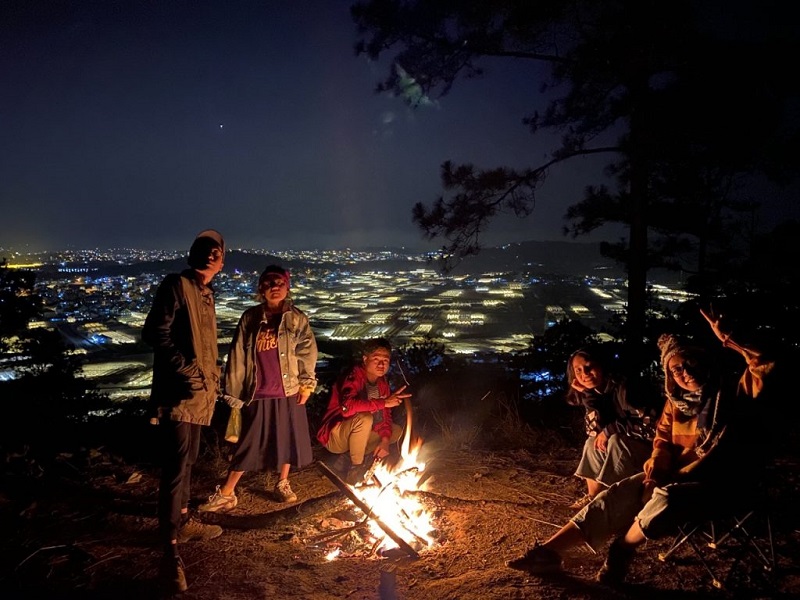 Winter get warmer when you are with friends. Photo: Da Lat Travel
What is "not cold winter"? Getting around a campfire always brings a very interesting feeling. Furthermore, camping at the beach during the low season also offers an opportunity to enjoy the feeling of "getting out of the crowd" for discerning travelers.
Having an outing at the weekend seems to be in ideal choice for travelers who wish for a short escape of the bustling city.
Sixty-seven per cent of Vietnamese travelers want to take more shorter breaks in 2021. A further 38% also revealed their preference of a weekend breaks during the pandemic, showing travelers' desires to be able to escape reality, even for just a few days. 
Food for thought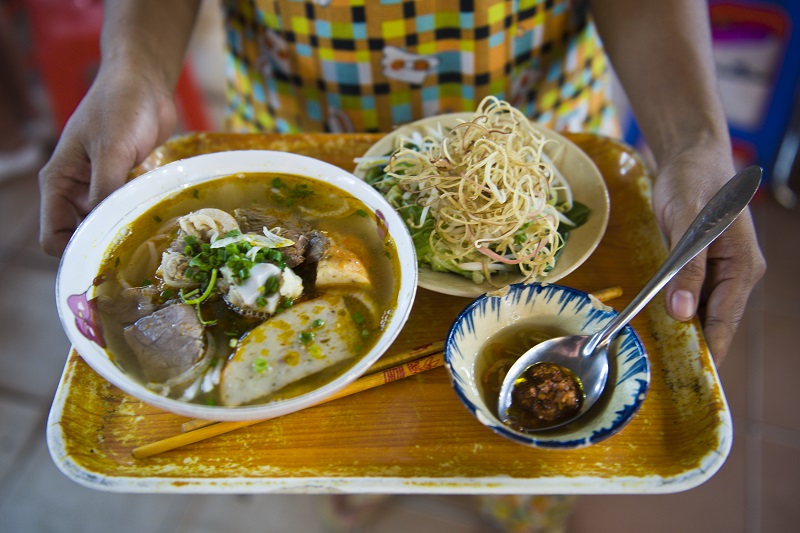 Trying local specialties is a must when traveling around. Photo: Booking.com
Travelers' desire to explore the world has not diminished but traveling abroad is still being avoided by a majority of Vietnamese travelers (73%) even when travel restrictions are lifted. That is why local travel is the new way of exploring the world, with culinary delights being top of the list. And with taste buds at the ready, 53% of the travelers are keen to taste and indulge in local cuisine while traveling, with 45% wanting to eat out more often with the money saved from not travelling abroad.
According to Anthony Lu, Regional Director, Vietnam at Booking.com, the effect of COVID-19 pandemic has evolved and will continue evolving the way people travel, impacting their choices and decisions in the near future. While travel in 2021 will be different, it is reassuring to see that Vietnamese are still optimistic about its possibilities and have found creative ways to fulfil their wanderlust despite the pandemic.
The findings of the Booking.com research and emerging trip types are testament to the fact that travel is a vital part of people lives and when the best, and safest, possibilities permit, travelers will confidently take a step forward to chase their travel dreams once again.
Thuy Duong (Hanoitimes)

At Ho Thi Ky Street in HCM City's District 10, known as a paradise for street food, with over 100 stalls, visitors can find famous dishes.

Mozzarella sticks might be known as a popular appetiser in America but in Vietnam they are also a snack loved by many.