Hanoi's cold weather tends to make everyone crave hot snacks in the afternoon, and one of the most popular is fried banana pancakes.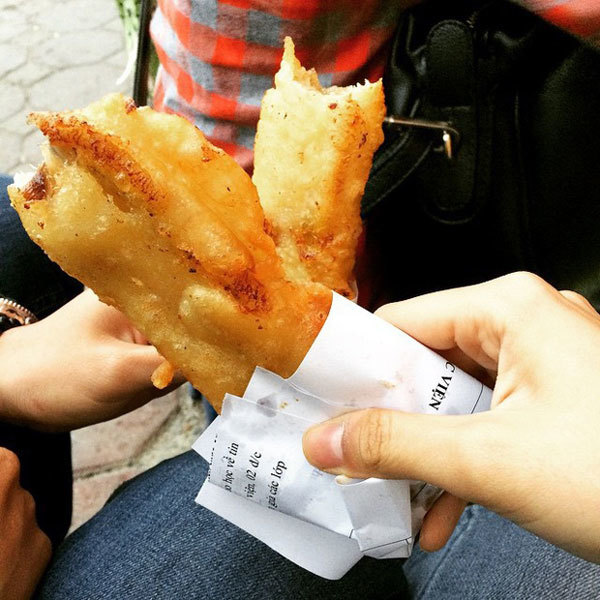 The fried banana pancake is a popular snack in the late afternoon among Hanoians. - Photo 2dep.vn
It is not hard to find any street-side eatery selling banana pancakes in the city.
The set-up of every stall in Hanoi seems to look alike, with a bowl of flour mixed with sliced banana, a big frying pan full of oil and a rack displaying attractive golden-coloured cakes.
A fried banana pancake stall on Hang Dieu Street is one of the most popular among Hanoians. The freshly fried pancakes are not just satisfying to look at with a golden crust, but also have a crispy texture and sweetness inside.
To make the thin, crunchy crust, the owner of the eatery, Do Van Thanh, has to use seven different types of flour, but does not use baking powder. The pancakes are then fried with chicken fat.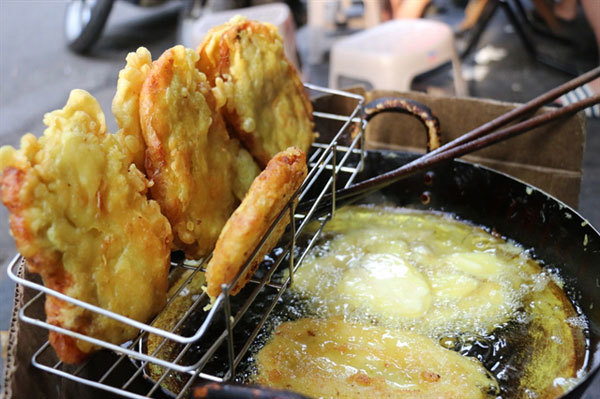 The pancakes are fried in a large pan full of oil. — VNS Photo Doan Tung
According to Thanh, the most important ingredient, the banana, must be over-ripe, also known as "honey" bananas in Vietnamese with wrinkles and black spots on their skin.
"Honey" bananas make more delicious pancakes but are harder to fry than other kinds. Instead of slicing them into thin pieces, the owner uses a wooden handle to press the banana vertically. His swift hands and decisive actions form thin flat banana pieces.
"This method helps the banana cook evenly and after being fried, they will become delicious without any bitter taste," he added.
The eatery started to sell banana pancakes in 1993, at only VND500 to VND1,000 each (US$0.02-0.04). The cheap and delicious cakes have attracted many customers, particularly when the weather gets cold. The stall has become the main source of income for Thanh's family.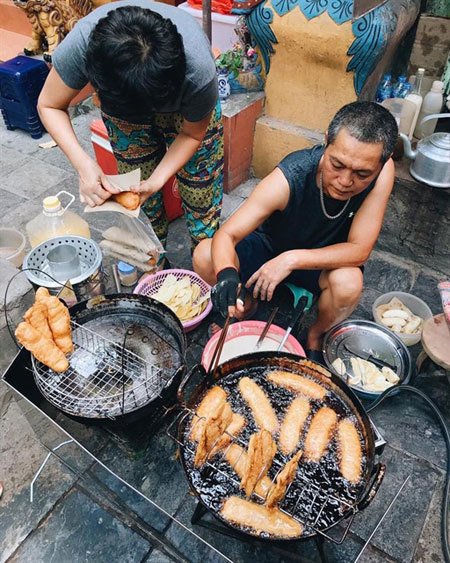 The eatery on Hang Dieu Street is familiar to any fans of fried banana pancakes. — Photo Am Thuc Hanoi Pho Facebook
Besides banana pancakes, he sells other popular snacks like sweet potato pancakes and banana pancakes mixed with sweet potatoes, sprinkled with sesame to add natural sweetness.
The owner starts to prepare the flour from 7am for the late afternoon's batch. The ingredients are often ordered from the northern province of Hung Yen due to their good quality and affordable prices.
When making the pancakes for customers, the owner reminds them to eat the sweet potato pancakes before the banana ones; otherwise, they will feel bland and greasy.
"I also do not recommend my customers to eat the pancakes that have just been fried as it is not good for their teeth. It is best to eat the cake at medium heat, when the filling is soft, the banana stuffing is sweeter and the crust is more crispy," he said.
One drawback is its limited seats and parking space; therefore, it mainly serves takeaway or delivery orders.
The pancakes are sold from 1pm to 9:30pm every day at a price of VND10,000 ($0.43) each.
"Thanks to the owner's secret in mixing flour and frying, the banana cakes retain their crispy and delicious taste, not becoming stale or greasy at all even though they are put in the bags after being fried for takeaway," said Nguyen Thi Nga, a regular customer.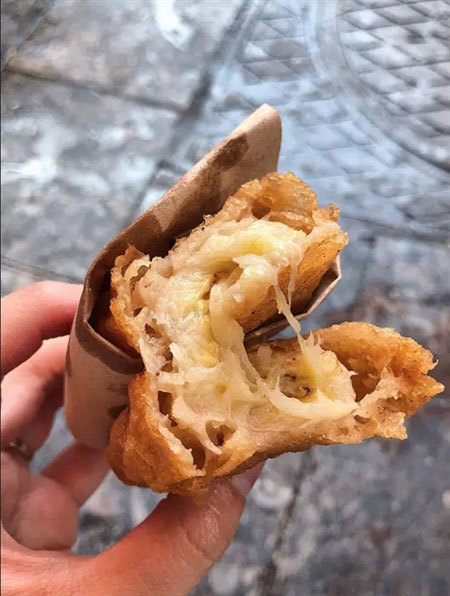 The soft banana filling mixes well with the crunchy crust. — Photo afamily.vn
Snack fans in Hanoi are also familiar with a fried banana pancake stall on Ly Thuong Kiet Street, which is quite busy at the end of the day. The pancakes served there are fragrant, crispy and could be enjoyed with the garlic chili sauce made by the owner herself.
According to Nguyen Thi Hai, the owner, the bananas are brought from her hometown, and are big and fragrant. She waits until they ripen, so their skin turns slightly brown.
"Besides the tasty pancakes, what I like about the stall is that the oil in the pan always has shining golden colour, not dark like that used in other places. Therefore, I feel safe when eating the pancakes," said Tran Thuy Linh, a customer.
The banana pancakes there are sold from 10am till 7pm at VND7,000 ($0.30). 
Phuong Ha (VNS)

Banh chuoi is a dish best served... in winter. In fact you will only find this sweet treat for sale when they weather is a bit chilly.
When the temperature starts to drop to 20 degrees Celsius, little sidewalk furnaces are fired up to cook winter snacks: pancakes with banana, sweet potatoes, and in recent years, sweet corn.