Hanoi hopes to raise the number of tourist arrivals by over 10 percent from last year to nearly 32 million in 2020, according to the municipal Department of Tourism.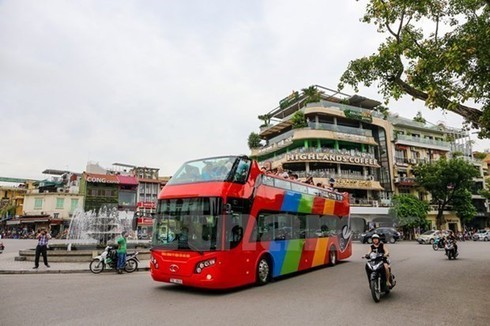 A double-decker bus carries tourists to famous destinations in Hanoi
In particular, it aims to attract more than 8.2 million foreigners and nearly 23.8 million domestic visitors this year, representing year-on-year increases of 17 percent and 8 percent, respectively.
The capital city also looks to earn 116.6 trillion – 120 trillion VND (5 billion – 5.2 billion USD) from tourists, up 12.3 – 15.5 percent from the previous year, and have an average occupancy rate of 65 – 68 percent at local accommodation facilities.
In 2019, Hanoi received high evaluation of many international newspapers and magazines. 
Notably, it ranked 15th among the world's best 25 places selected by readers of the TripAdvisor website.
The Mastercard Asia Pacific Destinations Index gave the city the 15th position among the top 20 destinations in the region. Besides, Hanoi was also named one of the world's cheapest places for travel in the 2019 Backpacker Index by Price of Travel, the world's largest database of travel costs.

These coffee shops provide not only favorable locations for lensmen but also good snacks and dishes with affordable prices.

If the budget is key, Hanoi is a must-see in Asia offering the best value.