A male tour guide in Hanoi has opened online Vietnamese coffee-making classes which have attracted many foreigners, offering a way for him to stay afloat amid the Covid-19 pandemic.
Since March, Le Hoang, 27, from Hanoi as well as many of his colleagues have been unemployed due to Covid-19.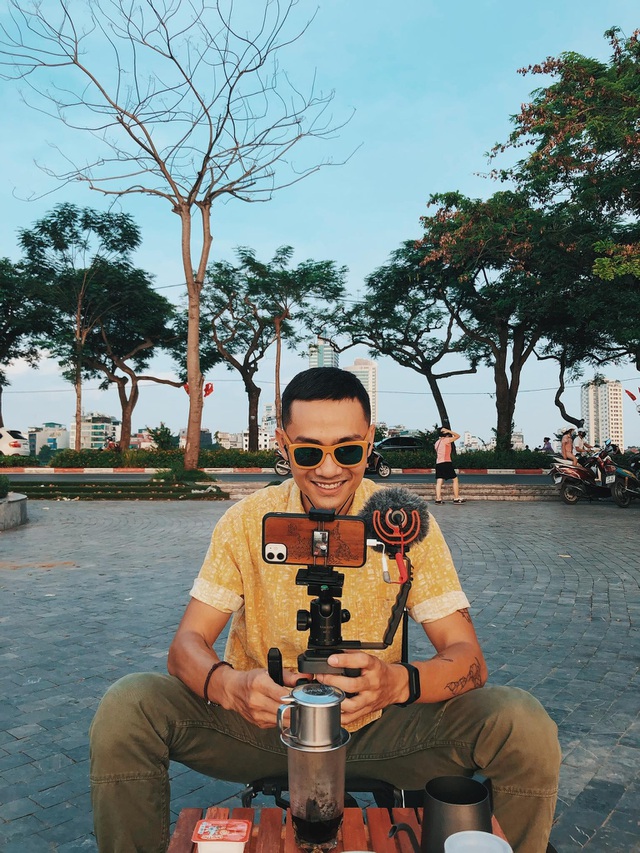 Hoang is instructing how to make a Vietnamese coffee cup for foreigners.

Before Covid-19, he used to work for 20-25 inbound tours per month, serving both Vietnamese and foreigners.

With the experience in the coffee business, Hoang thought of opening online classes to teach Vietnamese coffee-making for foreigners.

He has officially run his service since April his year. Each month, Hoang opens around 10-15 classes. He bought a phone, tripod, noise-canceling microphone, coffee beans, coffee filter, cup, condensed milk, a small folding chair and a table for his classes.

Most of Hoang's customers are foreigners. Each class lasts an hour and costs at least USD10 per person. The class participants also have to prepare necessary things to learn such as coffee beans, coffee filter, cup and condensed milk.

Hoang chose different tourist sites in Vietnam for his classes such as Hanoi's Hoan Kiem Lake, Danang Beach, Hoi An Town, Nha Trang or Ha Giang. Customers can select destinations they want or Hoang does this.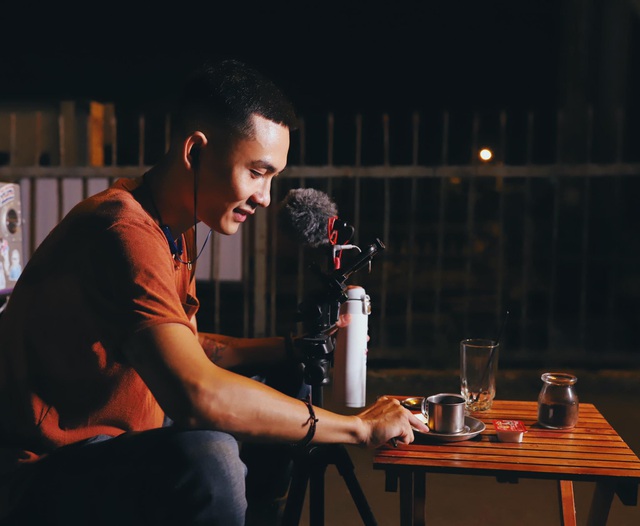 Hoang not only shows his customers the way to make Vietnamese coffee, but shares with them about Vietnam's culture and history.

Through the classes, Hoang not only shows them the way to make Vietnamese coffee, but shares with them about Vietnam's culture and history. In many cases, he spends an additional 30 minutes of sightseeing on the classes so that customers can enjoy Vietnam's landscapes through the screen.

After the class, most of Hoang's clients can make a cup of Vietnamese-style coffee.

One time, he taught how to make Vietnamese coffee for a couple in South Africa, but had to live in two different cities because of Covid-19. Hoang was very happy to help connect them.

His classes are usually on streets, so he has had to explain to local security guards many times.

Until now, Hoang has got more than 100 bookings with individuals to groups. The largest class consisted of 25 people.

The online classes have given Hoang a quite good income. He has also been praised by many clients. He, however, said that direct interaction with travellers is still more inspiring than online.

His page about the online Vietnamese coffee-making classes has been rated 4.98 out of five stars.

Hoang hoped that Covid-19 pandemic would soon be contained so he can come back to leading tours again. Dtinews

Mr. Hoang Phuong Nam, the owner of a cafe in Nghia Lo town in Yen Bai province, has spent up to six years to make a traffic mock-up with mountains, forests and sea that looks very real,