The HCM City People's Committee has issued a set of criteria assessing the safety level of tourism activities, applied to accommodation establishments, travelers, travel firms and attractions.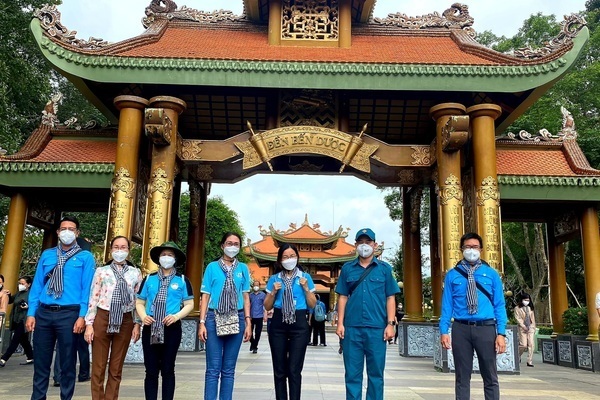 All workers of accommodation establishments, travel firms and tourism sites must be fully vaccinated and the second shot done 14 days prior to working. People fully recovered from Covid-19 are also allowed. The fully recovered Covid patients must show certificates by medical units if they were treated at hospitals, or certificates on antibody testing if they were treated at home.
Tourists aged 18 and above must be fully vaccinated. Children aged below 18 must show certificates on negative testing no more than 48 hours prior to the tour.
Accommodation establishments must meet 10 criteria to be recognized as safe. The workers who directly serve guests, such as receptionists, must be fully vaccinated and have rapid antigen testing once every three days.
Accommodation establishments are only allowed to serve food in rooms. If organizing dinners for guests in restaurants, they need to arrange separate areas for different groups of guests with the same epidemiological conditions. All people need to keep a minimum distance of 2 meters and must not sit in front of each other.
Accommodation establishments need to arrange at least one quarantine room and one waiting room, and have backup personal protective equipment.
Travel firms are only allowed to bring tourists to destinations in green zones, eligible for operation in accordance with anti-pandemic criteria. The number of travelers for each tour must meet the requirements set by the city's Steering Committee on Covid-19 Prevention and Control.
Travel firms are to ensure distance of 2 meters at minimum when communicating with clients at offices, and set up hotlines to receive information, give support to clients when necessary, and provide updated information about pandemic developments.
There must be lists of nearby medical units ready to give support in emergencies, and a standardized process of handling situations, ensuring compliance with regulations on pandemic prevention and control.
Similar requirements are applied to destination sites and attractions. However, workers who directly serve clients, such as tour guides, ticket box officers and electric car and boat drivers, must be tested once every three days.

In general, sanitation, disinfection, protective mask wearing, temperature check and supply of disinfectants must be implemented at all accommodation establishments, travel firms and tourism sites.
On September 19, HCM City organized a special tour to Can Gio and Cu Chi to show gratitude to medical workers. As many as 228 frontline staff participated in the program. 
Ngoc Ha

Stuck in Da Lat city on his trans-Vietnam journey due to the Covid-19 epidemic, Thanh Duy has had unforgettable experiences. He fell in love with the city and has decided to stick with it for a long time.

HCM City has piloted re-opening tourism by organising tours to local historical sites with participants being people working on the frontline of the fight against the COVID-19 pandemic in the city.