Having hosted the International Tourism Expo (ITE) for the past 14 years, HCMC has proposed the Ministry of Culture, Sports and Tourism allow it to continue organizing the annual event from 2020 onward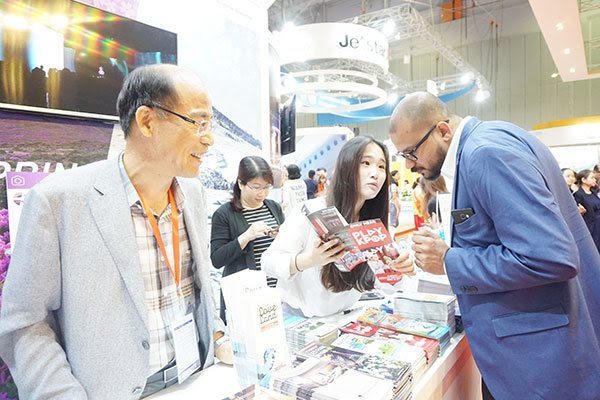 Travel firms discuss business cooperation opportunities at ITE HCMC 2018. The city's government wants to keep hosting the event from next year onward
ITE HCMC is an annual event for the local tourism industry and is viewed as one of the main tourism promotion programs in the Mekong Subregion and in the world. It is also the only tourism fair in the country that has attracted thousands of visitors from home and abroad and featured the latest travel trends and in-depth knowledge to develop the sector.
The travel fair also helps the southern city boost the growth of Meetings, Incentives, Conventions and Exhibitions (MICE) tourism.
In addition, the fair has shown strong growth in recent years. ITE HCMC 2018, for instance, gathered 270 exhibitors and brands from 40 countries and territories and over 30 localities across the country, while attracting 280 buyers, international press members and 30,000 trade visitors.
The city has organized the travel event every September since 2005. From 2009 onward, the event was co-organized by the tourism ministry, the Vietnam National Administration of Tourism and the municipal government.
The tourism ministry announced its new plan for the local tourism industry to organize Vietnam International Travel Mart (VITM) every April from next year in HCMC and Hanoi.
As such, the ministry will serve as the sponsor of VITM, with the Vietnam Tourism Association acting as the host, while the municipal governments of HCMC and Hanoi will be the co-organizers.
The ministry noted that there are two annual international tourism fairs, ITE HCMC and VITM Hanoi, organized by the Vietnam Tourism Association in the country. The association plans to launch another VITM in the Mekong Delta city of Can Tho from November 29 to December 1 this year, alongside VITM Hanoi.
These events are backed by private capital, but ITE HCMC and a travel fair in Danang City still mostly tap the State budget. Meanwhile, the ministry said that travel trade fairs should be viewed as business activities where revenues and expenses must be managed to ensure profitability.
Also, even though these events take place at different times throughout the year, many localities, local travel firms and trade visitors have trouble allocating human resources and funds to manage all of the events.
Accordingly, the ministry has decided to launch VITM, expecting it to become a professional event and improve the country's tourism reputation.
The plan has courted controversy among travel operators. Many have said that the ministry should allow HCMC to remain the ITE host as the city has gathered experience over the last 14 years, while the tourism association should continue to be the organizer of VITM Hanoi and Can Tho.
Others said that the ministry's statement and the content of the plan contradict each other. According to the plan, funding for the suggested VITM will come from revenue generated by the event, private funds and other legal sources, and the State budget will be tapped to support State tourism management agencies that host the event. SGT
Dao Loan