The Ho Chi Minh City Tourism Fair 2019 will take place from April 11 to 14 at September 23 Park in District 1.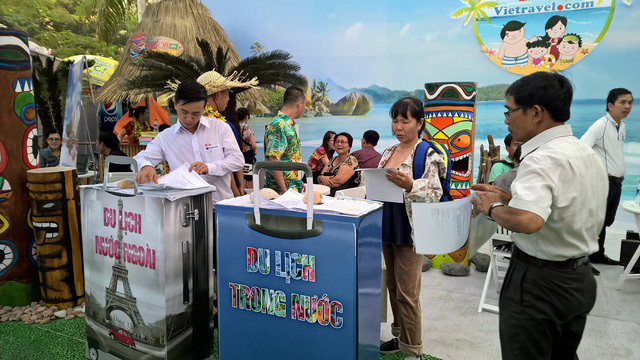 Ho Chi Minh City Tourism Fair 2019 to take place from April 11 to 14 in District 1.
The fair is one of the largest annual tourism events in the city, organized by its Department of Tourism and the Ho Chi Minh City Tourism Association in order to introduce destinations and tours in Vietnam.

Around 150 display booths will be opened by 40 travel agents, hotels and airlines introducing their brands and products to local and international travelers.
Visitors will have the chance to buy some 80,000 inbound and outbound tours with discounts of 20-80 per cent and thousands of train and airlines tickets with discounts of 20-40 per cent during the four-day event. Each day will have different promotions.
The Ho Chi Minh City Department of Tourism, in collaboration with relevant departments, associations and organizations, will launch nine city tours with incentive prices for students and workers in an effort to encourage them, especially students, to learn more about the culture and history of the city as well as promote the city as a friendly, safe, and exciting tourist destination. As part of its tourism stimulus program, new tours include attractions in the city's downtown area and Can Gio and Cu Chi districts.
Other activities will also be held during the festival, such as a forum on Vietnam's tourism human resources, a seminar on hospitality development in the age of technology, an awards ceremony honoring 100 outstanding travel brands, exchanges among startups in applying technology in tourism, and singing contests and artistic performances from different localities throughout the country.
Last year's fair welcomed over 320,000 visitors, with purchases totaling VND83 billion ($3.5 million), up 38 per cent against 2017. It is expected to welcome about 400,000 visitors this year.
The southern city welcomed some 29 million domestic visitors and 7.5 million international arrivals in 2018, up 16 per cent and 17.3 per cent year-on-year, respectively. Revenue from travel, dining and hotels was VND140 trillion ($6 billion), up 21.5 percent compared to the previous year and representing 102 per cent of the target.
VN Economic Times