One of the entertainment services travelers enjoy in Hoi An is riding buffalos and learning to farm. The special tours allow local farmers to earn big money.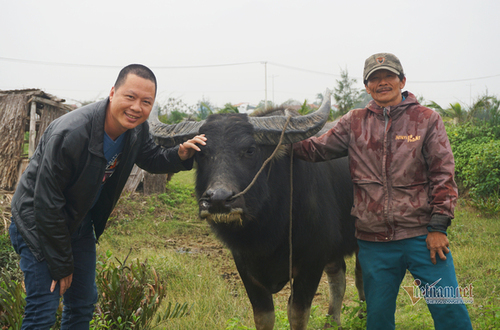 Tran Van Khoa (first left) and Nhien with a buffalo.
In Hoi An, breeding buffalos is a career that brings high economic efficiency, especially as travel firms have joined forces with local farmers to use buffalos in their tours.
When travelers come, farmers bring buffalos to the fields to help them experience buffalo riding, and ploughing and rice growing.
Caption 1/The image of a buffalo and rice field are very familiar to Vietnamese people. 2/ Hoi An local people earn money from using buffalos in tourism activities.
Tran Van Khoa, CEO of Jack Tran Tours, said the idea of using buffalos in tours was first raised in 2010. At that moment, there were a lot of buffalos in Hoi An, but they were only used on rice fields, which brought low income.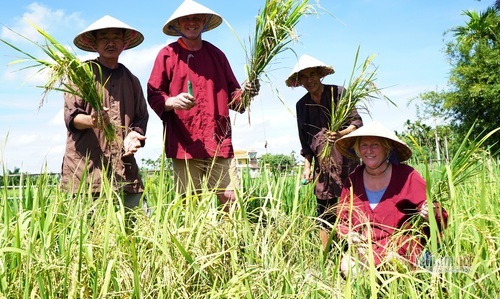 "Growing up in the ancient town and spending my childhood on buffalo back, I decided to do something to help people do business. Realizing that travelers are fond of buffalos, I decided to see people to talk about a special tour," he said.
"When I talked about the idea of using buffalos in tours, no one believed this would work. But in reality, the buffalos have helped them collect dollars," he said.

One of the entertainment services travelers enjoy in Hoi An is riding buffalos and learning to farm. The special tours allow local farmers to earn big money.
According to Khoa, buffalos need to be selected carefully before use. They must have a big and healthy body, a gentle face and ability to plough. Buffalos with sharp eyes, weakness, or with spotted tail will be excluded.
Buffalos are trained to get used to the scent of perfumes, sunscreen cream, and to travelers' riding on their back.
"Buffalos are close to people and clever, so it is not difficult to teach them to serve tourism. The most important thing in teaching them is loving them and caring for them like a family member," Khoa said, adding that buffalos must not be forced to work too hard.
"To date, tens of households in Hoi An with over 100 buffalos have been used for tours," Khoa said.
Having new life thanks to buffalos
Le Van Nhien, 54, previously cultivated rice, which could bring income high enough to feed family members. But life has changed a lot since the day he started using buffalos to serve travelers. With four buffalos, he earns VND15 million a month.
According to Nhien, one of the pleasures that travelers from the US and Europe can enjoy when visiting Hoi An is riding buffalos to walk on the rice fields in the suburbs, or ploughing together with buffalos and experiencing farming.
"They cannot have such experiences in their home countries," he said. "Many travelers come back to Hoi An just to ride buffalos. This helps us earn money and lead a more comfortable life."
Many families in Hoi An improve their income by using buffalos in tourism. Some travel firms are willing to pay locals to create special tours. 
Ho Giap

Vietnamese authorities are in talks with partners on how to safely resume commercial flights, according to Foreign Ministry spokesperson Le Thi Thu Hang.
This year will be a good opportunity for Vietnam's wellness tourism market, especially the country is emerging as a safe destination for pandemic control.