Visitors to the Mekong Delta Province of An Giang can enjoy the local specialty, mixed papaya salad, freshly prepared by ethnic Khmer living in the area.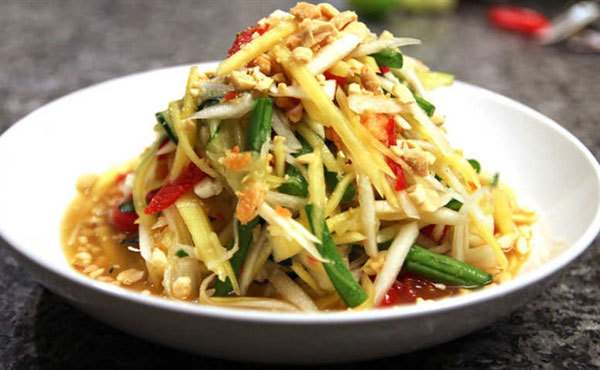 Visitors can try mixed papya salad at Rina, an eatery on Provincial Road 955B in Tri Ton District, that is always packed with customers in the evenings. — VNA/VNS Photo
The salad is called gỏi đu đủ in Vietnamese and bok lahong in Khmer. It originated in Cambodia but its intriguing flavors meant it quickly became popular.
Thinly sliced papaya is the star of the dish. The papaya is carefully selected since it needs the right amount of ripeness to give the dish the correct texture and sweetness.
Other vegetables like spinach, cowpeas and carrots are then placed in a large mortar and pestle along with mắm ruốc or mắm ba khía (special fermented sauce), sugar, salt, monosodium glutamate, red onion, garlic, chili, and lime. — VNS

Travellers should try the mixed papaya salad freshly prepared by ethnic Khmer when visiting the Mekong Delta Province of An Giang.

Gỏi củ hũ dừa (coconut core) salad is a specialty of Ben Tre, the home of coconuts in Vietnam.  

'Banh bo thot not' (steamed rice cake with palm sugar) is a famous sweet cake from An Giang Province where large areas of palm trees grow.