Krong Ana district in the Central Highlands province of Dak Lak has beautiful natural scenery: lush paddy fields, stunning waterfalls, and primeval forests.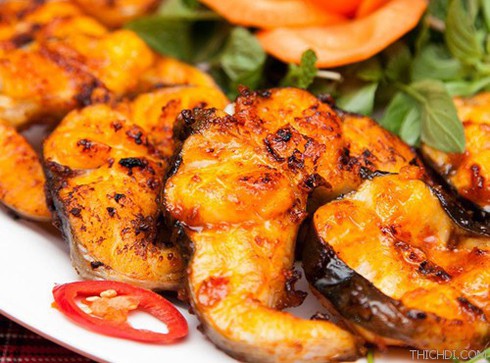 Hemibagrus, a Krong Ana specialty (Photo: baodaklak.com)
Krong Ana borders Krong No district of Dak Nong province where the Chu Bluk volcano area is becoming a geo-park. These things have made Krong Ana a growing tourist attraction.
Y Dinh Nie of the Ede ethnic minority group has pioneered in homestay services in Kuop village, Dray Sap commune. Noticing the shortage of accommodations for tourists who come to see the local waterfall, he obtained a bank loan to upgrade his traditional Ede long house and open homestay service, from which he now earns 650 USD per month.
Mr. Nie said, "I used to be a hired worker growing maize and cassava, from which I earned a precarious income. Since I began the homestay service, my income has increased six fold. Community tourism is not hard. I just need to keep the rooms clean and tidy. My children can speak English and help me communicate with foreigners. The more money I have, the more I can contribute to the new rural development program to improve roads and create a green environment, in turn attracting more tourists."
The fertile land along the Krong Ana and Krong No river provides locals with bumper crops and abundant specialties: anchovies, catfish, eels, and frogs. Cao Trong Lap of Trap village, who has fished for more than 20 years, now also takes visitors on boat trips along the river. Krong Ana specialties are traded beyond the district.
Mr. Loc said, "Our fish products are bought by traders and restaurants in Trap village and other nearby localities. The fish, shrimps, and eels from this river taste really good. Tourists love them."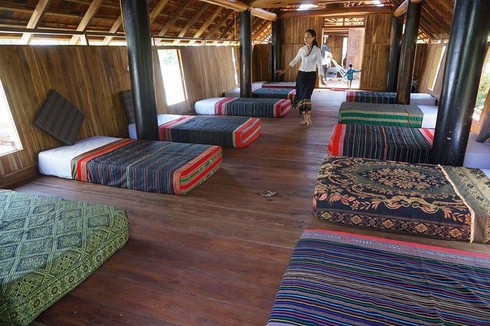 A traditional Ede long house is upgraded to provide homestay service (Photo: baodaklak.com)
Krong Ana district welcomes 21,000 tourists each year, 1,200 of them foreigners. Yearly revenue from tourism is 650,000 USD. But the district hasn't fully tapped its potential for tourism.
Numerous companies want to invest in Krong Ana tourism but have hesitated because of the poor transportation infrastructure.
According to Nguyen Minh Dong, Vice Chairman of Krong Ana district's People's Committee, the district authorities have proposed a project to improve local infrastructure to boost both agricultural and tourism development.
Mr. Dong noted, "Krong Ana district has a huge potential for tourism development. The biggest challenge right now is its poor roads. Dak Lak's provincial leaders have approved a bridge linking the province with National Highway 26 and Lak and Dam Rong district of Lam Dong province.
Krong Ana authorities have proposed another bridge and roads linking Krong Ana with Krong No district in Dak Nong province to operate tours to the Chu Bluk volcano area. I believe the tourism-service sector will grow dramatically once districts are interconnected." VOV5