The central coastal province of Phu Yen has become the latest locality to suspend sightseeing activities at local relic sites and landscapes, starting from March 13, a move driven by the complex developments of the COVID-19 outbreak.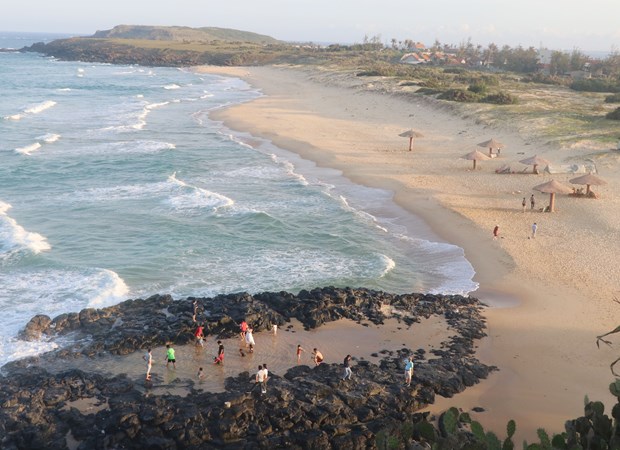 Xep beach, a tourist destination in Phu Yen province
The People's Committee also asked the provincial Department of Culture, Sports and Tourism to increase instructions and examinations of disease prevention and control measures at accommodation facilities and restaurants.
As of March 13 morning, Phu Yen hadn't recorded any cases of SARS-CoV-2, the novel coronavirus that causes COVID-19.
Director of the provincial Health Department Nguyen Thi Mong Ngoc said the local health sector is monitoring 164 foreigners and people at high risk of infection.
Meanwhile, the Mekong Delta province of Tien Giang also decided to halt the reception of foreign visitors to local tourist attractions from 1pm on March 12.
In particular, it suspended receiving foreign travellers, as well as ships, boats and road vehicles carrying foreign tourists, at coach stations, the port of My Tho city, places of interests and accommodation establishments.
Earlier, the northern province of Ninh Binh decided to close all local tourist destinations starting from 6am on March 13 in order to contain the spread of the novel coronavirus.
Quang Ninh, another northern province, also suspended overnight stay services on cruise liners and tours to Ha Long Bay, Bai Tu Long Bay, islands in Co To and Van Don, and relic sites.
Relic sites and tourist attractions in the capital city of Hanoi have also been closed for disinfection.
As of late March 12, Vietnam had confirmed 44 infection cases, 16 of them have fully recovered.
Jointly organised by the health sector's Trade Union and the National Institute of Hematology and Blood Transfusion (NIHBT), the event aims to encourage health staff and the community to participate in voluntary blood donation and to ease the blood shortage during and after the Tet (Lunar New Year) holiday period.
In the context of the Covid-19 outbreak in Hanoi, the amount of blood collected has decreased sharply to around 60 units daily, 20 times lower than last month's average of 1,200 units per day, according to the health ministry.
NIHBT Director Dr Bach Quoc Khanh said 70 blood donation events that were expected to collect 12,000 blood units were delayed since the outbreak of COVID-19.
In the current context of the COVID-19, the NIHBT will ensure the blood collection and supply with three criteria, including safety for blood donors, safety for patients and safety for medical staff, said Khanh, adding that donors will be given a mask and hand sanitiser before registering to donate blood.
The health sector said that blood collection currently has met 70 percent of blood demand for emergency aid and treatment at hospitals across the country./.
Ninh Binh province closes tourist sites as virus fears mount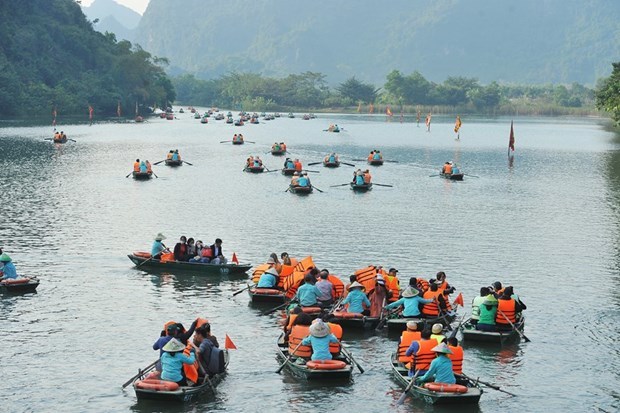 Travellers visit the Trang An Landscape Complex, a popular tourist destination in Ninh Binh, by boat
The northern province of Ninh Binh has decided to close all local tourist destinations as from 6:00 am on March 13 in order to contain the spread of the novel coronavirus.
In an urgent notice sent to agencies and People's Committees of cities and districts, the provincial People's Committee said hotels in the locality must bar tourists coming from or transiting virus-hit areas, who have yet to undergo quarantine and medical checkups or who show symptoms such as cough and fever.
During the closure, the tourist sites and hotels need to conduct disinfection to ensure safety for holidaymakers when they are allowed to reopen.
Ninh Binh province is home to Trang An Landscape Complex - which was recognised by UNESCO as the world's mixed cultural and natural heritage, the first of its kind in Southeast Asia. The complex was also used as a location for the movie Kong: Skull Island, one of the biggest Hollywood blockbusters of 2017.
Other popular destinations in the province include Bai Dinh Pagoda, Cuc Phuong National Park, Tam Coc-Bich Dong cave system, and the former royal citadel at Hoa Lu.
The province, which is hosting the 2020 National Tourism Year, strives to welcome about 7.8 million tourists in the year, including approximately one million foreigners.
In 2019, the province served 7.6 million visitors, a year-on-year rise of 3 percent. They included 970,000 international holidaymakers, up 10.7 percent, according to the provincial Department of Tourism.
Trang An tourist site temporarily closed for Covid-19 fear
The UNESCO World Heritage of Trang An Landscape Complex in the northern province of Ninh Binh will stop welcoming visitors for two weeks starting from March 13 in an effort to prevent Covid-19.
The complex management board expressed their regret for the decision and hoped visitors would be sympathetic about the decision.
The complex management board expressed their regret for the decision and hoped visitors would be sympathetic about the decision.
This year Ninh Binh was set to host national tourism year. However, because of Covid-19 outbreak, the press conference for the event has been suspended.
To date, Ninh Binh has confirmed one Covid-19 case. Around 1,430 people are being monitored for returning from virus-hit areas and those contacted with the Covid-19 patient.
Earlier, many other tourist sites in Vietnam such as Cat Ba Island in Haiphong City and Ly Son Island in Quang Ngai Province and Ha Long City in Quang Ninh Province decided to suspend the welcome of travellers to help Covid-19 virus prevention./.VNA/Dtinews/VNN

Many foreign travelers visiting relic sites around Hanoi are not wearing face masks amid the increasingly complicated developments surrounding the novel coronavirus (COVID-19) epidemic.

Quang Ninh has decided to suspend overnight stay service on cruise liners and tours of its Ha Long Bay, Bai Tu Long Bay, islands in Co To and Van Don, and relic sites amid the complicated development of COVID-19.