Ngai Thau Thuong, a small village of Bat Xat district, the northern Lao Cai province, is located at 2,300m above the sea level on the cloudy Ma Cha Va peak, and is the highest village in Vietnam.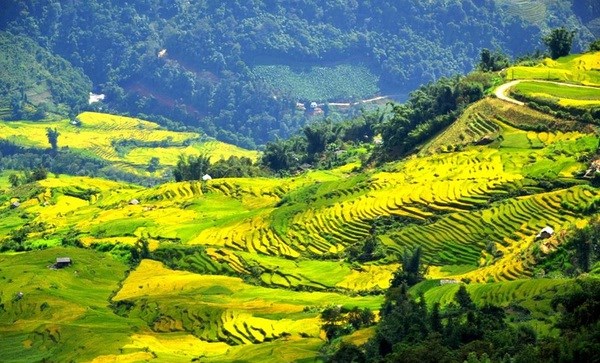 Terraced ripening rice fields in Ngai Thau. (Photo: nhandan.vn)
It takes nearly three hours driving from the district's centre to the village, which is home to Mong ethnic minority group.
Ngai Thau, which means "rock peak" in the Mong language, has lower temperature compared to surrounding areas due to the high altitude. During the rice harvest season, ripen rice in Thien Sinh valley and the massive Then Pa terraced fields of Ha Nhi people and Mong people seems to overlay the mountain slopes and valleys with a layer of gold.
The concrete road leads to the mountainous village shrouded by cloud. Previously, the village used to be an isolated and mysterious area, as only strong young Mong men with excellent driving skill could negotiated the arduous old road to reach the village with motorbike. Villagers then did not have access to power or telecommunications services.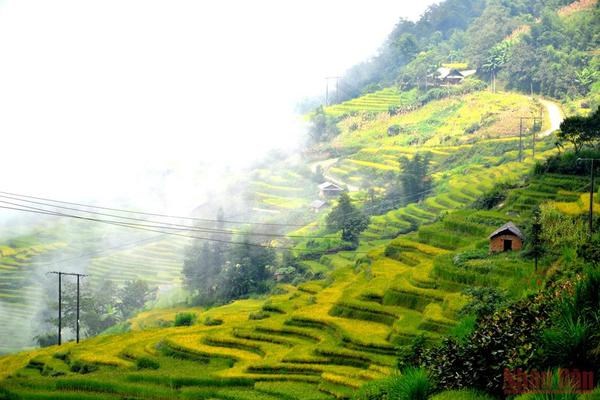 Ngai Thau Thuong is home to Mong ethnic minority group. 
The new-style rural area building proramme has breathed a new life into the village. The district government has approved a plan on turning Ngai Thau Thuong into a community-based tourism site, with around 200 households participating.
The programme defines the preservation of the forest landscape, the architecture of traditional Mong houses, the craft of weaving, brocade making, and the farming of local specialties as solutions to sustainable poverty reduction in the area./.
Source: VNA

The Huu Lien community-based eco-tourism village is an ideal destination for tourists when the COVID-19 pandemic is under control because of its beautiful pristine scenery.