The Thai ethnic minority in Vietnam are famous for their cuisine, particularly a type of grilled stream fish called "Pa pinh top".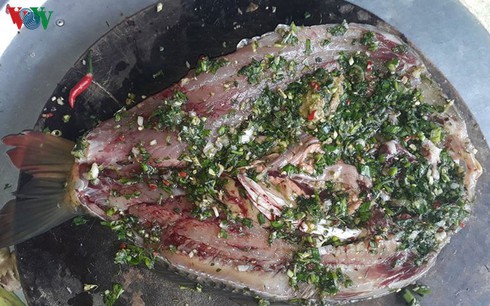 Herbs and spices needed to make Pa pinh top include coriander, green onion, dill, ginger, garlic, and chili, all chopped fine and mixed with salt. 

Seasoned with special spices and cooked to perfection, "Pa pinh top" never fails to satisfy even the most demanding palates.
The Thai minority in Vietnam's northwestern region often build their houses beside rivers, lakes, and ponds, so Thai men tend to be very good at fishing.
Fish figure prominently in Thai cuisine - baked, steamed, simmered, wrapped in leaves and grilled, or in a soup or salad.
A fish dish called Pa pinh top is often served to their guests. Tong Thi Vinh, who lives in Son La city's Hua La commune, is a master of Thai dishes. 
"Any fish can be used to make Pa pinh top. But the best fish for Pa pinh top is a carp that weighs more than half a kilo. The cook should use a sharp knife to cut along the back of the fish to stuff it with ingredients,"  said Vinh.
The herbs and spices needed to make Pa pinh top include coriander, green onion, dill, ginger, garlic, and chili, all chopped fine and mixed with salt.
A key ingredient is "mak khen", a special kind of pepper found in Vietnam's northwestern forests.
Lo Thi Thuy, who works at Nam La restaurant in Son La city, said the ingredients and spices determine the flavor of Pa pinh top.
"I have worked at Nam La restaurant for many years and we often serve our guests with Thai dishes like Pa pinh top, grilled chicken, and rice grilled in bamboo tubes. Visitors from many other localities also enjoy our food very much and often order some Thai dishes to take home. We use fish caught shortly before cooking to ensure the freshness of the dish," said Thuy.
After the fish has been thoroughly seasoned, its intestine is washed, mixed with spices, then stuffed inside the fish as filling.
The fish is folded in half so that the 2 ends meet, tie it to a cork branch or a bamboo stick split at one end, and grill it over charcoal. If the stick is too dry, it might catch fire and break before the fish is cooked.
The cook also needs to adjust the amount of charcoal and flip the fish so that it cooks evenly. It should have a golden brown skin and well cooked meat. Pa pinh top is best served hot with sticky rice.
"People here add a lot of spices to grilled fish. Many ingredients are required to create a fantastic dish and I'm very impressed with Pa pinh top," said Nguyen Lan Phuong, a tourist from Ha Noi.
Pa pinh top is often used to welcome guests and shows the host's respect for the guest. It's also a convenient dish to carry on trips into the forest or to work in the fields.
Pa pinh top is a must-have offering to ancestors during local festivals and other events, and is a favorite gift between relatives. VOV5

I first met Nguyen Phuong Hai in Hanoi a month ago when he was holding a class to teach people how to make bánh chưng (square sticky rice cake). 

After Vietnam's legendary Pho Thin Lo Duc proved popular among customers in Tokyo, Japan, Banh Mi Phuong Hoi An (Ms Phuong Baguette in Hoi An) recently debuted in Seoul, South Korea.