Although it is not possible to open all destinations, Vietnam's tourism industry is building sandbox models to welcome vaccinated international guests, after being greenlit by the government to pilot such programmes at some tourist destinations.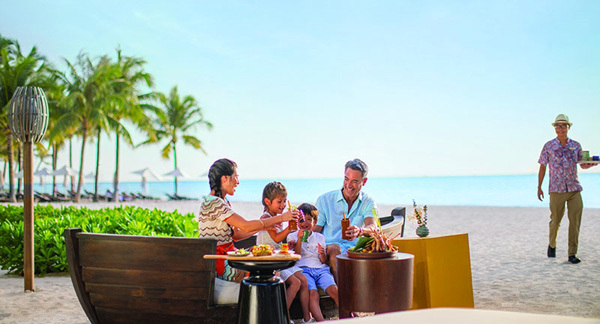 Piloting border reopening for fully vaccinated foreign travelers.
On June 26, Prime Minister Pham Minh Chinh asked the Ministry of Health (MoH) and the Ministry of Culture, Sports and Tourism to quickly pilot the use of vaccine passports with international visitors for several tourist centres that promise to keep related risks at bay, such as Phu Quoc Island in Kien Giang province.
The People's Committee of Kien Giang immediately petitioned the MoH to allow the province to organise vaccination against COVID-19 for all local residents, backed by the central budget, local budget, and the lawful mobilisation of other sources.
Chairman of Kien Giang People's Committee, Lam Minh Thanh, explained that the province will propose to the government to prioritise vaccinations for the island's 100,000 residents so that they can return to business and receive foreign guests by September or October this year.
"The key point in opening international tourism is that all islanders must be fully vaccinated to achieve herd immunity," said Thanh.
The vaccination plan is expected to be implemented in 16-18 weeks as soon as vaccine sources are provided. However, Thanh acknowledged that the biggest challenge now is the scarcity of vaccines, while manufacturers only accept exclusive negotiations with the government, so the purchase of vaccines by other agencies remains difficult.
Kien Giang also proposed that Phu Quoc would be allowed to receive Russian tourists who have been vaccinated. The pilot would be carried out under a closed isolation model through charter flights. Guests would have to stay at one location with restricted movement. After that, an assessment of the first trial with vaccinated Russian tourists would be conducted, with possible extensions to welcome tourists from other countries that have completed vaccination.
Travel businesses excited 
The trial is considered a good signal for Vietnam's tourism market in the latter months of the year. The choice of Phu Quoc to pilot welcoming international visitors could be a viable option as the island is secluded and loved by many international tourists, especially during the high season in October.
"It's completely feasible," said Nguyen Tien Dat, CEO of AZA Travel.
Dat was previously sceptical about the safety of vaccine passports, and he did not fully endorse the proposal to welcome foreign tourists. However, only three months after Vietnam launched the community vaccination campaign, his opinion seems to have changed.
"The US and Europe have begun to welcome tourists. The sight of European stadiums filled with spectators cheering at football matches was a complete surprise. Meanwhile, Vietnam remains closed to tourists," Dat lamented.
"The pilot project to reopen international tourism in Phu Quoc sparks new hopes for us tour operators," he added.
The hopes of relying on the domestic tourism market for the recovery of many Vietnamese tourism businesses has been extinguished since the latest wave of the pandemic broke out in the summer.
Struggling businesses have now waited for more than a year, while many neighbouring countries such as Thailand, Indonesia, Singapore, and Japan, as well as many European countries, seem to be getting ready to open up for tourism.
"Thailand and Cambodia have a specific roadmap. We should also speed up, or otherwise lose the chance to attract international visitors. The reputation of the country sometimes lies in the timely planning," said Nguyen Ngoc Toan, director of Images Travel.
Representatives of tourism businesses seem to agree with the new pilot under the low-contact model. That is, people with vaccine passports can travel in a separate area and wherever the vaccination rate is high enough, but safety measures will still be in place to prevent and control the pandemic.
"We have to balance the benefits and risks. Along with the open-door policy, Vietnam needs effective communication so that people and businesses can coordinate their actions to welcome tourists back, to ensure the safety of both the community and visitors and to bring in a large source of revenue from tourism. If we don't do well, we may disappoint many international guests because of the discriminatory culture," said Vu Van Tuyen, CEO of Travelogy, which specialises in welcoming foreign guests.
According to suggestions from businesses, Vietnam's tourism industry should develop a specific roadmap for opening and agree on a timeline for businesses to understand information as well as be proactive in promoting to foreign markets.
Some businesses believe that the right time to open to international visitors is around September or October. Singapore, France, Germany, South Korea, and Russia are the countries that Vietnam will most likely focus on when reopening flights.
Replicating Phu Quoc's model 
Responding to the expectations of businesses, a representative of the Vietnam National Administration of Tourism (VNAT) said that welcoming international visitors is an important issue, but the highest priority is still to ensure the safety of the local population.
"The Phu Quoc model will be piloted step-by-step on the market, including with trying appropriate flight forms and a selection of suitable destinations and products. Only service businesses that are qualified and meet the requirements of pandemic prevention and control will be able to welcome guests," the representative said.
In addition to Phu Quoc, VNAT also received many recommendations to expand the pilot model at some other destinations such as Hoi An, Cat Ba, Con Dao, Vinpearl Land Nha Trang, and many more. These are isolated areas, close to airports, with a low population surrounding them, which could be quickly vaccinated.
Previously, Quang Nam also proposed piloting to welcome guests from South Korea to stay at the complex resort Nam Hoi An (Hoiana) in Duy Xuyen district and Tui Blue Nam Hoi An in Nui Thanh district. South Korean tourists with vaccine passports could then arrive at Chu Lai airport in the form of charter flights and could stay for 5-10 days.
If successful, Phu Quoc's model is expected to pave the way for the appearance of many other such projects in Vietnam, especially as other countries are taking concrete actions to restore tourism.
"The pandemic brought the industry down to spending levels not seen in over 15 years," said Bricklin Dwyer, Mastercard chief economist and head of the Mastercard Economics Institute.
"While a lot of uncertainty remains, pent-up savings, a desire to venture farther from home, and the green light from governments could all provide significant tailwinds for the continued travel recovery."
David Mann, chief economist for Asia-Pacific, Middle East, and Africa at the Mastercard Economics Institute commented, "Although many markets in Asia-Pacific are yet to see international borders open, there are some early bright spots in domestic travel recovery." 
Source: VIR

The fourth wave of COVID-19, hitting Vietnam from the April 30-May 1 holiday, has completely frozen the tourism industry.