Vietnamese cuisine revolves around produce found in the paddy fields. A nation with over a thousand years of wet rice culture, Vietnamese people have been using everything rice-related for centuries.
All the molluscs that grow in and around the paddy fields find their way onto farmers' tables, and rice paddy crab is one of them.
Every Vietnamese primary school student knows this poem by heart. "Hạt gạo làng ta" (The rice grain of our village) was written by genius child poet Trần Đăng Khoa in 1969 when he was 11 years old.
Hạt gạo làng ta
Có bão tháng bảy
Có mưa tháng ba
Giọt mồ hôi sa
Những trưa tháng sáu
Nước như ai nấu
Chết cả cá cờ
Cua ngoi lên bờ
Mẹ em xuống cấy...
The rice grain of our village

Bears the July storm
The March rain
The sweat drips
At noon in June
Field water is boiling
Fish are dead
Crabs rise up
My mother walks
Through the water to plant rice seedlings
Children of many generations have recited this poem. It was written with great rhyme and rhythm, and a composer added music to make it one of the most beloved children's songs.
The paddy fields are usually infested with these small freshwater crabs. They are hard to get rid of because when the paddies dry out, they tunnel into the mud and hibernate until the water returns.
It is unclear when Vietnamese farmers invented this special dish to make the best use of unwanted crabs that eat away at young rice plants.
Rich in calcium, the crabs are caught by the farmers then cleaned and shredded before being pounded in a mortar using a pestle to make crab paste. Today, people use electric grinders, but the crabs pounded using a pestle and mortar taste much better. In green markets, you can see signs that advertise "pestled crabs".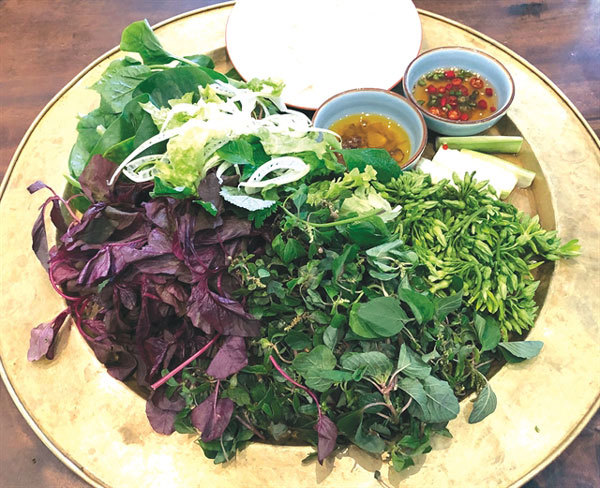 Bountiful: The special rice crab hotpot at Ngon Garden is served with a world of vegetables.

Housewives add water to the crab paste then mix it all up, pouring the top water into a pan and bringing it to the boil. As the water bubbles, a cloud of crab foam starts to rise.
In the shells put aside earlier can be found brownish yellow roe. Toothpicks are used to get all the roe into a tiny bowl with chopped shallots, which change the whole fragrance and taste of the dish.
This leaves you with a basic rice paddy crab stock.
If you want to make a vegetable soup for the day, you can just add diced vegetables. If you want to make vermicelli soup, then you can add tomatoes to the pan to make the broth red then pour over a bowl of vermicelli.
Rice crab vermicelli can be served as breakfast or a light lunch, and is also eaten after lunch at 4-5pm. It's a simple dish, and visitors can find it on almost every street corner.
Topping this bowl of noodles, street sellers originally added crispy fried tofu, but since more ingredients have become available thanks to better economic times, vendors are adding sliced beef, steamed pork paste sticks, pork ribs, duck embryo and last but not least, fried pork fat sauteed with shrimp paste.
Each vendor has added their own unique twist to this popular dish. Some decide to serve with finely chopped lettuce to draw in the customers.
Others make a special chilli sauce or serve with special tofu from a top producer. Bún riêu tóp mỡ bà An in Hanoi comes with delicious dried pork fat that has given the nickname to the shop.
"My mother-in-law sold this noodle soup for 30 years," says Van Anh at Bún riêu tóp mỡ bà An. "She taught me how to make our family's soup to help us make ends meet. I have many loyal customers who have followed us around the city as we've moved."
Crab noodle soup can be found anywhere in town, but each shop has its own calling card.

A beautiful bronze tray full of various home-grown vegetables which you can dip into the boiling pot on the stove is my favourite at Ngon Garden. It has been lifted to a higher, more artistic level, and is a pleasure look at and taste. White slices of banana trunk, purple basil, spinach, amaranthus tricolor (which makes the soup reddish) and amaranthus viridis (white), fragrant flowers of the Tonkin creeper, slices of green gourd and banana flowers all add to the experience.
If you want more protein, you can add sliced beef, pork ribs or some deep fried small crabs or tofu.
Over a hotpot like this, the conversation can last as long as you want. But be aware of any possible food contamination or risk of disease.
It is advisable to use a separate pair of big chopsticks to add or take meat and vegetables from the common pot. Diners are advised not to stick their own chopsticks into the boiling pot because even if the soup is boiling, it may not sterilise your utensils.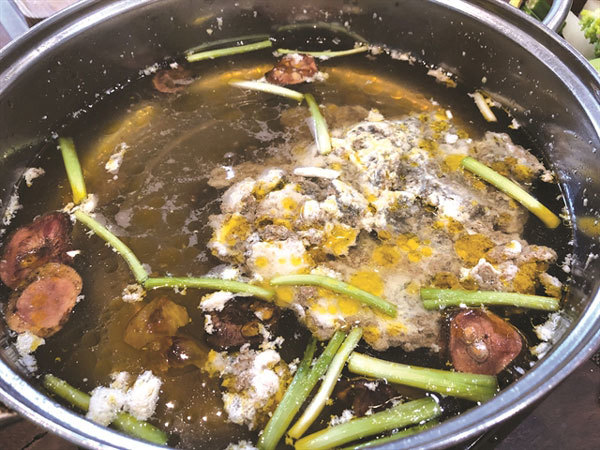 Burning hot: During the coronavirus outbreak, when sharing a common dish, it is is advisable to use separate chopsticks. — VNS Photos My Ha

At home, housewives and mothers can teach their families to practise this habit. At a restaurant, you can always ask someone to cook it on a separate table then divide it among diners.
Some may argue that the most exciting thing about having hotpot in a big group is like waiting to get a gift from Santa's sack. You never know what you're going to get from the boiling hotpot!
True, but be aware of protecting yourself and others. Respect table hygiene and keep your own chopsticks for personal use.
Wait until the threat of COVID-19 subsides, then you can have as many surprises as you possibly want among friends, families and colleagues.
Until then, bonne sante! — VNS
Nguyen My Ha

Visitors to Pleiku City in the Central Highlands province of Gia Lai will often hear about the popular dish bún mắm cua (rice vermicelli soup with crab sauce), but many do not dare to try it because of the pungent odour.
Anh Vu fish, Emperor crabs, and Dong Tao chicken are among the most expensive foods in Vietnam.

This noodle soup is filled with the great taste of crabs and it's a super winter warmer! Comfort food at its finest. You'll want to get your claws into it ASAP.