The number of South Korean tourists who make up the majority of international tourists in the central localities of Thua-Thien Hue and Danang during the year up to May has declined some 30% year-on-year.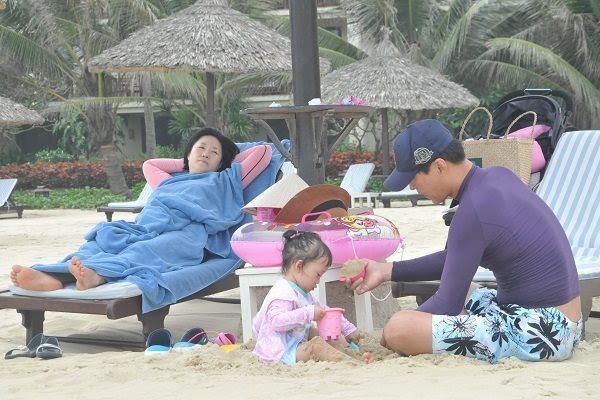 A South Korean family relaxes at a seaside resort in Danang. The number of South Korean tourists to the central localities dropped during the first five months of 2019 
Operators of three- to five-star hotels in Danang City, which have mainly served South Korean tourists, said the number of hotel bookings has slipped by between 20% and 30% year-to-date and there were no signs of a rebound in the upcoming months.
Earlier, hotel rooms in the city were fully booked every year by both local and foreign guests, mainly South Koreans, when Danang international fireworks festivals took place. However, many hotel rooms remained available during this year's event, according to a hotel representative.
Nguyen Duc Quynh, vice chairman of the Danang Hotel Association, also confirmed the visitor decline to the Saigon Times.
Statistics from a source show that the number of South Korean visitors in Thua-Thien Hue dropped from over 28,000 in January to some 13,900 in May.
The foreign tourist decline is a common phenomenon seen at other international tourist attractions. These central localities might be on a downward spiral after seven years of reaping impressive growth from this source market, according to Nguyen Ngoc Anh, director of Omega Tours, a major local travel firm that mostly serves South Korean tourists.
Outdated tourism products and services have prompted South Korean travel firms to seek more attractive destinations in Vietnam for their customers, Anh said.
Market diversity has also contributed to the decline. More foreign tourists from Japan and Malaysia have flocked to Danang, resulting in multiple adjustments to the prices of tourism services.
Accordingly, South Korean tour operators no longer dominate the local tourism market and have to bring their customers to other localities such as Nha Trang and Dalat, the Omega Tours boss added.
To prepare for declines in the number of foreign tourists, Nguyen Van Phuc, deputy director of the Department of Tourism in Thua-Thien Hue, suggested local tour operators collaborate to avoid offering similar tourism products and take specific steps to promote local tourism. SGT
Nhan Tam

A top leader of HCM City has proposed the Republic of Korea's Daegu city and Gyeongsangbuk province attend the International Travel Exhibition in the city in November.

Tourist arrivals from the Republic of Korea (RoK) to Vietnam exceeded 1 million in the first quarter of 2019, revealed the Korea Tourism Organisation on May 16.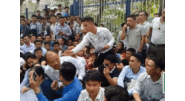 Delays in South Korean visa procedures have forced many Vietnamese travel companies to cancel tours to the country.