Accommodation service providers have been asked to continue to serve foreign tourists who are unable to return to their countries due to the Vietnamese civil aviation authority's ban on flights between Vietnam and China.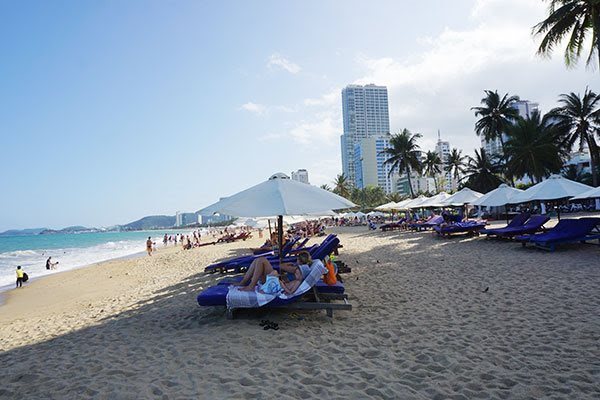 Tourists relax on the beach in Nha Trang. Local tourism authorities and service providers are asked to ensure the safety of their employees and of tourists amid the spread of Wuhan coronavirus
VNAT asked local tourism authorities and service providers on February 3 to ensure the safety of their employees and of tourists as the acute respiratory illness caused by the new coronavirus.
For foreign tourists affected by the flight ban, local tourism operators must set up special zones to serve them, monitor their travel plans and health conditions and report their names to local authorities.
Many Chinese visitors have been stuck in Vietnam as a result of the flight ban. As recorded in the south-central province of Binh Thuan on February 3, some 412 Chinese had been staying at hotels and resorts in Phan Thiet City and 98 others in Ham Thuan.
Besides this, more than 4,800 Chinese tourists in Khanh Hoa Province have not been able to return to China as the Ministry of Transport on January 31 ordered the suspension of all flights to China with effect from February 1, according to the local media on February 2, citing the provincial government of Khanh Hoa.
Further, VNAT told tourism accommodation operators to strictly comply with the Health Ministry's warning and set up separate zones for tourists from high-risk areas.
Local tourism authorities were told to consider suspending the operations of tourism service providers that pose a high risk of spreading the virus in the provinces with confirmed cases of the coronavirus. SGT
Minh Duy