The northern province of Son La has formed organic fruit planting areas combined with tourism services.
Beside typical tourism products like relaxing destinations at resorts and spiritual tours to pagodas, temples and historical relics, Son La has its own attractions for youngsters.
Tourists who like to post photos on social networks choose Son La to visit gardens of ripe flowers, orchid trees or fruit gardens while travellers who like adventure sports can visit Son La to experience cave exploring or mountain climbing.
Locals in Noong Xom Village, Hat Lot Commune, Mai Son District of Son La Province harvest grapefruits. Photo baodulich.net.vn 
"I often pass this area, so I can see the big change in the scenery of the locality," said Doan Van Lam, a bus driver.
Previous deserted land along hills and mountains along National Highway No 6 has been coated with the green colour of valuable fruit trees like longan, passion fruit, and avocado, mango and grapefruit, he said.
One of the most popular destinations is Ha Den grape garden in Hip Village, Chieng Ngan Commune, Son La City, where tourists can take photos and pick grapes.
"I have visited grape gardens in the central province of Ninh Thuan," said visitor Thanh Mien from Hanoi. "While Ninh Thuan is hot, the weather here is so cool. I enjoy the green of grape leaves and fresh fruit."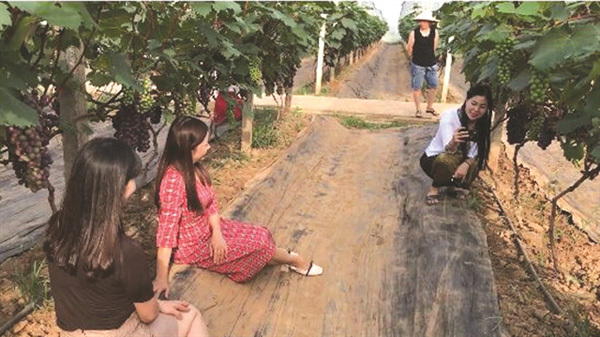 Visitors take photos in a grape garden in Son La City. Photo baodulich.net
In Noong Xom Village, Hat Lot Commune, Mai Son District, visitors will be impressed by the immense grapefruit gardens.
According to Nguyen Thanh Cong, director of Son La Department for Agriculture and Rural Development, the gardens are from the locality's efforts to change its agriculture structure to develop the economy and offer special green scenery for tourism.
"At the end of 2015, Son La authorities pushed up planting fruit trees on sloppy land while at the same time reduced the area of land for rice and corn," he said. "We have issued various favourable policies to support the transition as well as attract enterprises to invest in fruit processing lines in the area."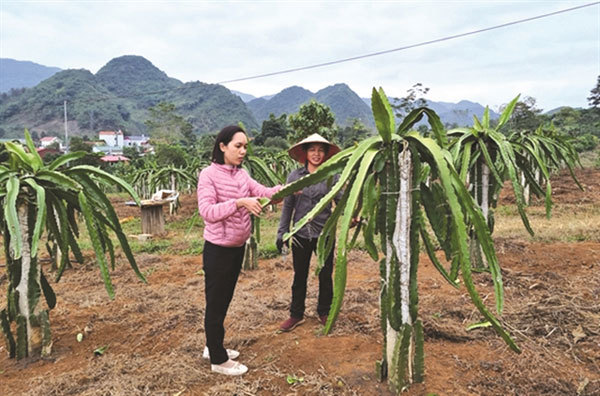 Locals care of red dragon fruit in Thuan Chau District, Son La Province. Photo baodulich.net.vn
The province now hosts more than 78,800ha of fruit trees including some 18,200ha of mango, 5,200ha of banana, nearly 2,000ha of passion fruit, 1,200ha of avocado and 18,500ha of mango.
Between 2016 and 2020, the province planted more than 50,000ha of fruit trees. This year, the value of fruit trees is estimated to reach nearly VND3 trillion (US$129 million).
Cong said the fruits here have been not only sold throughout the country but also exported abroad to the US, Russia, Japan, and the EU.
The province has chosen different areas for certain kinds of fruit trees, Cong said.
For example, Chieng Pha Commune in Thuan Chau District has co-ordinated with Ngoc Hoang Agriculture Co-operative in Na Bo Commune, Mai Son District to form a chain to plant, process and sell dragon fruit.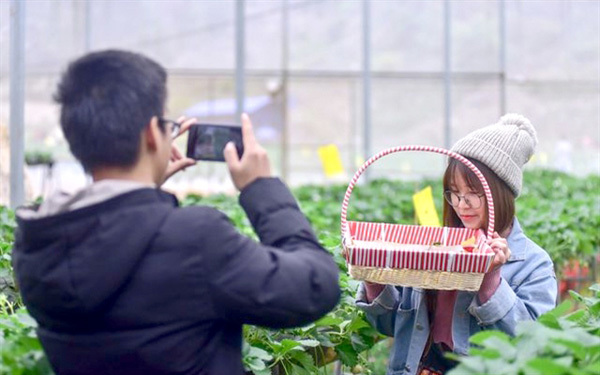 People take photos in a strawberry garden in Moc Chau Town. Photo vovdulich.vn
Pham Thi Thanh Huong, an official from Thuan Chau District's Agriculture and Rural Development Department, said families joining the chain will be supported with 70 per cent of necessary capital by the State while Ngoc Hoang Co-operative will be responsible for selling the products.
Huong said families should strictly follow technical guidance and can use only organic fertiliser.
The project has been implemented in six communes in the district with a total area of 46ha, which will be expanded to 125ha by 2025.
This year, the co-operative exported 12 tonnes of fresh fruit to Russia.
Nguyen Thi Ha, a local in Hung Nhan Village, Chieng Pha Commune, said her family has 300 roots of dragon fruit and will soon plant 100 roots more.
"We are happy as planting dragon fruit brings us a good income," she said. "We have also been assisted with seedlings, fertiliser and output for the fruit."
Ha said many tourists have flocked to her garden recently, who can join various stages of planting dragon fruits, taking care of the plants and picking the fruits.
"Both adult and children visitors enjoy the garden," she said. "We also serve meals, snacks and drinks."
The area has gathered investors to process fruits like Phuc Sinh Son La JSC in Chieng Mung Commune, Mai Son District.
At present, the company is responsible for selling 4,000- 5,000 tonnes of coffee beans, 20 per cent of the coffee production in the province. The company has also created jobs for nearly 100 locals.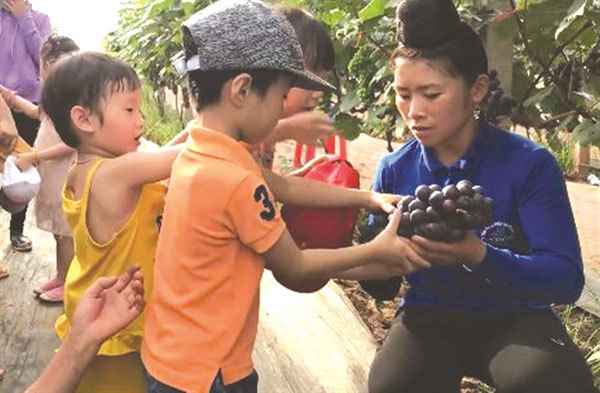 Son La soil and weather is favourable to planting fruits. Photo baodulich.net.vn
There are about 50 agricultural product processing plants in the province like Nafoods (processing fruits, vegetables and roots for export), a plant of South Korea's IC Food in Van Ho District, and a plant of TH Group in Van Ho District. There are also nearly 500 small-scale workshops run by families, co-operatives and enterprises.
Hoang Quoc Khanh, chairman of Son La Province's People's Committee, said tours have brought visitors to processing plants, where they can see how products made from fresh fruits.
"This year, despite COVID-19, the local agriculture sector has confirmed its key role in the economy, which is also a magnet to tourists," he said. VNS
Nguyen Thu Hien

Underdeveloped northern provinces were embracing high technology to make breakthroughs in farming productivity in hopes of lifting locals – mostly of ethnic minorities – out of poverty.

Moc Chau plateau in Son La province is a popular tourist destination in Vietnam's northern mountain region.