Rau muống or morning glory is widely used across Southeast Asia. In Vietnam it has been part of the rural diet from generation to generation, said Chef Pham Tuan Hai, who was a juror on Vietnam's Master Chef.
The taste of home without the hard work
Oc Vi Sai Gon - Best snails in town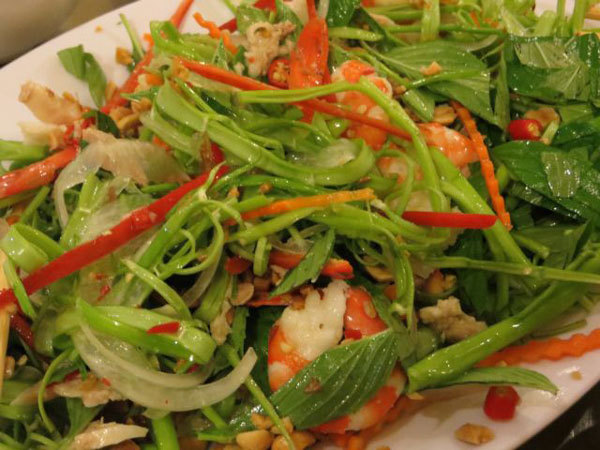 Kicker: Salad rau muống, a tasty and delicious dish that helps to cool down during the heat in summer. Photo tinlamdep.com
"This vegetable has become an important part of the nation's culinary identity," he said, adding it can be used in many dishes but is at its most delicious is rau muống xào tỏi (stir fried with garlic).
Chiam Jia Xin, a friend of mine from Malaysia, recently visited my home. My mother told him that she would entertain him with Vietnamese specialities including nem cua bể rán (fried spring rolls) and rau muống xào.
Chiam was so impressed by these dishes that he asked my mother to give him the recipes for his own mother to make at home.
Malaysia also has a version of rau muống but it is often cooked with squid, sugar and hot sauce or fries it with pepper, chili, ginger, dried shrimp and several other spices, Chiam said.
"The dish your mother cooked is so different because its much more tasty with the aromatic flavour of garlic," he told me while asking my mother how to cook the dish.
My mother told Chiam that the rau muống should be carefully chosen to ensure quality.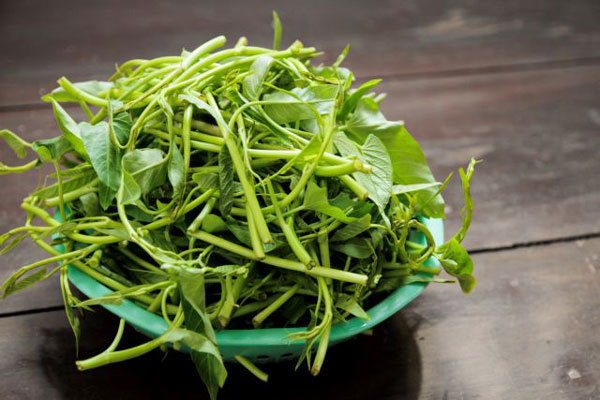 Kicker: A basket of fresh and quality rau muống ready to be prepared. Photo Ho Hoang
"I often buy organic veggies from a friend. After cleaning and trimming the leaves, I cut them into 10-12cm stems before frying.
"Garlic should be peeled and crushed before being fried in oil in a pan before you add the greens and cooking for five minutes over a big flame with a little of fish sauce and sugar," my mother told Chiam, noting that if you cooked the dish for too long the veggies would turn yellow instead of green.
" You should squeeze a little of lemon over the dish to make it more delicious," she said, telling Chiam a secret that the veggies should be parboiled before frying. "This makes them stay green and crispy," my mother said.
Rau muống can be served with many dishes such as soup with taro, pork ribs, salad and beef, she said.
Farmer Tran Thi Lien lives in Hanoi's Linh Chieu Village which was made famous for its rau muống tiến vua (morning glory offered to the king) thanks to a legend about a king who passed through the village and tried the dish. It was so tasty, sweet and crispy that he praised the villagers and asked them to prepare it for him every year.
The dish has carried the name rau muống tiến vua since then.
To grow this kind of vegetable, farmers have to choose fertile land, clean water from the Hong River and organic fertiliser, said Lien.
She said her villagers prefer boiled rau muống eaten with salted eggs.
Chef Hai said most Vietnamese who live abroad miss rau muống.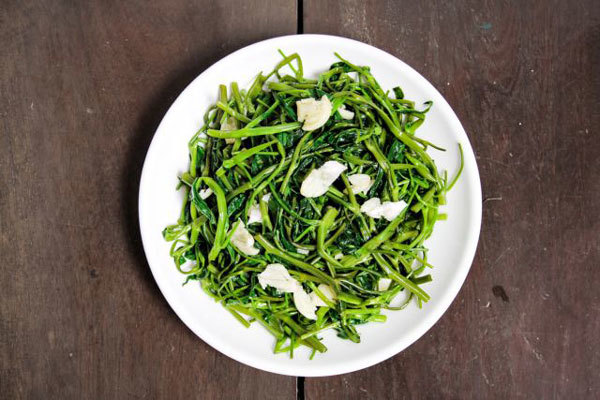 Kicker: A plate of rau muống xào (stir fried morning glory) is considered a speciality of Vietnam. Photo Ho Hoang
"Many of my friends in European countries have told me how much they miss their veggies. They often ask me to send parcels to them. Thank to good logistics nowadays, they can enjoy fresh rau muống with garlic as if they were at home."
According to a book titled Những cây thuốc và vị thuốc Việt Nam (Herbal Plants and Remedies of Vietnam) written by Professor Do Tat Loi, morning glory is very good for human health because it is rich in calcium, folic acid, and vitamins C, B1, B2 and many others.
Herbalist Bui Hong Minh, chairman of the Hanoi Traditional Medicine Department, said you can find purple and white morning glory. The purple type is not as crispy as the white one so it is suitable for boiling.
Both varieties are a good detox and help to treat fever. They also help to prevent osteoporosis and diabetes, Minh said, warning that patients with low blood pressure, severe depression, gout or arthritis should not eat morning glory because it could affect their treatment.
"In my experience, people who eat morning glory daily feel a lot more comfortable during the summer heat," Minh said.
VNS