Vietnam Airlines (VNA) will continue operating passenger flights from Europe to Vietnam from March 15, the flag carrier announced on Saturday evening.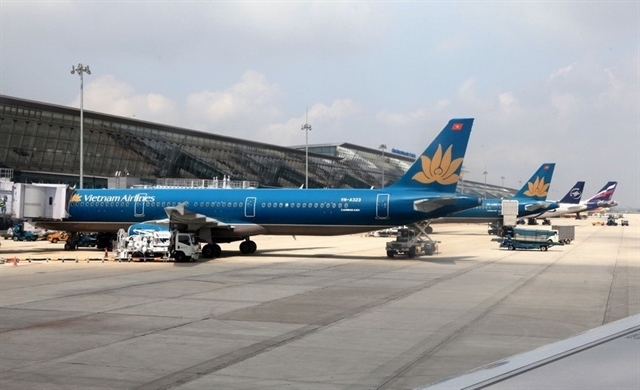 VNA aeroplanes at Nội Bài International Airport's Terminal 2.
According to VNA's official announcement, passengers can still board VNA flights from London, Paris and Frankfurt from March 15 if they meet health and immigration criteria.
The carrier will conduct interviews and temporary checks on all passengers before they board flights from Europe.
They will have to wear facemasks and gloves throughout the flight and will be quarantined after arrival.
All crew members will wear hazmat suits. To minimise the chances of infection, in-flight services will be kept at a minimum with drinks and dry food served.
These flights will land at airports designated by Vietnamese authorities.
For the latest information, the carrier advised passengers to visit its official website vietnamairlines.com or its Facebook page, contact VNA offices or call customer service hotlines at 1900 1100 (from Việt Nam) or +84 2438 320 320 (from foreign countries).
Việt Nam's foreign ministry announced on Saturday the country would halt entries for tourists from countries in the Schengen zone and the UK from March 15, amid the coronavirus outbreak and soaring death tolls in Europe. — VNS

CEO of Vietnam Airlines Duong Tri Thanh said on March 14 evening that the national flag carrier has made some adjustments to its earlier announcement on flights between Vietnam and Europe.

The national flag carrier Vietnam Airlines has tightened management on its international flight crews after a stewardess was infected with Covid-19.