A host of tour operators in Ho Chi Minh City have reported their business looks brisk for the upcoming Tet holiday.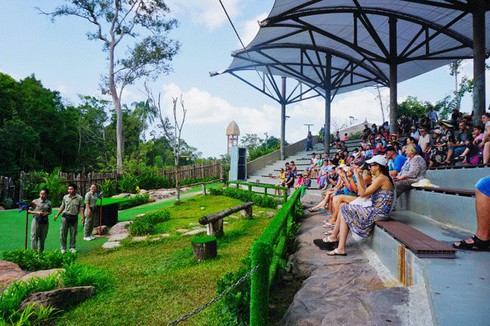 Visitors watching a bird show on Phu Quoc Island 
Many tour operators these days have concluded their tours of far-flung destinations for the upcoming Tet, Lunar New Year—trips to the United States, Europe and Africa, for instance.
Shorter tours by air to Southeast Asia or East Asia and domestic destinations are in their peak time. Meanwhile, tours by car which are attracting more travelers need some additional time for assessment of their success.
Tourist companies in HCMC are optimistic about their offers of Tet tours although the holiday this year is shorter than last year.
Tu Quy Thanh, director of Lien Bang Travelink, whose headquarters are in HCMC's District 1, says he expects company sales to rise by around 10% this year. "We've sold almost all the offers available," Thanh says.
Other tour operators have also confirmed encouraging sales, mostly from outbound tours. They are still accepting visa-free tours and tours to domestic scenic spots. Some have even expanded their initial schemes to receive customers beyond expectation.
In HCM City, travelers have become more demanding, ready to pay more to enjoy higher quality of services, food and accommodation. On average, an outbound tour designed for Saigonese costs some VND12-15 million and a domestic tours VND6-9 million.
Some Saigonese are willing to spend more on tours linked to major airlines and luxury hotels. Tours with the same itineraries may have considerably different prices, sometimes twice or thrice as much.
Prices may be higher, but no big overcharges
One of the headaches experienced by tourist firms during Tet is accommodation overcharges by hotels or resorts and overbooking.
This time around, the situation seems different. Many tour operators say the accommodation price hike is acceptable given that Tet is a peak time of tourism. The highest rises so far have been 15-20%, but on average, the difference is only several percent.
The increase rate may depend on the destination, too. This season, Dalat, Danang and Sapa will continue to be among the most attractive destinations for domestic tours. Room rates in Dalat remain unpredictable although the number of available rooms has risen due to the inauguration of many new hotels and homestay facilities. Meanwhile, the rise in room rates in Danang and Nha Trang is expected to be small.
There is also a remarkable difference between room rates in some popular tourist attractions, such as Danang or Nha Trang, and more special spots such as Phu Quoc Island. While a night spent at a four-star hotel in Phu Quoc may costs as much as VND2.3 million, a room in a hotel of the same category in Danang or Nha Trang often costs half the price, at VND1.2-1.4 million.
Nguyen Anh Vu, general manager of Rosaka Nha Trang Hotel, shares the above view. As Nha Trang is home to a large number of hotels and resort, he says, big overcharges during this Tet may be out of the question. According to Vu, room rates at Rosaka Nha Trang Hotel will increase slightly only to offset price hikes during Tet—overtime payments for the staff, for example.
Statistics obtained from the Vietnam National Administration of Tourism show that by mid-December of last year, the tally of accommodation facilities in Vietnam had soared to 30,000 which offer around 650,000 rooms, about 2,000 more than the previous year.
"At this point in time, we offer walk-in guests a rate of some VND1.2 million per night, including taxes and breakfast," says Vu. "So, room rates in Nha Trang may not soar this year." SGT