Deputy General Director of the Viet Nam Tourism Administration Ha Van Sieu talks to The Leader - an Administrators' Online Forum - about tourism development challenges and solutions.
Vietnam PM approves plan to restructure tourism sector
High-tech tourism services attract more travelers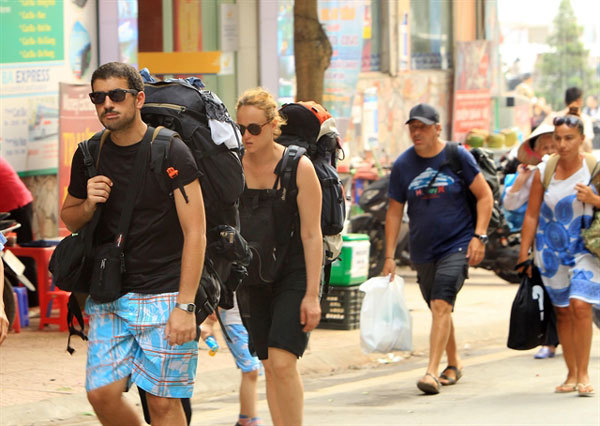 International tourists visit Cat Ba Island in Hai Phong City. — VNA/VNS Photo An Dang
How to you think about the development potential of foreign tourist arrivals to Vietnam in 2019? According to statistics, the number of international visitors to Vietnam increased only 7 per cent, will it affect the sector's yearly development target?
Vietnam plans to draw 18 million tourists in 2019, a year-on-year increase of 16 per cent. In 2018, international tourists to Vietnam grew 19 per cent and the figure for 2017 was 29 per cent.
In the first quarter of this year, foreign visitors to Vietnam stood at 4.5 million, it means that in the remaining months of the year, the number of foreign tourists to the country must be much higher in order to fulfill the yearly target.
However, it should be noted that the number of Chinese tourists to Vietnam dropped in the first three months of the year. During this period, foreign visitors to Vietnam increased 7 per cent but the number of Chinese visitors reduced by 6 per cent. Meanwhile, the majority of foreign tourists in Vietnam are from China and the Republic of Korea. It therefore would probably affect the yearly development target of the sector.
The decline of Chinese arrivals to Vietnam is attributed to the impact of the US-China economic relations on consumption activities of Chinese people.
It is also partly due to the reduction of cheap tour packages, known as "zero-dong" tours offered by overseas travel agents for budget Chinese tourists. Travel agents tried to reduce tour price to draw tourists by cutting down services and reducing quality but they would stop when they could not cut more.
This is time for Vietnam to renew tourism products and restructure tourism price to attract Chinese tourists and to reduce such "zero-dong" tours which adversely affect the tourism revenue.
Basing on the statistics of the first quarter of the year, it is hard to say that the total number of Chinese tourists to Vietnam for the whole year will drop or not. However, it would not strongly increase as previous years.
In order to fulfill the yearly target, tourism management agencies have taken many measures to promote tourism. However, it is time for Vietnam to adjust development target towards a more practical orientation. Instead of focusing on the increase in the number of tourists, it should focus also on the improvement of tourism quality and increase of total revenue from tourism.
What should Vietnam do to increase revenue from tourism?
We need more tourism promotion activities in order to increase the number of tourists.
To increase tourism revenue, it depends on the efforts of tourism workforce at localities. Revenue increase also depends on many factors such as the length of stay of tourists, their spending structure and tourism activities like shopping, entertainment and food and beverage.
The tourism sector needs to strive to improve service quality to encourage tourists to spend more and stay longer. One of important factor to attract visitors is to increase experience for them. Apart from accommodation, tourism investors need to pay attention to other factors to help tourists experience a wide range of activities during their stay, particularly entertainment activities such as casino, sports and art performance.
Community-based tourism model should also be developed to help tourists experience local culture and daily activities of local residents.
Many people said that the rate of international tourists returning Vietnam is low. How do you think about that?
According to a preliminary survey of the Viet Nam Tourism Administration, the rate of foreign visitors returning to Vietnam is over 30 per cent.
Most of tourists often explore a destination once and would not come back as they want to visit other places and other countries.
Only those tourists who have high demand for relax, cultural experience and sport activities would often come back the places of their favourites.
However, in Vietnam, the tourism model of exploring is still the most popular. It means that the rate of foreign tourists returning the country would be lower than that of other countries.
Vietnam is still considered a new destination for many visitors and has many potential for tourism development but the tourism industry is still too "simple" and provide less options for tourists. We need to develop services that tourists want to use more and more so that they will come back next times.
There are opinions saying that drawing more tourists to the country would lead to infrastructure overload. How do you think?
During the development process, there will be times the overload could happen at infrastructure systems such as airports, key traffic routes and accommodation providing establishments.
Therefore, tourism development businesses need to be ready in terms of human resources and capacity to provide best services to tourists in such cases.
More investments are being poured into tourism infrastructure such as airports, hotels and cultural facilities, which would help Vietnam serve tourists better.
Basing on development forecast of the tourism sector, agencies should have infrastructure development plans to meet the sector's development demand.
VNS