Five places where the four foreign tourists who were tested positive to coronavirus and their taxi drivers stayed have been blocked since March 8.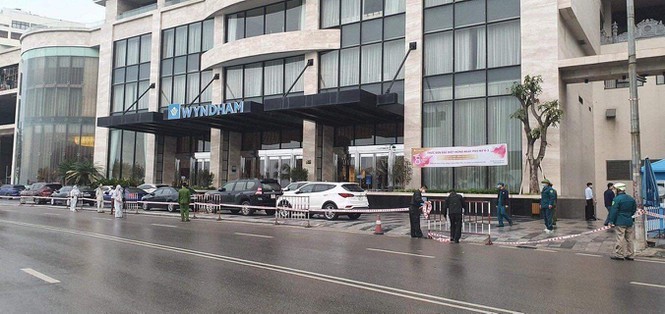 Police and health officers in Ha Long City block Wyndham Hotel in Bay Chay Ward on March 8
These places included Wyndham Hotel in Bay Chay Ward, Residential Area 2 in Viet Hung Ward, Vuon Cau Village in Son Duong Commune, Bach Dang Hotel in Bai Chay Ward, and Thai Son Hotel in Dong Hung Thang Urban Area.
Ha Long City People's Committee has also suspended the operation of 18 tourist boats which have served the tourists, three British men and one Irish woman, during their visit to the bay.
According to the committee, the four tourists arrived in Ha Long between March 2 and 6 and had spent most of their time visiting the bay before being found and sent to Thai Son Hotel for quarantine on March 7.
They then tested positive to SARS-CoV-2 and have been moved to the Central Hospital for Tropical Diseases in Hanoi for treatment.
127 local people have also been quarantined for having close contact with the tourists during the time.
The four tourists were found boarding the same flight from London to Hanoi on March 2 with a Hanoi woman who was then found positive with SARS-CoV-2 on March 6.
Five other foreign tourists on the flight have also been infected and were being treated in Lao Cai, Hue, and Danang cities where they were spending their holiday.
Vietnam reported 10 new Covid-19 patients on Sunday, bringing the total number of infections to 30. 
Quang Ngai temporarily suspends arrival of passengers on Ly Son island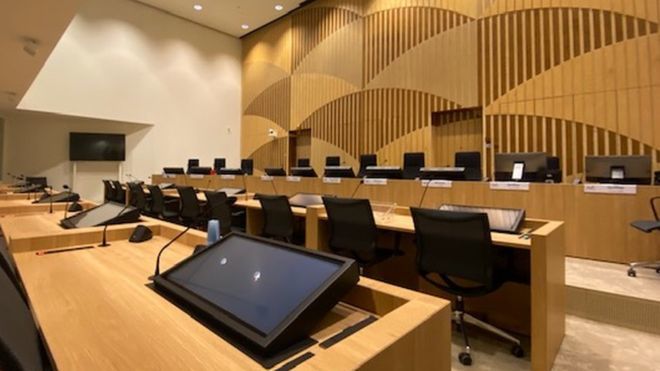 Passengers on the high-speed boat to Ly Son island
The central province of Quang Ngai has moved to temporarily suspend the arrival of passengers on Ly Son island as of 7am on March 9.
The announcement was made by the Quang Ngai provincial People's Committee on March 8 in order to strengthen measures being put in place to combat the potential spread of the novel coronavirus (COVID-19).
Local authorities have also encouraged foreigners currently staying on Ly Son island to return to the mainland early.
Moreover, residents should not sail to Ly Son island unless it involves an urgent matter.
This suspension will remain in place until further notice.
Quang Ngai province has yet to record any confirmed cases of the COVID-19, although 411 patients are currently in isolation at home, with a total of 378 being in isolation for over 14 days.
Quang Nam quarantines three individuals suffering from fever and sore throat
Hoi An General Hospital in the central province of Quang Nam has admitted three patients who have been displaying symptoms of a fever and a sore throat, including two citizens from the United States and a Hoi An resident who is working as a hotel receptionist in the city, according to the Steering Committee for the novel coronavirus (COVID-19) Prevention and Control.
All three patients have been placed into quarantine at Hoi An General Hospital to undergo treatment with their samples being taken for further testing. At present, Quang Nam province has yet to record any cases of COVID-19 infection.
With regard to tourists who were traveling on flight VN0054 alongside the country's 17th COVID-19 patient, Quang Nam province have successfully tracked down 40 people currently within the locality, including 32 British citizens and a Polish national.
At present, 31 of the group are in the ancient town of Hoi An, with two in Dien Ban district, whilst a further seven people are traveling alongside the group of 33 tourists.
All 40 cases have stayed in a total of 13 hotels, including 12 hotels in Hoi An and one hotel in Dien Ban town, with their samples being taken for testing.
The Quang Nam Department of Health has compiled a list of 331 people who came into close contact with these 40 cases for the purpose of putting them under medical supervision.
The provincial health sector has also recommended that 624 relatives of people who came into close contact with the remaining cases move to strictly monitor their health, limit visiting any crowded places, and undertake drastic preventive measures to combat the COVID-19 in line with regulations set by the Ministry of Health.
Tienphong/Dtinews/VOV

Deputy PM Vu Duc Dam has rebuked the Quang Ninh government for turning away an Italian cruise ship carrying more than 1,000 tourists because of fears of the coronavirus and told the local authorities to draw lessons from the experience.  

The northern province of Quang Ninh suspended entry of all Chinese tourists and self-drive tours from China from January 30 amid the widening threat from a new strain of coronavirus called nCoV.