Thousands of people will join the annual Vietnam International Travel Mart (VITM) this week, one of the tourism industry's most anticipated annual events.
This year's event, which has been postponed three times, is taking place at the Viet Xo Friendship Palace at 91 Tran Hung Dao Street, Hanoi between November 18 and 21.
More than 300 stalls of tourism enterprises, airlines and tourism service providers from 47 cities and provinces throughout the country and six foreign countries and territories, namely Thailand, Peru, Japan, South Korea, Colombia and Taiwan, are on display at the event.
Vu The Binh, deputy chairman of the Vietnam Tourism Association, said this year's VITM is held amid the COVID-19 pandemic, with the whole world still struggling with the disease, making for a very different event compared to normal.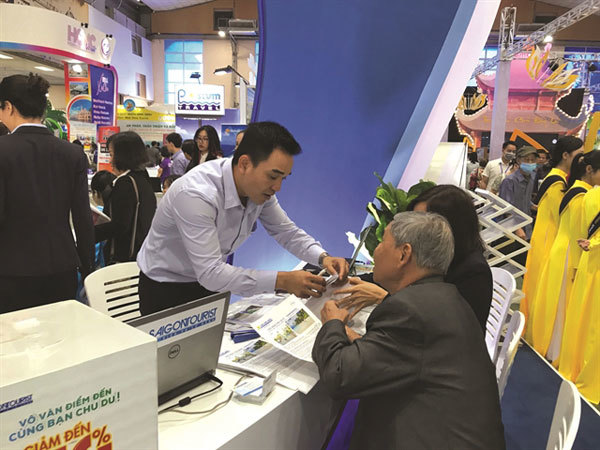 Customers get consultancy at the booth of Saigontourist Company. VNS Photo Le Huong
"Its scale gets smaller but the content is more profound," he told Việt Nam News. "This event discusses how we will overcome the consequences of the pandemic in the future, and not only COVID-19 but also other kinds of crises."
Binh said the theme for this year's event is digital transformation for tourism development.
"All of our economic sectors will gradually transform with digital technology. But tourism is one of the first economic sectors to have a chance to transform with digital technology," he said.
He said many stalls at the event have changed how they display products.
"Here we have a separate zone for digital transformation exhibition, where companies introduce their new products at a hall for four days," he said. "This is the very first time the tourism sector get closes to technology, especially for tourism.
"Though this year's mart is not so crowded and on as big a scale as in previous years, it creates a powerful force for the sector to transform the ideology of tourism development. Enterprises that understand the ideology will develop steadily in the future," he said.
Each year, the most attractive part of the VITM is the tourism stimulus programme and this year, the organising board has promised to offer 100,000 cheap tickets, more than 1‌0,000 package tours and some 1,000 gifts for customers.
Nguyen Huu Y Yen, general director of Saigontourist, said the company has brought southern tours to sell in the north, with discounts of up to 70 per cent.
Yen said in 2020, due to the pandemic, the company operated for only 4-5 months while the outbound market was totally closed.
"We guess this year our income will reach only 30 per cent against the same period last year," he said. "We hope this event will help us gather more guests to somewhat overcome the losses."
Nguyen Van Ha, founder and director of Hahalolo, an integrated website in tourism based on a social network, said the company wants to introduce its services to tour providers and tourism enterprises so they can advertise on the site.
The network has been run for one year so far and gathered more than 6 million users, he said.
"Hahalolo is trying to change the habit of Vietnamese travellers," Ha said. "In the future, travellers will just book tours and tickets online."
Vising the mart, Pham Thi Thanh Hien, an air ticket agent in Thai Nguyen Province, was seeking not only cheap tickets but also tours for her customers.
"I think the tourism situation this year has fluctuated a lot, which affects almost all economic sectors," she said. "This mart is a good chance for enterprises to advertise their trademarks and new facilities at alluring prices. Customers do not know much about new tourism products to choose from."
Takahashi Ayumi, director of the Japan National Tourism Organisation in Vietnam, said the agency joined the mart to try and entice locals to travel to Japan in the future.
"We deliver the most accurate information on Japan tourism to Vietnamese," he said. "The most practical way to link tourism between the two countries is flights. We hope we will open flights connecting the two countries again for that purpose."
Miguel Rodriguez, the Colombian ambassador to Viet Nam, said this is the first time the embassy has joined the event.
"We want to show Vietnamese people the most marvellous places in Colombia," he said. "We have potential conditions to satisfy all demands of tourists."
Rodriguez said he will try to promote cultural exchange between the two countries like inviting dancers, singers, chefs from Colombia to Vietnam.
"They are ambassadors of Colombia," he added.
During the mart, tourism enterprises will exchange products and find more partners as well as introduce products to customers.
Workshops to connect localities in tourism will be held at the event.
Other activities include an awarding ceremony honouring 159 tourism businesses and 121 individuals who performed well in 2019.
A workshop on criteria for classifying Vietnamese chefs will be held as a highlight of the event. For the first time, experts will discuss the criteria for giving official grades for chefs nationwide. 
Tourism workers awarded at Travel Mart
More than 150 collectives and 120 individuals, who made good contributions to the tourism sector in the last year were honoured at a ceremony during the ongoing Vietnam International Travel Mart on Wednesday.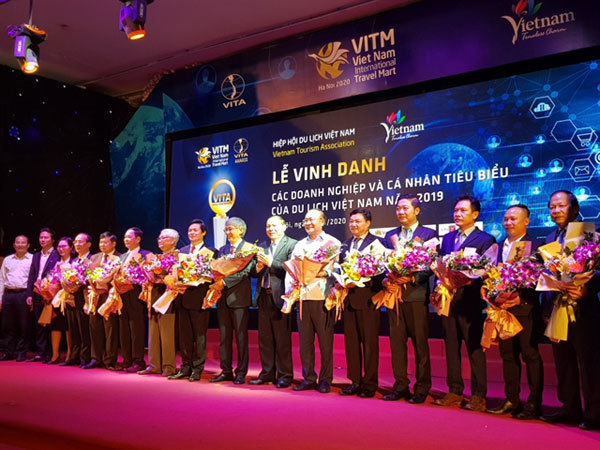 Individual and enterprises receive awards at the event. — Photo courtesy of organisers
The award ceremony is an annual activity hosted by the Vietnam Tourism Association aiming at praising distinguished tourism workers in offering accommodation and travel services.
Addressing the ceremony, Cao Thi Ngoc Lan, General Secretary and Deputy Chairperson of Vietnam Tourism Association, said individuals and enterprises praised here are good examples for the whole tourism sector.
"The association will further promote the movement so that people work harder and more individuals and enterprises will get the honour," she said.
Deputy culture minister Nguyen Van Hung highly appreciated the efforts made by the domestic tourism sector to overcome current difficulties.
"A short time after authorities applied domestic tourism promotion policies, statistics surged," he said. "'Necessity is the mother of invention. In a challenging situation, distinguished people appear."
He praised the association for selecting 162 enterprises including travel agencies and hotels which have contributed to the sector's success and 122 individuals, who are managers, directors, chefs and journalists who have worked to promote Vietnam.
According to statistics from the National Tourism Authority of Vietnam, in 2019, the country received 18 million international tourists, the highest figure ever, which was a 16.2 per cent increase against 2018.
Domestic travellers numbered 85 million, a 6 per cent increase over 2018, while the income from tourism was some VND720,000 billion (US$31 billion), a 16 per cent increase. VNS

Statistical works on human resource in the tourism industry has been identified as a mandatory and urgent task.

The Ministry of Culture, Sports and Tourism (MCST) plans to put 'Du Lich Viet Nam An Toan' (Travel Vietnam Safely) app into use in 10 days, which will help travelers feel more secure about their trips.