Nui Chua (in the coastal south-central province of Ninh Thuan), which has been recently recognised by UNESCO as a world biosphere reserve, has been attractive for not only scientists but also wildlife enthusiasts.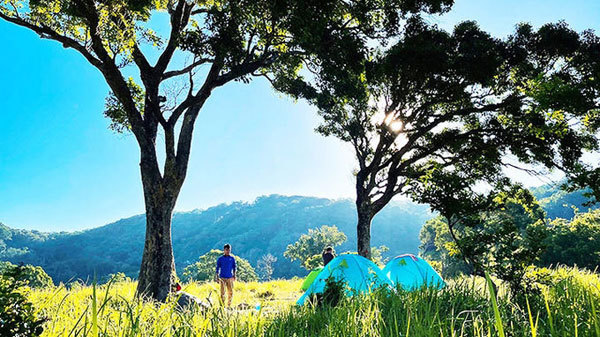 Nui Chua has been attractive for not only scientists but also wildlife enthusiasts. (Photo: NDO)
 
Many travel blogs have rated this as one of the trekking routes that should not be missed because of its pristine landscapes and rare trees located in the hot and humid subtropical destination.
Visitors can go to Nui Chua at any time of the year. However, many people like to come here between August and October, with the dry heat and when the weather eases. For the sake of nature conservation and the safety for tourists, the journey must be registered with the National Park Management Board. Accordingly, the visitors are then guided by the park's staff or an indigenous person.
From Phan Rang - Thap Cham City, visitors can move north-eastward about 30km towards the starting point of the trekking tour which conquers the peak of Nui Chua. In the early morning, travellers will have the opportunity to see the brilliant sunrise on Ninh Chu beach. In preparation for the two-day hike in the harsh climate, it is necessary to have proper attire that is capable of protecting them from the sun and wind as well as take plenty of water to stay hydrated.
In addition to the rich flora and fauna, the special terrain, including high forests and low semi-desert, the adjacent bay also gives Nui Chua a magnificent beauty. Following the ascending trail, the trekking group can pass through the villages of the Raglai ethnic minority people who have joined in protecting the forests as well as guiding and carrying luggage for guests. The impressive image of Nui Chua is the burning yellow grasslands that are stretching endlessly into the horizon.
During the journey, visitors will have the chance to admire six different forests, from the savanna of thorny plants to the thick shrubs and even the wide canopy of trees in the middle of the desert. A true miracle of nature, right in a place with little rainfall and gentle streams.
In terms of altitude, Nui Chua's peak (at 1,039 metres) cannot compare to many higher mountains in the north. However, travellers must climb seven smaller mountains in the wind and sun to conquer this peak. Despite many difficulties, this trekking tour has been conducted professionally and carefully by the Nui Chua National Park Management Board for those who want to gain trekking experiences in the southern region.
 
Source: Nhan Dan

Vietnam's Nui Chua National Park and Kon Ha Nung Plateau were recently recognised by UNESCO as Global Biosphere Reserves.

With an area of about 31,000 hectares, the Nui Chua National Park features forest, sea and semi-arid spaces, and efforts are being made to conserve its rich biodiversity while tapping into tourism potential.