Early in the morning, in a traditional house on stilts of the E De ethnic minority in the Central Highlands province of Dak Lak, dozens of people sit silently and look at small coffee filters, watching small drops of coffee fall into glasses.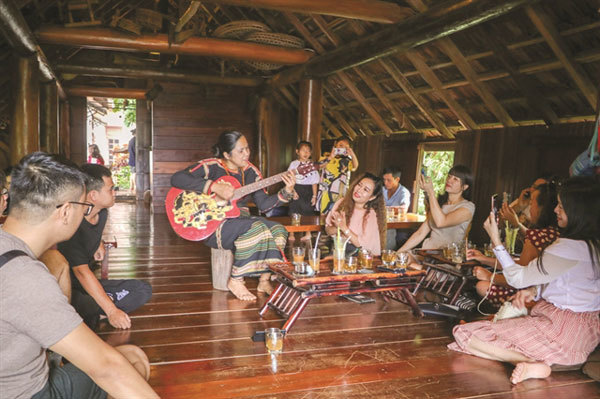 People sing and drink at a cafe in a traditional long house of an ethnic E De family in Buon Ma Thuot City. Photos baodaklak.vn

It's a normal scene every morning in the café run by Kpin Niê H'đơk at his family's house in Alê A Village, Ea Tam Ward, Buon Ma Thuot City.
The house also has a big garden with trees and offers various coffee products to tourists.
"Many people come to our café to see ancient architecture and experience living space of our group," Kpin told Tiền Phong (Vanguard) newspaper. "Due to urbanisation, many long traditional houses made of wood of our group have been replaced by modern cement houses.
"That's why, beside making profit, I hope to introduce our traditional living space," he said.
Kpin planted rose climbers and orchids to decorate the café.
"Many people like to drink coffee here," said customer Nguyen Thi Huyen.
"Now, people tend to choose a café with green atmosphere and natural style, surrounded by coffee plants or inside an original house on stilts like this," she said.
The café run by H'buốt Niê in M'Oa Village, Cư Huê Commune, Ea Kar District, is another special address for coffee drinkers, though its only been open for about a year.
"I upgraded my traditional house on stilts," she said. "I myself make coffee in the style of E De people. People like my coffee a lot."
She also offers various products from the forest like dried bamboo shoots, pepper, textiles weaved in a traditional way and maize wine.
She said farming is much a busier job than running a coffee shop. Yet more importantly, she can introduce the traditional culture of the E De to many people.
She also offers meals with traditional dishes for group tours.
At her shop, people can eat, drink coffee and watch folk music performance.
"I think it's good to create jobs for neighbours and introduce the traditional culture of my group to tourists," H'buốt said.
Tranquil and quiet, Arul café has become another ideal rendezvous for people in Dak Lak.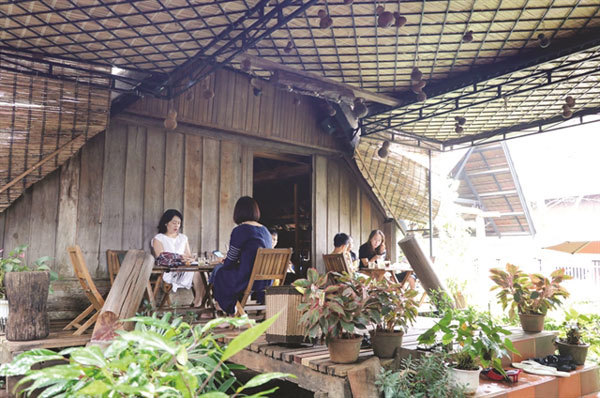 People enjoy tranquil atmosphere at Arul cafe.

H'Len Niê has upgraded her house on stilts into a special café.
"In my childhood, I was taught much about our group's utensils," she said. "I feel at ease when hearing the echoed sounds of gongs and Ayray folk songs on the way to terrace rice field with my mum."
"The fire is not only where my family gathered after hard working day, but also where they received guests," she said. "We would then sing round the warm fire."
H'Len said she was afraid young people in the group will no longer know about traditional utensils like Kpan couch and gongs. So she has collected as much as she can to store in the café.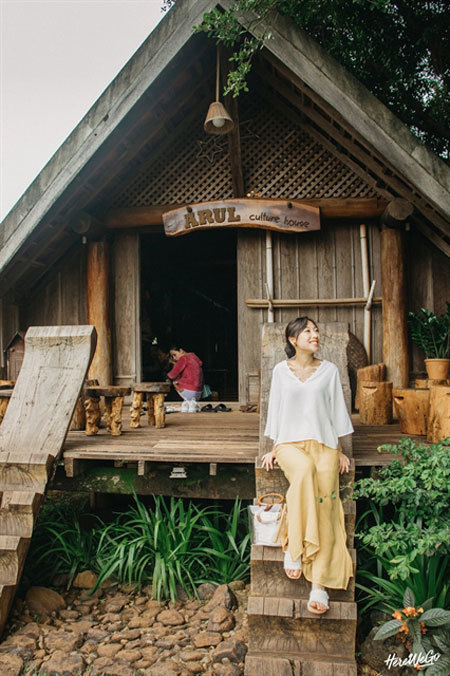 A tourist takes a photo at Arul cafe. Photo zing.vn

Her café is decorated with hundreds of traditional utensils like bamboo weaving tools, dry gourds, bamboo baskets, and gongs.
"I display them here so that people who love Ê Đê culture can come here to see and understand, not necessarily to drink coffee," she said.

VietNamNet Bridge – I arrived in Buon Ma Thuot, the capital of the Central Highlands province of Dak Lak and fondly referred to as the "Queen of Coffee", after an eight-hour bus ride.    

Agoda, one of the world's fastest growing online travel booking platforms, has offered a list of some of the top destinations around the world for tasting coffee, including Vietnam.  
Nguyen Thao
VNS