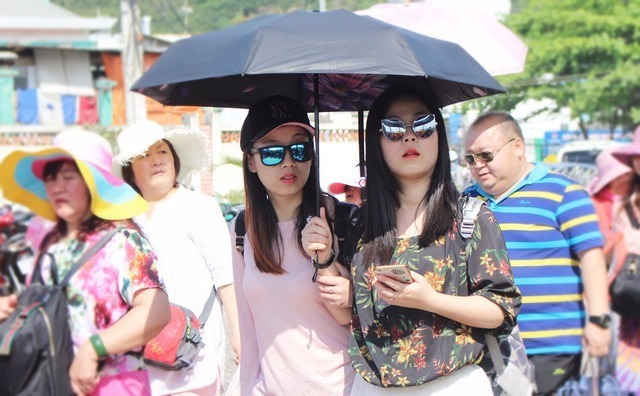 Thailand is receiving foreign travelers from 63 countries and territories, including Vietnam, with no quarantine required. Travelers just need to be fully vaccinated, and children need to have negative PCR (polymerase chain reaction) tests to enter Thailand.
When arriving in the country, they will be tested once again and stay at hotels waiting for results for one day. If the test results are negative, they will be able to travel freely.
In Singapore, under bilateral agreements with countries, travelers to the island need to have at least one vaccination jab and negative PCR test results. If travelers are fully vaccinated, they can travel freely without testing.
Since November 15, Cambodia has removed the requirement on quarantine for fully vaccinated passengers. They can travel freely throughout the country.
Vietnamese can satisfy the requirements set by destination countries but cannot book trips because they don't know when they can return to Vietnam.
Vo Huy Cuong, Deputy Head of the Civil Aviation Authority of Vietnam (CAAV) at a recent webinar said Vietnamese can enter Thailand without having to have quarantine, but it's unclear when they can return to Vietnam.
"It'll be an arduous journey to return to Vietnam and people may have to wait for 'rescue' flights," Cuong said, adding that returnees from abroad may have to have a 7-day or 14-day quarantine.
He said that Vietnam is running a pilot program on receiving foreign travelers, but forgets that there are always two ways of trade exchange: Vietnam wants to attract travelers from other markets and the other markets want to attract Vietnamese travelers.
"It's necessary to create favorable conditions for Vietnamese citizens to travel abroad and return to Vietnam safely," he said.
Airlines, airports and land service companies are all looking forward to the reopening so that Vietnamese can travel abroad.
Travel firms are also eager for both inbound and outbound reopening. Fiditour CEO Tran The Dung said it's necessary to develop two-way travel to make airfares more competitive.
A representative of Vietravel also proposed that agencies conduct bilateral negotiations so that Vietnamese can also travel abroad in traveler exchange programs. Vietnamese citizens should be allowed to go abroad under certain programs and return to Vietnam without having to quarantine.
In the immediate time, Vietnam should target destinations such as Thailand, Singapore, South Korea and Japan. Organizing tours to the markets in a safe way is within the reach of travel firms.
"It's necessary to develop both inbound and outbound tourism so as to have better airfares. If flying only one way, inbound tour fees will be high," the representative said.
Bui Doan Ne, Deputy Chair of the Vietnam Aviation Business Association (VABA), said Vietnamese want to go abroad either on business or on tours. They should be exempted from quarantine when returning to Vietnam if they have been fully vaccinated and have negative test results.
"We need to be fair with other countries. We now allow foreign travelers to come to Vietnam and we also need to allow Vietnamese citizens to go abroad. And once they return, they need to be treated like Vietnamese citizens moving between provinces," Ne said.
General Director of the Vietnam National Administration of Tourism (VNAT) Nguyen Trung Khanh said the agency would seek permission from the Government to allow Vietnamese to travel abroad, stressing that the reopening must be implemented step by step.
In related news, the Ministry of Transport has proposed reopening international routine flights under a 3-phase program.
Phase 1, from Q1 2022, there would be 4 flights/week/way (about 12,000 passengers would enter Vietnam a week). Phase 2, from Q2 2022, the flight frequency is 7 flights/week/way for each airline. Phase 3, from Q3 2022, the flight frequencies will be determined by airlines. 
Ngoc Ha

Vietnam has welcomed hundreds of foreign tourists after two years of closure due to the Covid-19 pandemic.

Over one fifth of the Vietnamese companies specializing in inbound and outbound travel services have withdrawn from the market since the Covid-19 pandemic broke out early last year.