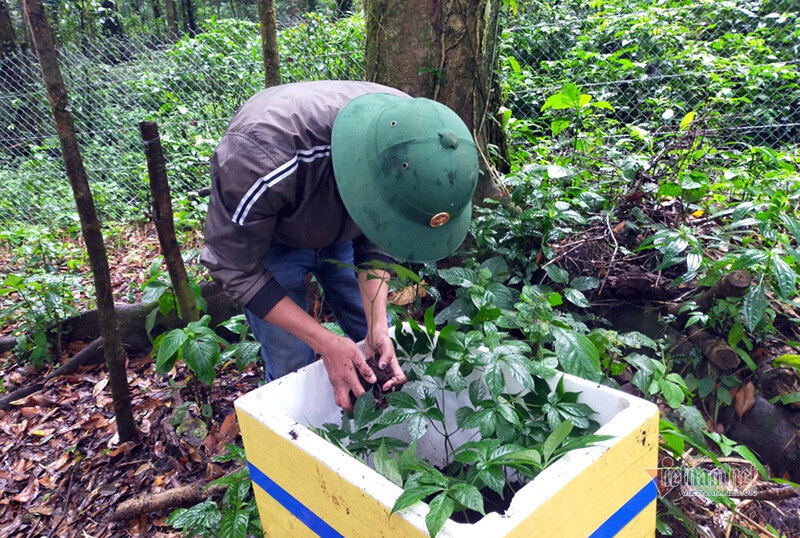 Ngoc Linh Ginseng has traits that the ginseng of other countries lack. It is antibacterial, an anti-depressant, and works well with antibiotics and diabetes drugs. In 2017, Ngoc Linh ginseng was recognized by the PM as a national product.
Ngoc Linh Ginseng is now selling at VND100-200 million per kilogram.
KonTum authorities list Ngoc Linh ginseng as a strategic crop, one of nine key products of the province encouraged to develop. The province has created favorable conditions and called on businesses, cooperatives and farmers to grow, collect, process and distribute herbal medicine made of Ngoc Linh ginseng.
Ngoc Linh KonTum Ginseng, Vingin and Dak To Forestry are three well known investors. Most recently, Vietnam Ginseng has also cooperated with organizations and ethnic minority households in Kon Tum to grow 10 hectares of Ngoc Linh ginseng and other herbs.
According to Vietnam Ginseng Director Nguyen Tuan Vu, his company spends money on seedlings, farming and protection costs, while farmers cultivate and take care of the trees. The company is responsible for the outlet of finished products.
In 2019, Nui Ngok Herbal Medicine JSC, the predecessor of Vietnam Ginseng, signed a contract on leasing 3 hectares of land in Moza Hamlet in Ngoc Lay Commune in Tu Mo Rong for 20 years to grow herbs.
It has signed a lot of contracts on investing and developing NgocLinh ginseng with many ethnic minority households, including A.K in NgocLay commune (5 hectares), A.P in Te Xang (2 land plots). In 2021, the company signed a contract on developing ginseng garden with A.L in Ngoc Lay commune.
Vu said the NgocLinh ginseng gardens are growing well under the canopy of old forests. The gardens are all fenced for better protection and well cared for.
This is a rare and precious ginseng which can be harvested only after 6-7 years of growing, so the ginseng gardens are protected very strictly. Growers won't reveal where they cultivate ginseng.
The business is also developing tens of hectares of other precious herbs, including giao co lam (Gynostemma), tu diep thao (Trifolium repens), duong quy (Angelica sinensis) and hong dang sam (Codonopsis pilosula).
The cooperation with local farmers to develop Ngoc Linh ginseng gardens can bring dual benefits – creating jobs for farmers and helping protect old forests in the Central Highlands.
Also, the expansion of ginseng cultivation can help protect precious genetic resources to create high-quality commercial products.
It's estimated that over 600 hectares of Ngoc Linh ginseng have been planted, mostly in six communes in Tu Mo Rong district and three communes in Dak Glei district. 
Duc Hoang

Two new investors – Nutifood and Thien Nhan hospital – have put their footprint in the development and production of thousands of hectares of Ngoc Linh ginseng farms in the central province, promising a worldwide brand for the national product.